Railway workers, protesting against changes to the French National Railways [Société nationale des chemins de fer - SNCF], forced their way into the Paris offices of Macron's political party, the Republic on the Move (la Republique en Marche (LREM)) on Friday 4th of May in the afternoon. The economic rationalist French government has used the Orwellian term 'reforms' to describe these changes, which roll back hard won twentieth century gains to workers in France, whilst supporting tax reductions for the super rich.


A Republic on the Move employee told franceinfo that about 100 railway workers broke into Emmanuel Macron's political party offices. "They broke the door and stayed half an hour in the courtyard before being removed by the police." They chanted their slogan, 'We are angry railway workers and we won't let you push us around."
A political party spokesperson said that the party valued to the right to demonstrate, but would not support any form of violence and intended to make a formal complaint.
"This is a symbolic act," explained Fabien Villedieur, a delegate of South-Rail (Sud-Rail) to franceinfo . Since the government has "refused to talk with us, refused to negotiate, we have gone to the seat of Emmanuel Macron's party." According to him, there were "400 activists from South and from the General Confederation of Labour." [Confédération Générale du Travail - CGT.] Their banner carried the slogan, "We won't let you break the French National Railway."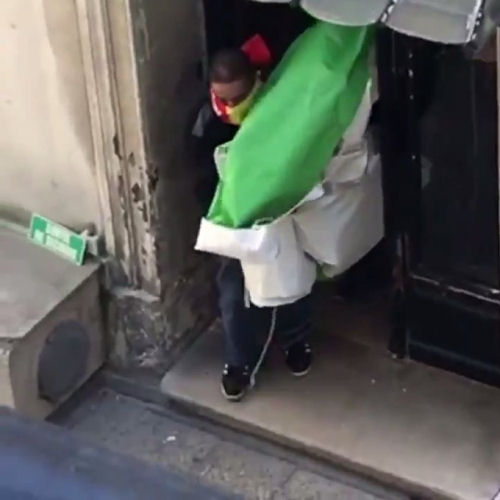 The union member admitted that the door of the offices of the Republic on the Move party had been broken. After that lightening action, the railway workers went on foot to the Opera Place in Paris for a brief meeting before dispersing.
The offices of the Republic on the Move opened at 63 re Sainte Anne, in the heart of Paris, in September 2017.
The term, "Republic on the Move" has been compared to the Soros financed American organisation called "moveon.org", which is similar to GetUp in Australia. The Party was remarkable in causing the disintegration of all established French political parties, including the French socialist party, with the exception of the Front National. See https://www.spectator.co.uk/2017/02/whos-behind-the-mysterious-rise-of-emmanuel-macron/