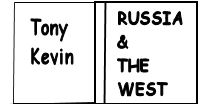 The Melbourne launch of Tony's latest book, being held at Readings in Hawthorn Monday, 25 November 2019, is likely to attract an interesting and critical audience. This book looks at the "last two action-packed years" – which is to say "false-flag packed" years, because it's about the way Australian media and the Australian commentariat has enabled Imperial lies to spread and take hold in the population. The key ones Tony considers are the Syrian chemical weapons stories, the Skripal poisoning hoax, and Ukraine/Crimea. He centers his study around the disinformation operations of the Institute for Statecraft and the way he thinks it is operating in Australia to counter the "Russian point of view".
The new book is, Russia and the West – the last two action packed years 2017-19 by Tony Kevin. ISBN 9780987319029 RRP $25 in stockist bookstores, or by direct post from author. Tony is himself an entertaining, down-to-earth and informative speaker, with a background in cold-war diplomacy in Russia.
It explores two main themes.
First, the persistent but generally unsuccessful efforts by Western (mainly US and British) government-supported disinformation agencies, increasing in intensity over the past three years, to discredit Russian foreign policy in the eyes of the Western public, as seen most clearly on issues of Syrian CW, Ukraine war, the Skripals affair and Russiagate.
Second, the rather more successful local efforts here to exclude the writer and his work as a foreign policy analyst from the public space, as a writer who overstepped the 'Chomsky envelope' of what is permissible to advance in public discussion. The desirability and possibility of seeking relaxation of tensions with Russia is apparently a do-not-touch subject in most Australian public discourse these days. The book explores how this situation came about, and its consequences, in the context of other , more prominent, current threats to freedom of expression in Australia.
Melbourne, Readings, 701 Glenferrie Road, Hawthorn, 25 November, 6 for 6.30 pm with online journalist Caitlin Johnstone @caitoz (entry free)