You probably didn't fall for the latest western-corporate press nonsense about Russia and Syria 'brutally attacking Idlib Province in Syria', but you may wonder what is really happening. This is how it appears to us: Turkey and the US want to retain a foothold in Idlib, Northern Syria, along with their terrorist proxies, so that they can sell arms, loot the place, and cause chaos in the region. Turkey is playing Russia and the US for whatever it can get out of them. President Erdogan wants to reestablish the Ottoman Empire in his own name and that is part of his plan for trying to acquire territory in Syria. The US has put some sanctions on Turkey because it purchased weapons from the Russians recently, instead of from the US. Turkey is kind of like a major political prostitute for NATO and anyone else with a mutual short-term aim, including ISIS. The Syrian Arab Army (the Syrian government forces) and the Russians are trying to free the terrorists' human shields in Idlib and restore it to order. Against all odds, the Syrian government has managed to take back nearly all of Syria from the terrorists. (Syrian Arab Army Cleans 16 Towns in 24 Hours from NATO Terrorists in Idlib and Aleppo (8/2/20) by Arabi Souli | SyriaNews) This is probably because it is the only force that has massive support from Syrians. The syndicated western press, which trots out guff about Syria attacking its own people, is a mouthpiece for weapons manufacturers, war, US expansionism and neocolonialism, all major investment stocks. By the way, Iran has opened a criminal case against the US for using terrorists to destabilise the region and for multiple murders and war crimes. Meanwhile the US pretends that it is combatting aggression from Iran. See
Iranian lawyers file lawsuit against US over fighters killed in Syria, Sunday, 09 February 2020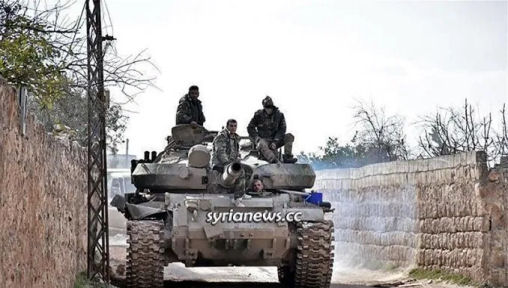 SAA Cleans 16 Towns in 24 Hours from NATO Terrorists in Idlib and Aleppo
[Article below originally published here: https://www.syrianews.cc/saa-cleans-16-towns-in-24-hours-from-nato-terrorists-in-idlib-and-aleppo/]
The Syrian Arab Army (SAA) responded to the threats of the Turkish pariah Erdogan to withdraw from the Syrian territories and restore al-Qaeda terrorists in the towns and villages recently cleaned from them, by cleaning 16 more towns and villages in the past day alone and continuing.
The Syrian army in a direct challenge to NATO's Turkish Army and its neo-Ottoman leaders yesterday liberated eight towns in the eastern countryside of Idlib amid a collapse among the ranks of armed terrorists and managed to liberate part of the Aleppo highway, north of Saraqib, which is of great strategic importance because it is a meeting point between the two international roads Aleppo – Damascus, and Aleppo – Latakia.
SAA's military operations continue on two axes in the north of the country to liberate the rest of the International Damascus-Aleppo M5 Artery, of which more than 85 percent have been liberated. The first axis starts from the southern Aleppo countryside and seeks to reach the strategic Hill of Al-Issa, and the second axis in the eastern countryside of Idlib, specifically from the city of Saraqib.
The Syrian Army advances in Idlib and Aleppo countryside and liberates more than 85% of Aleppo International Highway – Damascus, known as M5.
On the axis of the southern Aleppo countryside, the Syrian army managed to liberate the villages of Khalma, Hamera, Khan Touman, Zethan, and Berna, to arrive at the outskirts of the strategic Hill of Al-Issa, which is considered the point of 'control by fire' for the southern Aleppo countryside, and when it manages to liberate al-Ais Hill, its forces will be on the outskirts of the international road Aleppo- Damascus as a prelude to entering the town of Zarba located on this highway.
On the eastern axis of Idlib countryside, the Syrian Army forces deployed in the strategic city of Saraqib after its liberation, the most important city in that area after Maarat al-Numan, which the Syrian Army also liberated.
The SAA's advance and liberation of large areas in the Idlib countryside has led to a rise in the number of besieged Turkish military posts to five in the rural Idlib and Aleppo.
The SAA's entry into Saraqib came after the liberation of 17 villages, the most important of which were Al-Mardaikh, Dadikh, and Neirab, stretching to the town of Afis, north of Saraqib.