"[If the] root cause of the current crisis was post-Soviet Western triumphalism that resulted in the rapid and inexorable growth of NATO and the EU, then current NATO deployments all over eastern Europe will confirm for even previously sceptical Russians that the 20-year old complaint about NATO expansion was a prescient one. On the other hand, the long-held Western assumption that Putin plans to re-create the old USSR, at least territorially, may become an unintended reality as Russia now strives to protect its 'soft underbelly' and sustain a 'sphere of interest' in former Soviet lands that it did not need to protect until now. Russia poses no military threat to the West this time, so as new linues are drawn between Russia and Europe, the Kremlin's attention, and energy sector, found a 'Plan B' in a welcoming East: China, India, The Eurasian Economic Union, and the Shanghai Cooperation Organization." (Source: J.L. Black and Michael Johns, Eds., "The Return of the Cold War: Ukraine, The West and Russia, Routledge, 2016, Introduction.)
It is shocking to see the shrill, anti-Kremlin, one-sided coverage of the western press on border issues between Ukraine and Russia. ABC Australia is toeing the US line, which totally misrepresents the situation.  They are not asking any questions, yet world peace depends on the press asking questions.
Russia only has two choices: Either it allows Ukraine to become ever more aligned with the United States and a host to its hostile forces, and those of the US allies, or it can take action.  For instance, it could invade and annexe the Donetz-Luhantz/Donbass region, where the many Russian-speakers and Russian nationals have been the objects of continuous ethnic persecution in a pro-US Ukrainian government-auspiced civil war since 2014. Their airport and their homes and infrastructure have been bombed and run down by tanks, killing around 14,000 according to the UN so far, leaving survivors without employment, without access to banks, hungry, thirsty, and unsheltered. Many have fled to Russia via a refugee-corridor opened by Russia to them.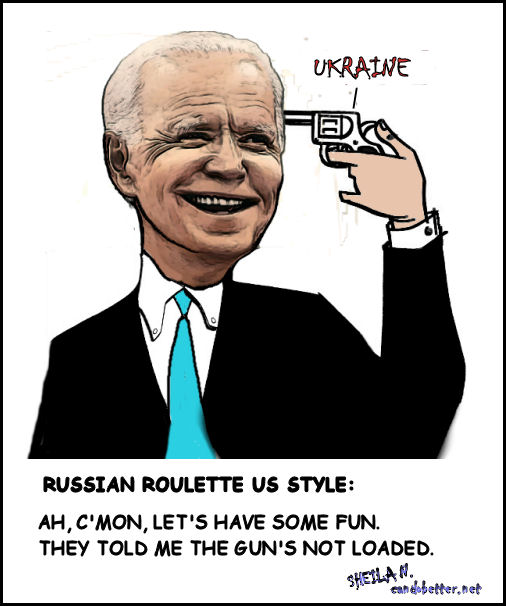 The US already has a base on Ukrainian soil, in Poltava and furnishes other military support and funding.[1] . The British are building one in the Sea of Azov, which is one of three red lines designated by Russian foreign minister, Sergei Lavrov.[2] To allow these processes to continue would mean the consolidation of the land-mass as totally hostile to Russia, as well as condoning the continued endangerment of Russians and Russian-speakers in Ukraine.
If the United States wished to avoid serious conflict, it would have encouraged Ukraine to maintain a politically temperate and neutral or bipartisan position, as a border country along a political fault-line, but instead, it has encouraged conflict with political, military, financial, and mass-media support.
Trade Wars:
Although the United States claims that it supports a global 'free market', all its conflicts have the same objectives as the trade-wars fought in timber galleons. They aim to bully countries into only trading with or through the United States, according to its self-serving rules.  These rules now affect peoples' small personal transactions, all over the world, such as to whom they can sell kindle books. Recently, even an Open Suse Linux system (open-source software) has required its recipient to agree not to trade with countries that the US has designated as its enemies:
"You acknowledge that openSUSE Leap 15.3 is subject to the U.S. Export Administration Regulations (the "EAR") and you agree to comply with the EAR. You will not export or re-export openSUSE Leap 15.3 directly or indirectly, to: (1) any countries that are subject to US export restrictions; […] you are agreeing to the foregoing and you are representing and warranting that You are not located in, under the control of, or a national or resident of any such country or on any such list." Source: https://en.opensuse.org/openSUSE:License
Other Linux systems, including Manjaro and Ubuntu, have not included such restrictions in their user terms. Yet.
All trade wars are marked by fluctuating alliances as corporate, dynastic, and government interests pit themselves against the others. Current US sanctions are causing their targets to form new trade blocs to survive: Thus Russia and China, and other BRICs nations that are targets of the sanctions, have become trade allies. Recently China invited Syria and Iran, America's whipping boys, to join its belt-road initiative. China, like Russia, is also a target of US-NATO military machinations, which draw support for their agenda from countries as far away as Australia, via the re-militarisation of Japan, bases on Pacific Islands, in South Korea, and a continuous threat to invade North Korea, on the border of China. After the Second World War, the United States carpet-bombed North Korea, reducing its population by a third, in the name of 'containing communism'. This explains why North Korea now prioritises having nuclear arms and does not trust any US treaty. And maybe you shouldn't either.
The propaganda line:
Unbelievably, for those of us who went through the post-WW2 Cold War, and North Korea's quasi destruction, there is an implicit line that Russia is still communist, and must thus be combatted, but communism there was abandoned a long time ago. Russia is one of the few casualties of US intervention that has since managed to rise from the ashes, but the US would obviously prefer that it had remained in economic and social disarray. So, the communism vs capitalism bogey has been resurrected like a tattered mummy from a tomb and is carried around like a religious artefact by the Whitehouse mob spokespersons for the US military industrial complex and its corporate and dynastic beneficiaries.
Russia is described as desiring military expansion, but Russia has only reached past its borders twice in recent times, in Georgia and Ukraine, both times in response to US-NATO activity in those countries, designed to make those border countries allies of US-NATO, which presents itself as hostile to Russia.
The US-NATO-supported government in Ukraine is guilty of serious ethnic persecutions: It made laws to prevent Russian-speaking Ukrainians from speaking Russian, and sent tanks into largely Russian-speaking Donbass region, in an act of civil war. When the tanks driven by their countrymen arrived, the Donbass inhabitants initially could not take the tanks seriously and stood in front of them with smiles, asking them to behave reasonably. More than 14,000 deaths have resulted in the region. Crimeans were luckier. Nearly 100 per cent of the inhabitants of Crimea voted to become Russian in order to avoid persecution, and the territory is now Russian.
If you do a search for descriptions of what has happened to the Donbass region of Ukraine, even the mildest of the English-language ones will still pretend that 'Russian separatists' are the cause of ongoing fighting, but they never tell you of how the Ukrainian government supporters made their lives impossible.[3] The Ukrainian government's motive for driving out Russian-speakers from their ancestral homes was to assist Ukrainian ethnic nationalist control of the most productive region of Ukraine.
A short history of the civil war from 2014:
On 21 November 2013, when Viktor Yankovych, was president (25 Fed 2010 to 22 Feb 2014) of Ukraine, he rejected an invitation to sign an agreement of association (called a Euromaidan) with the European Union, in favour of maintaining a strong Russian alliance. This inspired protests from some pro-European alliance (pro-"Euromaidan") Ukrainians, dominated by nationalists. The Svoboda, National Corps, the Governmental Initiative of Yarosh, and the Right Sector political parties flourish among Ukranian ethnic Nationalists, in a country where there is nostalgia for how the Third Reich promised to support ethnic Ukrainian independence against the Russians.[4]
US-led intervention supported these protests and resulted in a political coup, with President Yankovych fleeing the country. Poroshenko, a Russian billionaire from a nouveau-riche class described as 'oligarchs', was supported by the United States and became President in a field with few contenders. Pro-Russians engaged in "Anti-Maidan" protests.[5] The two sides degenerated into civil war, with the pro-Russians retreating to Ukraine's ethnic-Russian territory.
Much omitted from Western reporting:
The western public is unaware of how grotesque anti-ethnic-Russian activity became. The United States interference in Ukraine from 2014 on was clearly associated with a rise in NeoNazi activity, with high profile US political figures photographed associating and planning with Ukrainian ethnic nationalists.[6]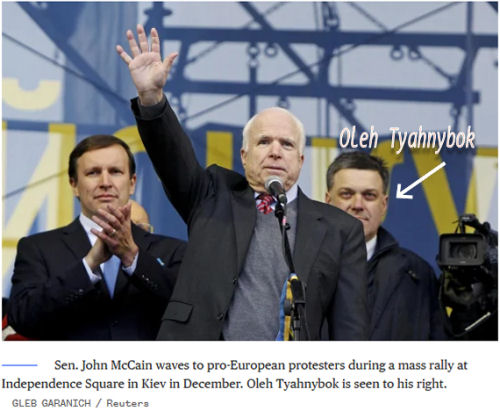 "But McCain's actions were a model of diplomatic restraint compared to the conduct of Victoria Nuland, the assistant secretary of state for European and Eurasian Affairs. As Ukraine's political crisis deepened, Nuland and her subordinates became more brazen in favoring the anti‐​Yanukovych demonstrators. Nuland noted in a speech to the U.S.-Ukraine Foundation on December 13, 2013, that she had traveled to Ukraine three times in the weeks following the start of the demonstrations. Visiting the Maidan on December 5, she handed out cookies to demonstrators and expressed support for their cause.

The extent of the Obama administration's meddling in Ukraine's politics was breathtaking. Russian intelligence intercepted and leaked to the international media a Nuland telephone call in which she and U.S. ambassador to Ukraine Geoffey Pyatt discussed in detail their preferences for specific personnel in a post‐​Yanukovych government. The U.S‑favored candidates included Arseniy Yatsenyuk, the man who became prime minister once Yanukovych was ousted from power. During the telephone call, Nuland stated enthusiastically that "Yats is the guy" who would do the best job.

Nuland and Pyatt were engaged in such planning at a time when Yanukovych was still Ukraine's lawful president. It was startling to have diplomatic representatives of a foreign country—and a country that routinely touts the need to respect democratic processes and the sovereignty of other nations—to be scheming about removing an elected government and replacing it with officials meriting U.S. approval.

Washington's conduct not only constituted meddling, it bordered on micromanagement. At one point, Pyatt mentioned the complex dynamic among the three principal opposition leaders, Yatsenyuk, Oleh Tyahnybok, and Vitali Klitschko. Both Pyatt and Nuland wanted to keep Tyahnybok and Klitschko out of an interim government. In the former case, they worried about his extremist ties; in the latter, they seemed to want him to wait and make a bid for office on a longer‐​term basis. Nuland stated that "I don't think Klitsch should go into the government. I don't think it's necessary." She added that what Yatseniuk needed "is Klitsch and Tyanhybok on the outside."

The two diplomats also were prepared to escalate the already extensive U.S. involvement in Ukraine's political turbulence. Pyatt stated bluntly that "we want to try to get somebody with an international personality to come out here and help to midwife this thing [the political transition]." Nuland clearly had Vice President Joe Biden in mind for that role. Noting that the vice president's national security adviser was in direct contact with her, Nuland related that she told him "probably tomorrow for an atta‐​boy and to get the details to stick. So Biden's willing."

Both the Obama administration and most of the American news media portrayed the Euromaidan Revolution as a spontaneous, popular uprising against a corrupt and brutal government.

A February 24, 2014, Washington Post editorial celebrated the Maidan demonstrators and their successful campaign to overthrow Yanukovych. The "moves were democratic," the Washington Post concluded, and "Kiev is now controlled by pro‐​Western parties."

It was a grotesque distortion to portray the events in Ukraine as a purely indigenous, popular uprising. The Nuland‐​Pyatt telephone conversation and other actions confirm that the United States was considerably more than a passive observer to the turbulence. Instead, U.S. officials were blatantly meddling in Ukraine. Such conduct was utterly improper. The United States had no right to try to orchestrate political outcomes in another country—especially one on the border of another great power. It is no wonder that Russia reacted badly to the unconstitutional ouster of an elected, pro‐​Russian government—an ouster that occurred not only with Washington's blessing, but apparently with its assistance." (Source:  Ted Galen Carpenter, "America's Ukraine Hypocrisy: The extent of the Obama administration's meddling in Ukraine's politics was breathtaking," Cato Institute, August 6, 2017, https://www.cato.org/commentary/americas-ukraine-hypocrisy#
As mentioned, during the Second World War, Ukrainian independentists found support against Russia from Hitler's Nazi Party, and this political and ideological meme has remained live. Seventy years later, in 2014, the right-wing activism, encouraged by United States actors on the ground in Ukraine, arguably mobilized part of the population to extreme violence against pro-Russian alliance and ethnic-Russians, which reached a horrible crescendo in the "Maidan" atrocity against pro-Russians in Odessa, Ukraine. Persecuted pro-Russian alliance and Russian ethnic people took shelter in a union building, but Ukrainian anti-Russian nationalists blocked their exit, then set the building on fire. Fire brigades and ambulances were prevented from reaching the area. When those trapped inside began to jump from the burning building, they were set upon by members of Ukraine's US supported Nazi junta. See https://candobetter.net/sheila-newman/blog/3811/video-odessa-massacre-see-full-reporting-instead-abcsbs-censored-versions 
This shockingly savage atrocity, strongly associated with US interference, has been left out of almost all western accounts of Ukraine's recent troubles. The Encyclopedia Brittanica reports, in the passive voice, only that,
"[…] violence erupted in Odessa, a city that had been relatively unscathed until that point, and dozens of pro-Russian demonstrators were killed when the building they occupied caught fire." ("The Poroshenko administration," https://www.britannica.com/place/Ukraine/The-Poroshenko-administration)
Whilst sanitizing the violence of those it supported in Ukraine, the west has coordinated a massive anti-Russian propaganda effort in tagging Russia as responsible for the downing of a commercial airline MH17 on July 17, 2014, whilst refusing to include Russia or Malaysia in its investigation, even though it has used a 'black box' supplied by pro-Russians in the Donbass region, where the incident happened. No motive has ever been supplied as to why Russia, or anyone, would want to intentionally shoot down a commercial airliner in order to somehow win a civil war, and then surrender crucial evidence in the 'black box'. A case could be more easily made as to why the west might do such a thing, in order to mount a false flag. The case has dragged out in Dutch courts for years, with individuals named publicly as guilty, without the case having concluded, and before any judgement at law, in an obviously political process. Various anti-Russian politicians, including Australian prime ministers and foreign ministers, have talked and behaved as if the Russian government had somehow caused the incident, and relatives of those who died in the crash have been encouraged to assume this to be the case. Russia itself has issued many press releases, asking to be included in the investigations, that it be investigated under criminal law, and denying any government involvement. (See statements on the TAS agency site, https://tass.com/search?searchStr=MH17&sort=date). The Malaysians have made clear protests about the conduct of the investigation and the premature assumption of guilt:
PUTRAJAYA, Malaysia – "Malaysian Prime Minister Mahathir Mohamad on Thursday rejected the implication that Russia may have been involved in the downing of Malaysia Airlines Flight 17 over Ukraine, after international prosecutors charged with murder four men — three of them Russians with military or intelligence backgrounds — in the 2014 missile attack that killed all 298 people aboard.
Mahathir said he doesn't think the findings of the international investigative team "is true at all" as it was based on hearsay.

"We are very unhappy because from the very beginning, it became a political issue on how to accuse Russia of the wrongdoing," he told reporters. "Even before they examine (the debris), they already say Russia. So it is very difficult for us to accept that."" Source: Eileen Ng, "Malaysia: 'No proof' of Russian involvement in MH17 downing," Associated Press, US ABC News, https://abcnews.go.com/‌International/‌wireStory/malaysia-rejects-russian-involvement-mh17-downing-63828400
Who is the aggressor? The US has criminal form
There is an utter failure in western reporting, including in Australia, to include the crucial information that the United States has encircled Russia with a creeping line of multiple armed overseas bases and troops.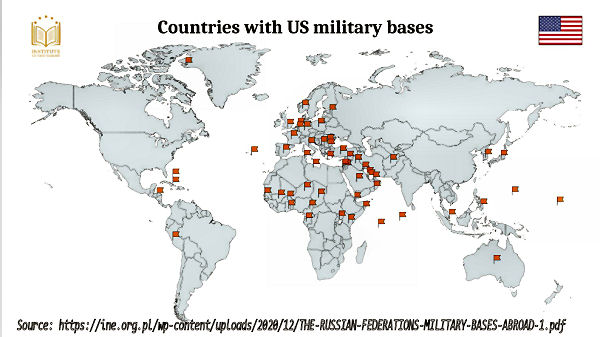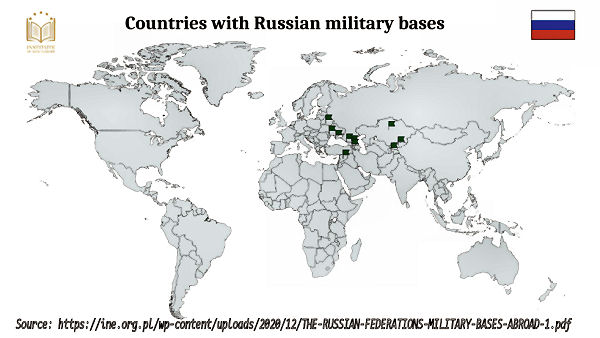 Russia has about 17 military bases overseas, almost all of them near Russian borders. These include two bases in Armenia, two bases in Belarus, two bases on the territory of Georgia in South Ossetia and Abkhazia, three bases in Kazakhstan which include the Baikonur space launch facility, three bases in Kyrgyzstan, a peacekeeping force in Transnistia in Moldova, two bases in Syria, a base in Tajikistan, and a base in Vietnam. Only three Russian bases are located outside the former Soviet Union — in Syria and Vietnam. It is only because of Russia's presence that Syria has been able to defeat the US orchestrated invasion of Syria by tens of thousands of takfiri terrorists from all corners of the globe.
The United States has by far the most foreign military bases, around 800 (depending on definition), and the largest military budget in the world. You can read a list of US foreign military bases here: https://en.wikipedia.org/wiki/List_of_United_States_military_bases.  US-NATO affiliate and allies possess many additional bases. Russian military assistance helped Kazakhstan, near its border, resist recent conflict that was probably financed by US-NATO.  Russia's relationship with former communist or current socialist countries in South America is the only thing helping those countries continue to participate in trade and to resist invasion by the United States. It is helping them to resist economic destruction from US sanctions by helping them integrate into the BRICs blocs, which include China's economic initiatives, which are also helping Syria and Iran.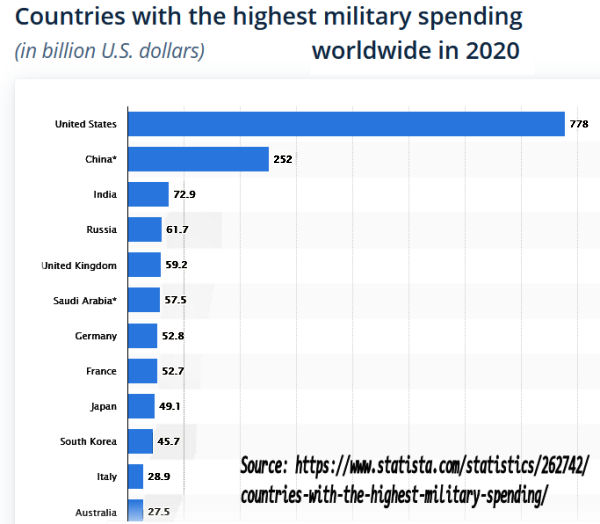 Real reasons the US is creeping up on Russia:
It is hard not to see the US searching for a reasons to attack Russia, as preparing ground for an invasion with the purpose of gaining control over Russia's energy resources and rare earths. US-NATO have form on this.  Smash and grab has characterised US-NATO conduct since the Second World War in the Far East, the Middle East, Africa, and South America. It has either invaded or attempted to bring down governments there, or both. It always uses the same propaganda line - that the countries it invades or whose governments it overturns - are dictatorships in need of democracy.  Russia's President Putin gets slurred as a dictator, although he is the most popular Russian president ever, but the main spin against Russia is that its president secretly wants to restore the Soviet Union and is hell-bent on invading Russia's neighbours, starting with Ukraine.
The success of such misinformation relies on continuing decline in general education among the public, especially in the English-speaking world. Australians are now more ignorant of history and geography than they were in the 19th and 20th centuries, since they rely on a dumbing-down education system, polluted by US-sourced ideology and increasingly corporate-sponsored.  One can see why the US is so alarmed at the success of Russian international television, rt.com, because it gives a completely different geopolitical perspective, and runs a number of programs with appeal for intellectuals.
Russia has also been depicted as a 'dictatorship', although there are democratic elections there.  It is also ridiculous to pretend that the United States is democratic in comparison, when all communications are subsidiary to presentation via a huge corporate propaganda 'news' outfit.
Russia is presented as poised to 'invade' Ukraine, with the prospect (Minister Dutton,Australia) of the loss of thousands of lives. There is a willful failure to educate the greater public on the fact that Ukraine has been conducting a war against ethnic Russians, Russian speakers and Russian nationals on its own soil, having invaded the Donbass region with tanks, several years ago. 
This warmongering by the United States also serves as a distraction from domestic problems in the US, NATO countries and their allies. It provides a focus away from the US disastrous management of COVID-19 which has exacerbated ongoing socio-economic, environment, and health problems, as it appears to consolidate a descent into third world conditions for the majority of people in the US.
What's really at stake
Ukraine has Europe's third-largest shale gas reserves at 42 trillion cubic feet, according to the U.S. Energy Information Administration. While for years U.S. oil companies have been pressing for shale gas development in western European countries, they have encountered strong resistance from citizens and local legislators on environmental grounds. There has, however, been much less resistance from desperately poor and disorganized Ukraine. In a similar vein, Ukraine's relatively rich agricultural soil is thought to be being bought up by Monsanto, in the expectation that Ukraine will also offer less resistance to GMO production than other European countries. [7]
Policy Recommendation:
To avoid serious conflict, the United States should cooperate with Russia to encourage Ukraine to maintain a politically temperate and neutral or bipartisan position as a border country along a political fault-line.
NOTES
[1] "Pentagon press secretary John Kirby says there are about 200 National Guard soldiers in Ukraine to train and advise local forces, and on Tuesday he said there are no plans to augment their number. There also are an undisclosed number of U.S. special operations troops providing training in Ukraine. Kirby wouldn't say whether the U.S. soldiers would pull out in the event of a Russian invasion, but he said the Pentagon would "make all the appropriate and proper decisions to make sure our people are safe in any event."
The administration said Wednesday [19 Jan 2022] it is providing a further $200 million in defensive military aid to Ukraine. Since 2014 the United States has provided Ukraine with about $2.5 billion in defense assistance, including anti-tank missiles and radars." Source: Robert Burns, "What are US military options to help Ukraine?" Associated Press, 21 Jan 2022. https://www.military‌times.com/flashpoints/2022/01/20/what-are-us-military-options-to-help-ukraine/
[2] "We are categorically opposed to developments, where we are requested to send [our] troops 'to the barracks' on our own soil, yet simultaneously the Americans, Canadians, British actually ensconce themselves under the guise of a rotation (a very provisional rotation) in the Baltic States and in the countries of northern Europe, as they open military bases near the Black Sea. What's more, the British are building a base in Ukraine: they are setting up a base in the Sea of Azov," Lavrov said. "This is an inadmissible approach." Source: "Lavrov strikes back at US diplomat's 'return troops to the barracks' comment," Ukraine crisis, 14 Jan 2022, https://‌tass.com/world/1388273
[3] See, for instance, Christian Mamo, "Frozen conflict brings economic stagnation to Ukraine's Donbas region," Emerging Europe, 16 March 2021, https://emerging-europe.com/news/frozen-conflict-brings-economic-stagnation-to-ukraines-donbas-region/
[4] "Hundreds of Ukrainian nationalists march in honor of Nazi collaborator," 1 Jan 2022. https://www.timesofisrael.com/hundreds-of-ukrainian-nationalists-march-in-in-honor-of-nazi-collaborator/
[5] "The Maidan: "Anti-Maidan protests were reported in several cities across eastern Ukraine, including Kharkiv, Donetsk, Luhansk, Slovyansk, Mariupol, Mykolaiv, among others. 'Russian Nationalists Protest in Ukraine,' Ukrainian Policy, 1 March 2014; 'Mariupol'tsy podderzhivaiut Sevastopol,' Mariupolskaya Zhizn,' 1 March 2014; 'Segodnia v Mariupole sostoialsia mnogotysiachnyi miting,' Mariupolskie Novosti,  8 March 2014, 'V Nikolaeve na meste pamiatnika Leninu ustanovili rossiiskii flag I flag goroda,' Mukola.net, 1 March 2014; 'Mitingi v Kramatorske: 'unitarii' sozdali zhivoi koridor, a "federalist" sozhgli flag Evrosoiuza,' Vostochnyi ProektI, 29 March 2014, 'Ukraine: Pro-Russian Protesters Storm Buildings in Cities Close to Russia Border,' Euronews, 4 April 2014;'V Donetske I Kharkove separatist vyshli na miting,' Liga.Novosti, 6 April 2014; 'U Lugans'ku mitingari-rusofili emusili novogo gubernatora piti u vidstavku,' Ukrainska Pravda, 9 March 2014. The website www.anti-maidan.com has a map with information about some of the biggest online anti-Maidan movements, their contact information and an overview of anti-Maidan protests across eastern Ukraine at http://anti-maidan.com/?p=map." Source: J.L. Black and Michael Johns, Eds., "The Return of the Cold War: Ukraine, The West and Russia, Routledge, 2016, p. 155, Note 6.
[6] "The U.S. and Europe have been emphatic in their support of the new Ukrainian government – but a significant number of Washington's new bedfellows are members of what some experts class as extreme right-wing parties. 
When Sen. John McCain traveled to Kiev in December, he told the crowd of 200,000 on Independence Square: 'The free world is with you, America is with you, I am with you.' But among those stood next to the veteran Republican was Oleh Tyahnybok, leader of the Svoboda Patty.
Some policy analysts have called Svoboda ultra-nationalist and even neo-Nazi.  Svoboda, which means 'Freedom,' was given almost a quarter of the Cabinet positions in the interim government formed after the ouster of President Viktor Yanukovych in February.  The party's policies center around protecting the rights of what it calls 'ethnic Ukrainians,' the preservation of the Ukrainian language and culture, and strict controls on immigration.
Although much of the more extreme content has now been removed from Svoboda's leaflets, the European Parliament passed a resolution on Ukraine in 2012 that asked Kiev not to associate with the party on account of its 'racist, anti-Semitic and xenophobic views.' One of the party's lawmakers was appointed to run the powerful defense ministry before being forced out. However, Svoboda still holds one of the vice prime minister posts as well as the ministries of agriculture and the environment. According to Foreign Policy magazine, this represents the largest far-right representation in any government in Europe. 
The appointment of Svoboda co-founder Andryiy Parubiy to position of secretary of the Security and National Defense Committee has raised eyebrows. Although now a member of the liberal-conservative Fatherland party, Parubiy led anti-Yanukovych street militants in Kiev in the wake of protests that erupted in December. His deputy is Dmytro Yarosh, leader of the even further right-wing group Pravyi Sektor, meaning 'Right Sector.' Its members formed the most militarized elements of the anti-government protest movement. Some of these demonstrators wore anti-Semitic insignia. […]
The U.S. has thrown its weight behind the new Kieve administration, from McCain's overtures to a video of support from George Clooney.  Earlier this month, Secretary of State John Kerry solidified the alliance with a visit to Kiev and the pledge of $1 billion loan deal." Source: "Analysis: U.S. Cozies Up to Kieve Government Including Far Right," 30 March 2014. https://www.nbcnews.com/‌storyline/ukraine-crisis/analysis-u-s-cozies-kiev-government-including-far-right-n66061
[7] Sheila Newman, "Book Review: Kenneth Eade's Thriller faction series highlights GMO industrial politics in US and Ukraine conflict," 9 November 2015. https://www.candobetter.net/sheila-newman/blog/4664/book-review-kenneth-eades-thriller-faction-series-highlights-gmo-industrial