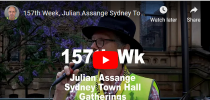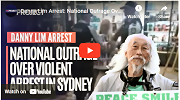 Every Friday at Sydney Town Hall, this group continues to stand up for Julian Assange. Stirring speeches about Australia's whistleblowers and Australia's involvement in war-crimes, Albanese's failure towards Assange, our crocodile tears for the prisoners of other regimes, but not for Julian Assange. Also police brutality and allegations about 75 year old Danny Lim's recent violent 'discontinued arrest' and injury leading to two nights in hospital with a fractured skull. Note that in Melbourne there is a similar group outside Flinders Street Station every Friday evening.
Danny Lim's violent attempted arrest under investigation
Below is video-footage of Danny Lim's violent attempted arrest, and some commentary.