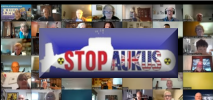 Video of speakers and informed discussion from a large Australian audience of activists re Australia's mounting involvement in US-NATO warmongering and costly and inappropriate weapons purchase. The Stop Aukus movement came out of a coalition of anti-war movements, notably IPAN, and features Australians who have never stopped being involved in our anti-war movement, and who have rich experience and knowledge to offer other Australians whose education, via media or schools, has been lacking. (Candobetter Ed.)
We're on the path to war. How can we stop it?
This is a video of the Australian Anti-AUKUS Coalition National Zoom Meeting Sunday 26th March,6.30pm AEDT. The Facilitator was Kellie Tranter is a lawyer and human rights activist who headed the IPAN Peoples' Inquiry into the costs and consequences of Australia's involvement in U.S wars and the alliance.
Implications of the government reports on Aukus, nuclear submarines, war powers reform & the Defence Strategic Review.
The recent government decision to spend $368 billion on acquisition of Nuclear Sumarines has made this meeting particularly current and of grave concern.
Speakers
Dr Alison Broinowski AM: President, Australians for War Powers Reform. Formerly an Australian diplomat, Alison is the author or editor of 14 books about Australia's dealings with the world, Asian countries in particular. Her PhD is in Asian Studies at ANU. She has researched and taught there, at Macquarie University, and at the University of Wollongong. Dr Alison Boinowski spoke on the implications of the Inquiry into War Powers Reform.
Brian Toohey was a columnist with the Australian Financial Review who has also written for The Nikkei Asia Review, The West Australian, The Sunday Age and other publications. He was editor of The National Times and a Canberra and Washington correspondent for AFR. He is the author or co-author of four books: Oyster: The Story of the Australian Secret Intelligence Service; Tumbling Dice: The Story of Modern Economic Policy; The Book of Leaks and The Winchester Scandal. Among other subjects, he has written extensively about national security policy since 1973. Brian currently writes for The Saturday Paper and Pearls & Irritations. Brian Toohey spoke on the implications of the report on AUKUS and the Nuclear Submarines.
Dr Vince Scappatura teaches Politics and International Relations at Macquarie University. He has a recently published book by Monash University Publishing titled: The US Lobby and Australian Defence Policy. He was the panel leader on defence for the IPAN Peoples' Inquiry into the cost and consequences of Australia's involvement in U.S. wars and the alliance. Dr Vince Scappatura spoke on the implications of the Strategic Defence Review Report.