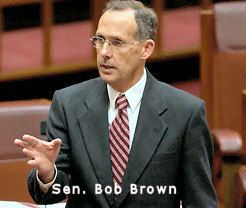 This was only the first shot in the war on unsustainable growth.
Australians and the world now have on record where their so-called leaders stand on this question. The 'nay group' carries the names of the people Australians may hold responsible for thirst, starvation and slavery, if the future continues to unfold according to their plan to continue population growth.
S.A. Senator Minchin about-face

In passing I note that the elderly Liberal Senator Minchin, South Australia, failed to support this motion. Minchin made his maiden speech congratulating ex-NSW leader, Bob Carr, on his ostentatious (and curiously ineffective) stance against population growth.
Young South Australian Senators, Xenophon & Hanson-Young vote for the population motion


However, Independent, Nick Xenophon, did support the motion.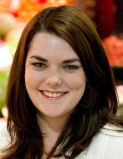 And so did the youngest member of Federal Parliament in Australia's history, Sarah Hanson-Young, also in South Australia.
Now South Australians have a real choice in the Federal Senate!



West Australian based Greens Rachel Siewert and Scott Ludlum also supported the motion.
And so did Christine Milne,

who represents Tasmania in the Senate. (She is informed on peak oil and other energy issues and has some good discussions on her site.)
Pressure for growth comes mainly from the property & infrastructure development lobby
I have been studying this political problem of obdurate growthism and the pressure for growth from the infrastructure development lobby now for years. It is a threat to our democracy. I will be watching with great interest from now on. I can only urge those six senators who showed the ability to think for themselves and to strongly represent Australia's welfare not to give up. The mass media is pro-growth because it is really part of the corporate sector, so the senators won't derive benefit there for their courage. In fact the only source of support they may find is in the broad Australian population. The Greens seem to be the only ones attuned to the cries of warning from people in Australia who can see things getting so bad so quickly as we place more and more pressure on this fragile country's natural resources, wildlife and trees, democracy and social structure. It is good to see that they have managed to shake themselves loose from whatever was holding them back from confronting the issue of population in previous years.
Details below:
http://www.aph.gov.au/HANSARD/senate/dailys/ds131108.pdf
Senate Hansard November 13th 2008 p.3.
WHITE PAPER ON GLOBAL POPULATION
Senator BOB BROWN (Tasmania—Leader of the Australian Greens) (9.37 am)—I move:
That the Senate calls on the Government to develop a white paper on population during this period of government which takes into account:
(a) projections of a global population of between 9 to 10 billion people by 2050;
(b) the inability of the Earth to provide for 9 to 10 billion people if average resource consumption is to be at
current levels in Australia;
(c) climate change;
(d) Australia's inability to host exponential population growth; and
(e) the wellbeing of future generations and life on Earth.
Question put.
The Senate divided. [9.41 am]
(The President—Senator the Hon. JJ Hogg)
Motion defeated 6 to 47
(The President—Senator the Hon. JJ Hogg)
Ayes………… 6
Noes………… 47
Majority……… 41
AYES
Brown, B.J.
Hanson-Young, S.C.
Ludlam, S.
Milne, C.
Siewert, R.
* Xenophon, N.
NOES
Adams, J. Bernardi, C.
Bilyk, C.L. Boswell, R.L.D.
Boyce, S. Brandis, G.H.
Brown, C.L. Cameron, D.N.
Cash, M.C. Colbeck, R.
Collins, J. Conroy, S.M.
Coonan, H.L. Cormann, M.H.P.
Crossin, P.M. Eggleston, A.
Farrell, D.E. Feeney, D.
Ferguson, A.B. Fielding, S.
Fierravanti-Wells, C. Fifield, M.P.
Fisher, M.J. Forshaw, M.G.
Furner, M.L. Hogg, J.J.
Humphries, G. Hurley, A.
Hutchins, S.P. Ludwig, J.W.
Lundy, K.A. Macdonald, I.
Marshall, G. McEwen, A.
McGauran, J.J.J. McLucas, J.E.
Minchin, N.H. Moore, C.
Nash, F. Parry, S. *
Polley, H. Pratt, L.C.
Stephens, U. Sterle, G.
Williams, J.R. Wong, P.
Wortley, D.
* denotes teller
Question negatived.