VBAG is the only organization representing building consumers in Australia. VBAG estimates conservatively that for 2019 more than one million Australians will lose more than $400b on shonky building, as well as suffering decades long distress from disputes, leading to deaths, suicides, shattered families, and ruined lives. Come along and inform yourselves and participate.
VBAG AGM is on 26 August 2019 at 7pm at 1 Wendell Street, Brunswick. (Best to enter from Victoria Street.)
Topic: 'Dream into Nightmare: In the SHOES of Building Consumers'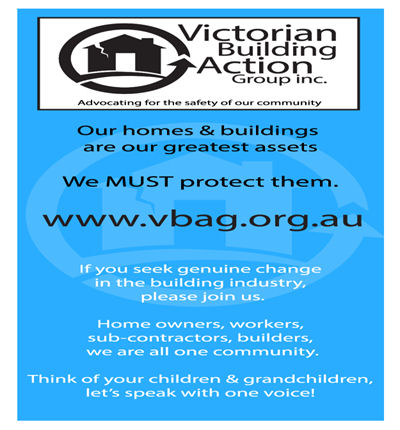 VBAG's conservative estimate for 2019: more than 1 million Australians will lose more than $400 Billion. This without considering the toll of the years or decades' long distress from disputes, and without taking account of the deaths and suicides, shattered families, the lives forever ruined.
This is the reality of living in the lucky land of Oz! Here we have no - NO - consumer rights, no human rights, no freedom of speech and no 'fair go'!
Please make the effort to come, and bring your family and friends. This corrupted industry does not discriminate. Everyone is a building consumer and all are at high risk. People from all walks of life have and will continue to be ensnared into the wicked web of building fraud - because 'shelter' is a basic need delivered for three (3) decades by a lawless 'industry'!
HELP US with strategies to reclaim our rights as the number ONE stakeholder, to speak as ONE united CONSUMER VOICE and to end this biggest ever man-made human disaster.
Enquiries: Telephone or text President Anne Paten on 0401 226 048
Building is more than risky business; it's a killer
As the only registered building consumer organization in the country, we have been working hard on behalf of owners for 13 years, but the powerful vested interests who
control the industry and our politicians have locked us out, rendered us utterly voiceless.
The destruction of the con-struction industry has delivered a massive man-made disaster, a horrific human tragedy. This was preventable, but profits count more than people!
- We supposedly live in a first world country, but our built environment is third world.
- Deregulated in 1993, the 'governance framework' underpinning the industry was con-structed to support a lawless industry and to crush consumer cash-cows.
- The biggest con: Big business directed our governments to steal our rights and to authorize legalized fraud.
- The cowboys have destroyed our families and shamelessly left millions of them broke and broken. This year more than one million owners will lose an estimated $400b. Yes, $400 BILLION!