Anyone who has been in awe at the beauty of nature, its perfection of form and the delights it brings to the heart, the soothing of 21st century stress and upliftment of the soul would most likely have had the same response that I had while observing outrageously loud and wrecklessly fast racing cars shatter the silence as they ripped through the most pristine rainforests of Australia ....
See also: "After six days of anti-Rally protestor vilification, rock throwing allegations admitted to be false" of 11 Sep 09
Originally published
9 Sep 09.
On Saturday September 5, 2009 I found myself sitting on damp rainforest soil on Urliup Drive, Dulguigan, a riot policeman stationed to guard me just 3 metres away, standing on the road itself as we waited for the first of 30 race cars in the World Rally Championship for this year. It had been a total of five arduous months campaigning to stop this damn rally - all to no avail since it was ushered through by the NSW Rees government, given special treatment, all environmental laws were overridden and no development application was required. Nor would there be any liability for Repco if any deaths of drivers/spectators occurred.
I had arrived early to help my friend who lives on the road put up banners as there were very few protesters on this stage. We had been putting up the posters for hours as every time we'd put one up, the riot squad would come along and tell us why that was not a good position so we'd keep looking. In the end they were not very visible as the police themselves stood in front of some of them.
My emotions were mixed - how would I react? Would a secret love of fast cars emerge even though in my heart I knew this was the wrong place? Or would I go into meltdown worrying about what the animals who lived in this pristine rainforest might be feeling?
I had hoped to be alone as I sensed this might be an emotional experience for me, but the police were certain that we five protestors (who incidentally were mainly all over 50 years of age, grey-haired, professionals, not dirty hippies from Nimbin, as we are constantly being accused of being) would be hurling ourselves in front of the vehicles travelling 160kph on this extremely narrow, winding, precipitous road with ravines falling away to one side.
Many hours had passed as various service vehicles had passed through, all going quite fast and stirring up the dusty road which had been specially graded for the event. There were 'sweeper' vehicles that made sure no branches or rocks had been placed there by protesters, police, security, the sirens to 'scare animals away', approximately eight riot police and highway patrol.
The last and most hilarious vehicle to come through were the 'koala spotters' which consisted of two individuals standing on the back of a ute with their heads looking skyward at the tall trees above, supposedly looking for koalas. Koalas are extremely difficult to detect especially in a moving vehicle, and impossible unless you are experienced, especially in this dense rainforest. How on earth they were supposed to have time to stand at the foot of the tree and guard them or erect fences around the tree to contain them, when the first cars were coming in about 10 minutes was a mystery to me. And what about koalas who were already on the ground?

Repco had promised that creeks would have barriers to protect the pristine waters should one of the cars end up in the creek but none were erected either on this stage or other stages that I could see. They were supposed to be erected (so we were told at a Residents Meeting by Repco several days prior). They also promised wildlife carers would assist in the case of injured animals, but that was another lie - none of the wildlife carers wanted to have anything to do with this rally, on principle. It was bad enough that this was a busy time of year for them without having more animals injured by an unnecessary, disrespectful car rally foisted on them, all without financial compensation of course.
As I sat there contemplating how the animals might be feeling at the radical increase in traffic on a normally rarely used road which would by now have 100-200 rally supporters staked at various sections by the road, I tried to engage the riot policeman in normal conversation but his only comment was 'My job is to make sure that you stay there and not come onto this road. I'm here to protect you, even though you say you won't come onto the road.'
"This is so boring" I said to him. "We could right now all be walking through this amazing rainforest, in awe of the trees and the animals. Instead we are sitting here waiting interminably for the racing cars which will be gone in a blink of an eye followed by a trail of dust that will obscure this idyllic view we have right now...." He continued to chew gum and ignore my comment. It seemed very hard to penetrate the exterior of this robot-like human. What was he thinking? Did he like his job?
The owner of this property and 3 fellow protesters were further down, similarly guarded by one riot policeman each. We were the only protesters on this stage and, with the exception of one young gardener in his late 20s, were all over 50 years of age and professionals - hardly the stereotyped Nimbin hippies who didn't have a job or a life and hardly the types to hurl ourselves in front of cars or hurl boulders at the race cars. Still the riot police had told me several days before that they were brought to this area to 'stop the protesters from destroying the road' and they still had it in their mind that this is what our intention was. Furthermore, the day before two stages had been stopped by protesters at Byrrill Creek and the police were very nervous that protesters might try something at the other stages, such as hurling our bodies in front of racing cars. That would make world headlines and draw negative attention to this rally - the last thing they wanted.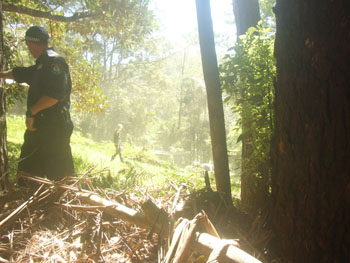 Suddenly I heard the most terrifyingly loud sound from around the mountain that filled my heart with terror. The car was only seconds away now and I steeled myself for what felt like World War III. By the time it was level with where we were I found myself involuntarily screaming at the top of my lungs "NO!!!!" but the driver ignored me and flew by leaving me with my mouth agape in horror and shock barely able to enunciate the words 'You're MAD!! Completely INSANE!" I was not enjoying this to put it mildly. In fact I began to sob uncontrollably in spite of the fact that the cop was there, protecting me. As I slowly regained control I once again tried to engage the cop:
"This is SO WRONG! To have an event like this in this beautiful rainforest. What about the animals? How do they feel? Doesn't anyone even care?" The clouds of dust blanketed every square centimeter of flora and fauna for some distance, obscuring what was previously paradise. Once again I asked him to please step off the road as it was dangerous for him to be there and invited him to come higher up onto the bank closer to where I was but he refused. "No I'm staying right here and if you move I will follow wherever you go to make sure you don't go on the road."
Minutes later the second car came, in much the same way, outrageously loud and fast. Once again I began screaming and sobbing "Please forgive them they don't know what they are doing" - I felt the etheric and energetic fields of this area being shattered, fractured and it distressed me profoundly. It felt like a total violation of everything that is sacred, pure, beautiful. To put it mildly, it was one of the worst experiences of my life. I was starting to sink into a bottomless pit of pain and despair when the third car came through. It was then I began to realise that I was suffering from a total emotional breakdown. I found myself barely able to move as I fell onto the nearest tree trunk and put my arms around it saying over and over "I'm sorry, sorry, sorry, so sorry" trying desperately to tell this beautiful Earth that I love so much the pain I was feeling.
The policeman had no idea how to deal with anyone in trauma but I could feel that I needed to get away from here as soon as possible but was unable to help myself. Luckily my friends came by (they were bored and angry) and helped me by picking me up and letting me lean on them as I staggered through the forest back to the house, riot cop in tow. Every time another car went by I would fall to the ground, prostate, overwhelmed with grief. Eventually I made it back to the house where I collapsed.
A bit later I picked up the phone and called Garry Connelly, the Manager of Repco Rally Australia and told him about the effect his rally was having on me. He said "I'm sorry you don't like rallying, most people do". I disputed that saying no public consultation had taken place which he tried to defend saying that 400 people living on the stages had been interviewed, even though we have never seen this social study. I asked him to please take this rally somewhere else away from World Heritage areas, national parks, koala colonies and endangered species to a desert or a racetrack. He replied that there was just as much biodiversity in a desert as here and that a racetrack would not be a rally anymore. Besides there was a rally here before in this area 40 years ago. I reminded him that times have changed and people are a bit more environmentally conscious these days. He pointed to a 700+ page ecological report (which was not worth the paper it was written on as it was surveyed in autumn not breeding season and was only for 1 year not 10-20 years) and said that Repco was environmentally friendly. I told him that rallying was NOT eco-tourism and in fact was an assault on our environment - even a 2 yr old can see that! But Connelly couldn't as he suffers from extreme myopia and talking to him is an exercise in futility.
After the stage ended, the riot policeman who was guarding me came to the house to see if I was OK and get my details. He said "Are you OK?" which I thought was pretty nice of him and I could tell by the look on his face that it was a sincere question. I looked into his eyes and said "No, I'm not all right! I'll never be all right until this rally goes somewhere else! I feel like I have been violated, raped. I love this forest, and all the creatures, even the insects and it hurts me to see man at war with nature." He said "I can see that". WOW! He meant it, he really could see it! His face had softened and behind the hard exterior was a real human being. Perhaps he was just very worried that I would jump onto the road and he would lose his job and now he saw that I didn't he could relax and be real. I hoped that I had somehow opened his mind to another way of perceiving this world and that he would remember me.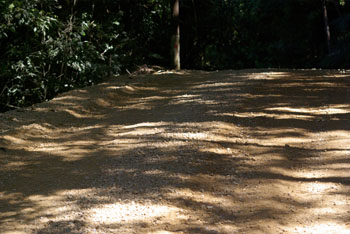 My friend drove me home where I again collapsed. Meanwhile the two residents who were protesting checked the condition of their road surface. A week earlier it had been beautifully graded by council who decided, serendipitously that after 8 years it was 'due' for an upgrade. And this is what they found - rubble and pitted and gravel strewn everywhere, car tyres were within 1 cm of the ravines falling steeply away to the side.
Never again could I look at a rally video and not remember this experience of intense connectedness with the web of life and feeling the pain all over again. How I wish everyone on the planet could love and respect this wondrous earth! If they don't they don't deserve to live here. Let them go live on the moon until such time as they realise just how lucky we are because this earth is dying and soon it will be too late to turn it around.
Rallies are NO solution to the planetary crises facing us now. They only solidify the perception that our world is here for us to use in any way we want for our own pleasure and to hell with everything else!
Anthropocentrism or Biocentrism - you choose.
See also: "After six days of anti-Rally protestor vilification, rock throwing allegations admitted to be false" of 11 Sep 09
For those in the Tweed/Kyogle area, please participate in the sociological survey found at http://www.tweedecho.com.au. Community feedback will be used to try and stop further rallies in this area so it is very important to take a few minutes to fill it out. Thank you.