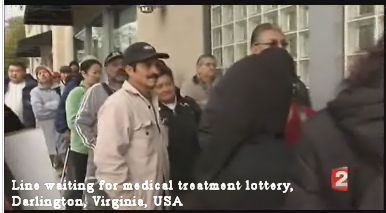 US citizens deserve better than the third-world US health-'care' system
The French News reports that in the United States more and more people are out of work. A sign of this is the number of people who cannot access medical and hospital treatment.
When North Americans lose their work, they usually lose their health insurance.
Some clinics have been willing to treat people for free, but now they are overwhelmed by the numbers of people seeking help.
Apparently some clinics are now running lotteries to choose who to treat in parts of the USA.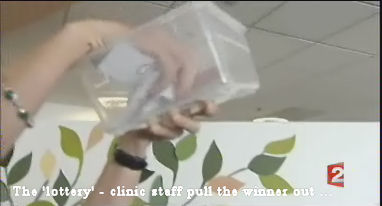 The report showed a line of 75 people without work or health insurance, presenting to be part of a lottery for free treatment, in Darlington, Virginia. Among those lining up was a diabetic, a woman with a thyroid deficiency problem and an out of work teacher with cardiac insufficiency. Apparently some in the queue had cancer.


We saw one woman 'winning' the right to treatment on this occasion.
Apparently those who did not win would be able to try in another lottery after 15 days!
Clinic spokespeople say that they are trying to manage the best they can.
What a failure in a country with the pretension to being the most powerful in the world, and whose banking CEOs have recently netted even bigger bonuses than they did prior to the Global Financial Crash.
Just at the moment the USA is debating about its system of health care.
Source: 8pm France2 News October 21, 2009
See also Wikipedia on Michael Moore's film, Sicko, and for more about the United States health care 'system'. There are excerpts on you-tube if you cannot get hold of the video.
And to think that the United States pretends to bring 'democracy' to other countries. Don't tell me that US style capitalism is democracy. More like corporate feudalism.