World Wetlands Day
World Wetlands Day is celebrated each year on 2 February to mark the anniversary of the signing of the Convention on Wetlands of International Importance (Ramsar Convention) in Ramsar, Iran, 1971.
Australia was one of the first countries to sign the Ramsar Convention and designated the world's first Wetland of International Importance, Cobourg Peninsula Aboriginal Land and Wildlife Sanctuary in the Northern Territory, in 1974. Australia has 65 Wetlands of International Importance, covering approximately 7.5 million hectares. A report from the previous government says Australia has 65 wetlands of world significance listed under the Ramsar treaty, but water management requirements of only 11 sites are known in any detail. Roughly half of Australia's Ramsar wetlands are not adequately mapped, and information is so disorganised.
Report on Rising sea levels
AUSTRALIA must create a new, expanded network of protected wetlands around its coastline or see many bird, animal and plant species become extinct as sea levels rise, a recent House of Representatives report says. While coastal areas appear to be the worst hit, it found
Kakadu National Park is particularly vulnerable.
The Northern Territory Environment Centre's Stuart Blanch says storm surges can already push saltwater tens of kilometers up nearby rivers and the risk will increase with rising sea levels.
The report was made by House of Representatives standing committee, chaired by Labor MP Jennie George. Her recommendations include calls for greater protection for coastal wetland, the increase in size of coastal buffer zones and the creation of pathways for migration of animals. If adopted, any perceived threat to the Great Sandy Strait Ramsar wetlands from the proposed Traveston Crossing Dam would effectively kill off the $1.8 billion project. That the dam will have "minimal downstream impacts" is being touted despite of the fact that even very preliminary assessments highlighted probable impacts on Ramsar wetlands, and numerous studies since have shown this to be the case. However, with Anna Bligh's growth at all costs, how far will our Federal "environment" minister take seriously recommendations contrary to growth?
The Standing Committee on Climate Change, Water, Environment and the Arts is calling for the classifying more coastal wetlands as sites of international significance under the Ramsar convention.
Third wave of extinctions
Wetlands support high levels of biological diversity and they are amongst the richest ecosystems on this planet. According to environmentalist Tim Flannery, we are heading towards a third wave of extinctions. However, "so miserable is the funding, and so immense the task, that species are slipping away before (scientists') eyes, even in the best-protected wildernesses".
According to Birds Australia, many species, such as waders and other waterbirds, are threatened by changes to wetlands and coastal environments. These can be in the form of altered environmental flows, drainage of wetlands, and reduced water quality through salinisation.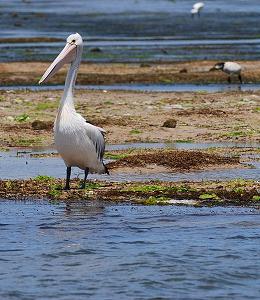 (Australian pelican)
Ramsar listed wetlands significant for waterbirds
The lake systems, particularly the Ramsar listed wetlands, are important for waterbird conservation. Victoria's Western Port has several marine national parks and is internationally recognised under Ramsar as a wetland of significance for migratory birds.
Conservation vs Development
Since European settlement, Victoria has lost more than 37 per cent of its wetland areas to degrading processes such as land clearing and draining. An alarming 90 per cent of this loss has occurred on private land. Strong population growth is projected for areas within our own Geelong to Ballarat corridor, and coastal areas proximal to Geelong including Ramsar wetlands near Lara and on the Bellarine Peninsula. About 18,000 Western Port properties valued at nearly $2 billion are considered vulnerable to flood. Nationwide, more than 700,000 coastal properties with a combined worth of about $150 billion are potentially at risk, the report finds. This is where housing expansion and further developments are happening, and this is not Kakadu but close to home!
Impacts from residential and commercial developments in wetland areas include urban run-off, loss of species and the risk of wandering domestic animals impacting on the site.
Serendip wildlife sanctuary threatened by developers
Serendip is a wildlife sanctuary situated in the foothills of the You Yangs and is a fantastic place to view some of our more special native animals. Being only 25 minutes from Geelong or just over half an hour from the centre of Melbourne. Serendip has had world wide recognition for many of its breeding programs including two of the states rarest birds Australian Bustards and Bush Thick-knees. However, the council has labelled land near the sanctuary to be "high priority for residential development"! Residents near the site have said previously that a housing subdivision could be disastrous for Serendip's breeding programs, with the possibility of cats and dogs on the loose.
Mr Garrett has one job and in that job he is to protect the environment. Instead of surveys, habitat conservation and breeding programs, "business as usual" is the normal approach!
Australia's shame - possible Ramsar delisting
In the nearly 40-year history of the Ramsar Convention, the possible delisting of the Coorong would give us a very special black mark for being the first country to delist a site of this size due to mismanagement. If the predictions are correct the Coorong could become more saline than the Dead Sea, the site will be unrecoverable.
A member of the Ramsar task force says the lower lakes of the drought-hit Murray could be delisted also as wetlands of international significance. Logging continues to provide jobs and income for local communities. The forests include wetlands listed under the international Ramsar Convention and the NPA argued that the habitat of federally-listed endangered species was at risk.
Dairy production takes place in all states, but it is particularly significant in Victoria, where more than 60 per cent of all dairy farming enterprises are located. It is no wonder that South Australia's end of the Murray-Darling Basin is drying up as it is being consumed before it reaches the Coorong!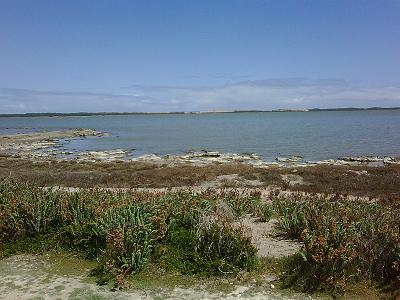 (Coorong Salt Creek)
Consumption of users vs entitlement of the environment
Victoria in spending tens of millions of dollars trying to improve water penetration to parched Red Gum forests on the Murray River. Of the 31 billion litres of "environment" delivered last year,
18.5 billion was spread across the Murray and Northern Victoria.
Environment Victoria spokeswoman Juliet Le Feuvre said Victoria's system of water entitlements was set up to meet the needs of consumptive users rather than the environment.
''Until the environment has an entitlement that is adequate and suitable to meet its needs, it is going to be disadvantaged,'' she said.

Any wetland with a Ramsar status should mean that it cannot be used for housing due to its international significance. We have schemes and corridors to increase human population-growth, but indigenous non-human species are being overlooked even though they have a vital role in essential life-supporting ecological systems. What we need is a Federal Minister FOR the Environment, not one that continues to give priority to jobs, income and developments at the expense of our already stressed wetland ecosystems.