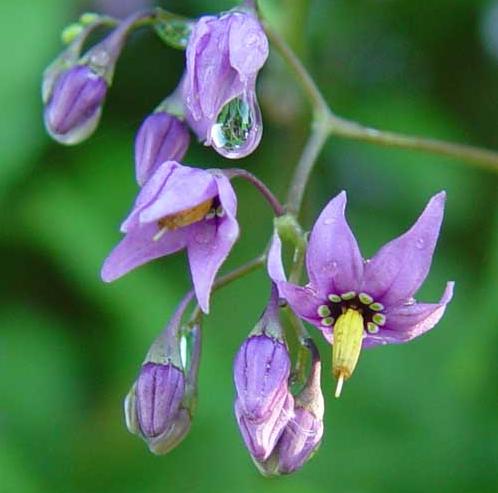 The deadly nightshade flower - an old symbol for falsehood.


Religion is unethical. It doesn't teach life's grey uncertainties between right and wrong. It preaches a belief system to perpetuate influence of that belief system made of invented rules and myths, and of course prejudice, politics, cronyism and control.
History riddled with it.
Scripture is brainwashing. How are Ron Hubbard's scientological teachings any less dogmatic than the anglican King James Bible or the Uniting Church's Good News for Modern Man Bible?
What is the purpose of projecting a guiding deity? It is to focus the faith of a religious order on a omnipresent mythical guardian so as to charm, enamour, ensnare, spellbind insecure and vulnerable people? Does it just prey on hope of the vulnerable seeking hope?...to thereafter insist on an absolute pledge of life-long loyalty?
Church is a form of cult, with milder varying degrees of orthodoxy, reliant upon the premise of truisms and a methodology of entrapment. So what has 'church' now meant to mean? Medieval christianity pervades our modern society unquestioningly more than we realise. But it has become increasingly irrelevant to the humanistic needs of modern society, evidenced by the demise of patronage and absence of youth attendance.
Children seek direction in life and that is when they are most vulnerable. If religion was barred from children until they were old enough think independently (say 16), then perhaps religion could lay claim that it is not a form of indoctrination and brainwashing, but it ain't. Religious orders intentionally grab children at an early age, knowing that they have them for life.
This warrants public questioning as is currently occurring and these churches are running scared. Old religious orders need to comply with ethical and moral standards of our 21st Century society, else they deserve labeling as fundamental extremists in the same category as the Afghani Taliban.
It is about time ethics, humanism and freethought were taught in schools by independent qualified experts. Humanism is an approach in study that focuses on human values and concerns. Freethought is about forming opinions on the basis of science, logic, and reason, rather than being blindly influenced by authority, tradition, or any other dogma.
Faith? Spirituality? Personally, give me pantheism any day. But I'd sooner worship a fly crawling up the wall before turning desperately to religion.
Religions are all about one group of people trying to dominate others. It is all about power and wars have been fought over it. It preys on the vulnerable. It starts with children while they are vulnerable and brainwashes them. Catholicism is all about controlling people through guilt. Each religion doesn't recognise the other. Look what happened last month at the Mosque of Cordoba.
Religion has held a monopoly on spirituality for eons. Now that our society is free thinking and free spirited, people are realising that their are spiritual alternatives to religion - ones that are orthodoxy-free and diety-free. And of course the dominant religions are worried of losing their sphere of influence. The Sydney Anglican diocese claims a new controversial trial of secular ethics classes has ''decimated'' protestant scripture classes in the 10 NSW schools where it has been introduced as an alternative for non-religious children, with the classes losing about 47 per cent of enrolled students. (Scripture classes lose half of students to ethics, say Anglicans)
The anglican church is so desperate that it has created a fund-raising website to ''protect SRE'' (special religious education). The website says the values underpinning ''Australia's moral framework.''
Morality? Well, another week, another dodgy priest exposed. The christian church has the reputation of a pedophilic cult. Go to any newspaper online and type the word 'priest'. Woa Hoa!Start with the Sydney Morning Herald...
'Priest defrocked over sexual misconduct' (today's headlines)
AN ANGLICAN priest has been defrocked after a professional standards board discovered he had engaged in multiple sexual liaisons, including with at least one woman from his parish.
'Flood of new priest abuse allegations'
A Belgian committee probing allegations of pedophilia by priests has been flooded with complaints since the resignation of a bishop who admitted abusing a boy.
'German priest to leave US in abuse case'
A German priest has been suspended and ordered home from a posting in the US as he faces allegations he abused teenage girls in Germany two decades ago.
'Priest, 83, under house arrest for abuse'
An 83-year-old Brazilian priest detained on allegations of sexually abusing young boys has been moved from jail to house arrest.
'Brazilian priest charged with pedophilia'
Brazilian authorities charged a 74-year-old Catholic priest with pedophilia after eight children in his church choir accused him of sexual abuse.
'Priest sex video on sale in Brazil'
A video of a priest receiving oral sex in a church from a former choir boy was being sold in the streets of Brazil.
'Priest, 84, in sex act with choirboy'
An 84-year-old Brazilian priest caught on camera in a sex act with a choirboy has been arrested and put in detention.
'Belgian priest tells of 300 sexual abuse cases'
BRUSSELS: Belgian bishops have failed to punish any clergy over 300 complaints of child sexual abuse brought to their attention in the 1990s, a priest who helped many victims claims.
'Pope urges Catholic penance over priest scandal'
Pope Benedict XVI on Thursday urged Catholics to "do penance" and a top cardinal called for a mass rally by clergy to support the pontiff under fire over widespread paedophile priest scandals.
'French priest admits child abuse'
A French Catholic priest has admitted sexually assaulting a minor, and sees his arrest as a "deliverance" after years of private torment, his lawyer says.
'Malta hosts pope under priest sex abuse cloud'
Pope Benedict XVI was due to give mass Sunday in front of St Publius Church on Malta, even as the controversy over child-molesting priests followed him to the tiny Mediterranean island.
'Priest jailed over sex with altar boy'
A former Anglican priest has been jailed for a second time on child sex offences.
'More child-sex charges for NSW priest'
A NSW Catholic priest already facing multiple child sex charges has again been arrested over a further allegation of similar offences.
'Vatican accused in new US priest case'
The Vatican and Pope Benedict XVI have come under fire in the US for allegedly covering up for another predator priest and doing nothing to remove him.
'Rome waited to ban pedophile priest'
The future Pope Benedict XVI took over the abuse case of an Arizona priest, then let it languish at the Vatican for years despite repeated pleas from the bishop for the man to be removed from the...
'Vatican comments on US priest case'
The Vatican's lawyer says then-Cardinal Joseph Ratzinger told a bishop to make sure a priest didn't abuse children while the church worked to defrock him.
'Priest suspended over sex abuse'
MUNICH: The priest at the centre of a German sex-abuse scandal that has embroiled the Pope continued working with children for more than 30 years, even though Pope Benedict was personally involved in...
'Church swamped by priest abuse claims'
Norway's Roman Catholic Church received so many tip-offs about possible paedophile priests following revelations of abuse by a bishop that its computer crashed.
'Priest preyed on deaf children, victim says'
ST FRANCIS, Wisconsin: Arthur Budzinski says the first time the priest molested him, he was 12 years old, alone and away from home at a school for the deaf.
'Irish priest defends sex abuse cover up'
A Catholic bishop in Ireland has ordered a priest to remain silent over his views that church officials should not tell police about child abusers.
Q.E.D.