Below see video for the non-technical. This article is about a new free and open source software solution for schools that cuts down radically on power, hardware and commercial licences - therefore on cost. Userful Corporation, which calls itself "the global leader in Linux desktop virtualization", has released the next generation of it's Userful MultiSeat™ solution which it describes as turning "one Linux computer into multiple high performance independent computer stations using the HP t200 thin client. At $99 including the keyboard and mouse, the HP t200 is the worlds lowest cost thin client device."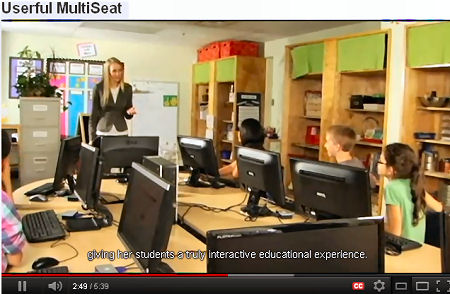 Candobetter Ed. This article is about free software in a commercial hardware package. Although it promotes a product of Hewlett Packard, it is interesting because that product promotes and uses an entirely Linux-based free and opensource system, thus liberating computer-users from expensive, energy and time-consuming Microsoft software, where licences can run into thousands of dollars for a professional and much more for an organisation like a school. Another problem with Microsoft is the mandatory expensive and time consuming updates, plus the new investment in new licenses with every new computer or major upgrade. Those familiar with Linux might say that anyone can run Linux programs and free and open source software in any computer, but others would admit that finding a reliable Linux solution among the hundreds available, one that is easily synchronised with hardware and software, can be extremely problematic. This "Userful MultiSeat" Linux version is promising to avoid those problems, and quotes many testing hours. Anyone who has a different or confirmatory experience, please write to us and tell us in the comments at the base of this article.
$99 Canadian per mouse and pc - Userful MultiSeat Linux Solution in Hewlett Packard box
Calgary, AB – Jan 31, 2012 – Userful Corporation, which calls itself "the global leader in Linux desktop virtualization", has emailed candobetter about its next generation of it's Userful MultiSeat™ solution which it describes as making one Linux computer into multiple high performance independent computer stations "using the HP t200 thin client."
Sold at $99 CAD including the keyboard and mouse, the HP t200 claims to be the worlds lowest cost 'thin client device'.[1] Userful MultiSeat enables schools and businesses to deploy more than twice as many computers for the same cost, while enabling multiple users to use different applications at the same time from one host computer, each with their own monitor, keyboard, and mouse. The HP t200 provides the capability to connect multiple stations to a single host PC such as the HP ms6200 directly over USB for close proximity computing environments without the need for a LAN, or install computer stations in multiple rooms using a single host PC with each station connected over Ethernet.
Userful MultiSeat enables schools to quickly deploy large numbers of computer stations for a very low cost, whether in the classroom, computer lab, or school library. It is easy to set up, use and maintain, and provides teachers with the tools they need to give their students a high quality computer-based education. It dramatically reduces electricity use, paying for the computers in power savings alone in 4 years or less, and reduces environmental heat, noise and pollution at the same time. It also enables schools to reinvest by starting new computer labs with the computers recovered as a result of a MultiSeat computing upgrade.
"The HP t200 thin client combined with Userful MultiSeat software provides the highest performance shared computing solution available on the market today," said Tim Griffin, President of Userful. "The HP t200's support of both Ethernet and USB provides the flexibility to position stations far away from the host computer, or operate without a LAN, making it a very compelling solution for many use cases."
More than 50,000 schools worldwide are already using Userful MultiSeat to provide millions of students with computer access. Userful has proven to be the computer solution of choice for governments with digital inclusion mandates to provide school age children with computer access, on limited budgets. Countries such as Brazil, who have already successfully deployed over 500,000 Userful computer stations to schools in every municipality, have shown that with the combined cost savings of Userful MultiSeat, Linux, and open source software, it is feasible to provide every student with a comprehensive education using computers, regardless of whether they live in a city or a remote indigenous village with little infrastructure. The Brazilian Ministry of Education has reported saving 60% in up-front costs, and 80% in annual power savings as compared to their previous PC-per-station solutions.
Every ministry of education worldwide is eligible for a free 90 day pilot so that educators can easily experience first hand the high performance, and ease of use of the solution. Support for Ethernet and up to 15 stations per PC is currently available for evaluation purposes. Commercial support starting Q2 2012. An update to support more than 15 stations per PC will follow.
For more information, visit: http://userful.com/products/userful-multiseat-linux
For more information on the HP t200 multiseat device, visit: HP t200 Thin Client product information
Userful Corporation is the trusted partner for government education with millions of users of its MultiSeat solutions in over 100 countries. Userful provides the software that powers the world's largest educational computer deployments, and has sold more than 800,000 MultiSeat desktops worldwide. Userful focuses exclusively on Linux, and is the foremost expert in Linux shared computing with more than 10 years experience in MultiSeat. Userful is headquartered in Calgary, Canada, with offices and partners around the world. The company's software which turns one computer into many lowers desktop computing costs, improves manageability, and reduces both electricity consumption and e-waste. More information about Userful is available at: http://www.userful.com.
Trademark notice: HP™ is a trademark of Hewlett-Packard Company. Userful MultiSeat Linux™, and Userful MultiSeat™ are trademarks of Userful Corporation. All other trademarks are the property of their respective owners.
[1] A "thin device" is a small box that you plug a mouse monitor and keyboard into to make a computer station. You plug up to 15 of those small boxes into a regular PC, and 15 people can use the computer independently at the same time, each with their own monitor keyboard and mouse. For instance, this is the HP t200 thin client device: http://h10010.www1.hp.com/wwpc/us/en/sm/WF06b/12454-12454-321959-338927-5112717-5171156-5171158-5210837.html