"Common Dreams" is one of the plethora of so called "progressive" organizations that masquerade as grassroots movements of opposition to the corporate agenda---except that part of the corporate agenda which is most vital to corporate ambitions: the unfettered movement of capital and PEOPLE across borders. Apparently, to be "progressive" in America is to support the displacement of indigenous workers or the suppression of their wages through the relentless flow of cheap imported labour---legal or illegal. It is an attitude common to even to those in the Occupy movement . Such is the perverse mentality of a generation that has been fed a sanitized version of history purged of the anti-immigration sentiments expressed by icons like Caesar Chavez, black Congressional Rep Barbara Jordan and the founder of Earth Day, Democratic Senator Gaylord Nelson. Forty years ago, a progressive was someone who understood that population growth was bad news for both for the environment and the working class. Today, like so many other words, it has come to mean something entirely different, and the cause it serves has become obsessed with fund-raising.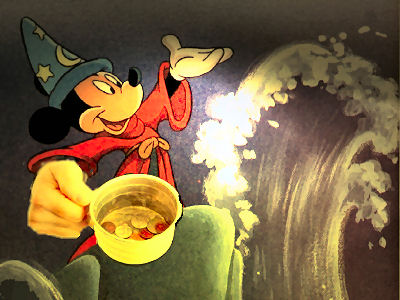 Dear Common Delusions:
So "we need each other", do we?
Maybe you need me, but I don't (expletive) need you and your open-borders gospel.
Why don't you respond to my emails? Cat got your tongue? Or could it be that you haven't got any answers, or any justifications for supporting the corporate agenda---that is----the free unfettered movement of capital AND PEOPLE across borders. Your brand of "progressivism" is a JOKE. Trouble is, I stopped laughing decades ago because I heard the punch line 500 times before. Moreover, the joke is in bad taste because the environment bears the brunt of it.
Shock me by actually replying to my emails. Am I talking to a machine or a brick wall?
How many of your solicitations must I reject before you stopping shaking your tin cup at me?
What that reader in California---that guy on social security who praises you for your outstanding job in ignoring the elephant in the room----really needs is not "Common Dreams" but common sense------ an organization which will stand up against amnesty, the Dream Act and the deliberate unenforcement of federal immigration law. Does half of Mexico have to move to California before this 'progressive' reader you refer to understands that MORE PEOPLE=SMALLER PER CAPITA SLICES OF THE RESOURCE PIE? It is obvious that you are not going to help him reach this understanding. Your focus is on the equal and fair division of that pie. News flash---- the pie is shrinking and your recipe ----"social justice"----will not sustain everyone indefinitely.
You complain that Republican Congressmen and Senators are in denial about climate change. Why are you in denial about overpopulation? How can you achieve a sustainable America when you turn a blind eye to rampant ongoing population growth? There are 100 million more consumers in the United States now than there were when Nixon left office. Do you think that the country can absorb another 100 million in the next forty years and still reach that progressive utopia you dream of?
Get real.
I don't need you because we already have enough money-grubbing green-left NGOs on the landscape to soak up our dollars and aggressively misinform us.
Try finding a niche that no one else fills. Try being the first "progressive" entity to tell progressives the truth about limits. Try telling them that confiscating the wealth of the 1% would only provide temporary relief and respite from the remorseless rise in the underlying resource costs that will shrink the economy and shrink the budget for all the entitlements you think are our birth right. Try replacing the dated rhetoric of the sixties civil rights movement with the language of hard numbers and logic. Try educating your readership with the instruction of Bartlett's 16 Laws of Sustainability and the insights of William Catton. Try teaching the fundamentals. Try telling them that it makes no sense to negotiate for the politically possible when what is required is the ecologically necessary. Half-solutions are not solutions. I get enough emotive sentimentality from Chris Hedges and his legion of clones and groupies. I don't need your green delusions and McKibbenisms.
There is another Californian who you need to hear from, but he's not on your subscription list: Sgt. Friday. Just give him the facts m'am. Just the facts.
Tim Murray
(Note: Sgt. Friday was the star of a weekly TV police drama, set in L.A., called "Dragnet". His trademark expression---when interviewing victims and witnesses --was, "Just give me the facts m'am, just the facts.")
------------------------------------------------------------------------------------------------------------------------------------------------------------------------------
On 30/12/2011 10:02 AM, Common Dreams wrote:
> Breaking News & Views for the Progressive Community
>
> December 30, 2011
>
> Dear Tim,
>
> It's a fact: our readers sustain us.
>
> Two days ago, I received this nice note from a reader in California:
>
> "You do an outstanding job. Congrats and thanks. Keep it up. Unfortunately I am retired on Social Security. I need you more than you need me."
>
> We need each other.
> We Can't Do It Without You!
> I know that many of our readers are unable to financially contribute right now. And that's OK. We need to take turns taking care of each other.
>
> I really hate to ask our readers for contributions. But I know that if we didn't ask for help, we wouldn't survive.
>
> And it's the end-of-year gifts from our readers that sustain us through the year. Right now, with only 2 days left in 2011, we are $18,000 short of reaching our critical goal.
>
> Can you make a tax-deductible contribution right now?
>
> 2012 promises to be a turning point year. We will be here for you.
>
> And, with your help now, we will still be here for you when you are retired on Social Security.
>
> Contribute right now before our midnight deadline on December 31st!
>
> In gratitude,
>
> Craig Brown
> for the whole Common Dreams team
>
> P.S. Common Dreams is a 501c3 non-profit media organization. Your donation is 100% tax-deductible.
>
> Click above to make a tax deductible donation to Common Dreams. Or send a check to:
> CommonDreams, PO Box 443, Portland, Maine 04112
> Common Dreams is a 501(c)(3) nonprofit. Our EIN is 20-3368194.)
>
> Follow us on Twitter
> Find us on Facebook
>
> Breaking News & Views for the Progressive Community.
> Independent, non-profit newscenter since 1997.
>
> To inform. To inspire. To ignite change for the common good.
>
> Home | About Us | Donate | Subscribe | Archives
>
> www.commondreams.org