#DAF3F5;line-height:120%;">

(Washington, D.C., January 2, 2014) Bolivia's Barba Azul Nature Reserve, home to the world's largest population of the majestic Blue-throated Macaw, has been doubled in size through efforts led by Asociación Armonía, Bolivian partner of American Bird Conservancy (ABC). Asociación Armonía and several partner groups worked together to purchase an additional 14,820 acres that have expanded Barba Azul Nature Reserve from 12,350 acres to 27,180 acres.
The reserve is the only protected savanna in Bolivia's Beni bioregion that is spared cattle grazing and yearly burning for agricultural purposes.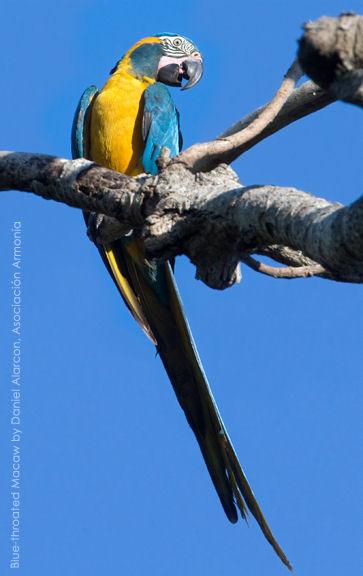 "Blue beard"
"Barba Azul" means "Blue Beard" in Spanish and is the local name for the Blue-throated Macaw, which only occurs in Bolivia and is listed as Critically Endangered by the IUCN (International Union for the Conservation of Nature). It was also recently listed under the U.S. Endangered Species Act. The Barba Azul Nature Reserve is the world's only protected area for the Blue-throated Macaw; the reserve has hosted the largest known concentration of these birds, with close to 100 recorded on the reserve at times. (More on these critically endangered and historically sought after large, intelligent, long-lived social parrots)
International wildlife conservation effort
"Conservation actions of this magnitude for small organizations in poor countries are only possible with outside help. Doubling the size of the Barba Azul Nature Reserve is an excellent example of conservation groups combining their effort to achieve a massive conservation product," said Bennett Hennessey, Executive Director of Asociación Armonía.
Several organizations and individuals teamed up to achieve this historic conservation result: American Bird Conservancy, Patricia and David Davidson, International Conservation Fund of Canada, IUCN NL / SPN (sponsored by the Netherlands Postcode Lottery), Loro Parque Fundación, Rainforest Trust, U.S. Fish & Wildlife Service's Neotropical Migratory Bird Conservation Act Grants Program, Robert Wilson Charitable Trust, and World Land Trust.



#95FC9E;line-height:120%;"> Forests, grasslands, and wetlands are all protected thanks to the new lands (see photo) acquired to extend the Barba Azul Nature Reserve. The extension of Barba Azul includes two large palm forest islands, an essential foraging area for the Critically Endangered Blue-throated Macaw, as well as a forest home for many arboreal mammals and birds. Photo by B. Hennessey, Asociación Armonía.
The reserve extension protects broad grassy plains of the Beni savanna that are seasonally flooded in the rainy season. Also included in the newly protected area are a small river as well as "islands" of tropical forest characterized by tropical hardwoods and palms in this sea of grass. Two large forested islands provide crucial foraging habitat for Blue-throated Macaws, while more than 20 small forested islands provide roosting and potential nesting sites for these birds.
"The small forested islands appear to be great sites to use artificial nest boxes to attract Blue-throated Macaws to breed here," Hennessey added. Armonía is currently working at the reserve to attract Blue-throated Macaws to artificial nest boxes, with support from ABC, Bird Endowment, Loro Parque Fundación, and the Mohamed bin Zayed Species Conservation Fund.
Reserve supports about 250 more bird species
In addition to the macaw, the Barba Azul Nature Reserve supports roughly 250 species of birds. The tall grasslands provide habitat for the Cock-tailed Tyrant and Black-masked Finch, both listed as Vulnerable by IUCN, as well as healthy populations of the Greater Rhea (Near Threatened) and migratory Bobolink from North America. Extensive wetlands attract flocks of waterbirds, including the Orinoco Goose (Near Threatened), which use nest boxes on the reserve. Armonía staff observed more than 1,000 Buff-breasted Sandpipers on the reserve in 2012, making Barba Azul the most important stop-over site for this species in Bolivia. The reserve extension will protect five additional miles of short-grass river shore habitat used by Buff-breasted Sandpipers during their spring migration.



#95FC9E;line-height:120%;"> The Barba Azul extension protects more than 20 small isolated forest islands (including those shown above) which are preferred nesting and roosting sites for the Blue-throated Macaw. Photo by B. Hennessey, Asociación Armonía.
Also a haven for exotic mammals
Barba Azul is also a haven for mammals, thanks to the reserve's protection of the Omi River, which is the only year-round source of water for miles around and a critical dry-season resource. The extension of Barba Azul improves its ability to protect the 27 species of medium and large mammals that depend on this habitat, including giant anteater (Vulnerable), pampas cat, puma, marsh deer (Vulnerable), pampas deer, white-collared peccary, and capybara. The reserve extension is critically important to maintain large protected areas for species needing expansive territories, like the maned wolf and jaguar.
The Beni savanna is an area twice the size of Portugal. It is a land of extreme contrasts, with intensive flooding in the summer and months of drought in the winter. Almost entirely occupied by private cattle ranches, these savannas have undergone hundreds of years of logging, hunting, and cattle ranching. Overgrazing, annual burning to promote new grass growth for cattle, and the planting of exotic grass species have greatly altered this ecosystem, which is now considered critically endangered.



#95FC9E;line-height:120%;">Blue-throated Macaws fly free over the Barba Azul Nature Reserve. Photograph by D. Lebbin, ABC.

Great result from exclusion of cattle, hunting, fishing logging of forest habitat

Frequent burning, overgrazing, and timber harvests within forest patches degrade habitat for Blue-throated Macaws and may limit the number and suitability of nesting sites. At Barba Azul, exclusion of cattle is already resulting in the restoration of forest understories, and artificial nest boxes offer hope that Blue-throated Macaws will have more opportunities to breed.

"When we originally purchased the Barba Azul Nature Reserve, it was a habitat that held high abundance of many animals. But once we removed cattle and stopped hunting, net fishing, logging, and uncontrolled grassland burning, the true destructive impact of an overgrazed, poorly controlled ranch could be seen. Everything is rebounding as if the area is recovering from a drought," said Hennessey.

Macaw populations infamously affected by pet-trade and habitat destruction

The Blue-throated Macaw population has declined due to habitat degradation and trafficking for the pet trade. In addition to establishing the reserve, Armonía has worked with local communities in the Beni region to raise awareness of this species and effectively halt illegal trade in this macaw. Additionally, Armonía has provided local communities with beautiful synthetic feather head-dresses for use in traditional festivals as a conservation-friendly alternative to feathers gathered from wild macaws.

Birdwatchers flock to this haven

Barba Azul is a great place for birdwatchers, wildlife photographers, and researchers, who come from around the world to study birds and mammals based out of the research center on site. Armonía will be building additional cabins for tourists over the coming year. If you are interested in visiting the reserve, please contact BirdBolivia or find more information at ConservationBirding.org. More information about ABC and Armonía's efforts to conserve the Blue-throated Macaw and Beni savannas is available on their websites.

NOTES

Original source of this article was http://www.abcbirds.org/newsandreports/releases/140102.html

American Bird Conservancy (ABC) is a 501(c)(3) not-for-profit membership organization whose mission is to conserve native birds and their habitats throughout the Americas. ABC acts by safeguarding the rarest species, conserving and restoring habitats, and reducing threats, while building capacity in the bird conservation movement. We are proud to be a consistent recipient of Charity Navigator's four-star rating.

Asociación Armonía is a non-profit organization dedicated to the conservation of birds and their natural habitat in Bolivia. Armonía's conservation actions are based on scientific studies and active involvement of local communities, respecting their culture and knowledge. Asociación Armonía is the Bolivian key partner of American Bird Conservancy, BirdLife International, Loro Parque Fundación, Rainforest Trust, and World Land Trust.

Rainforest Trust is a 501(c)(3) not-for-profit organization whose mission is to purchase and protect threatened tropical forests and save endangered wildlife through community engagement and local partnerships. For 25 years, Rainforest Trust has saved over 7 million acres of critical habitat across the tropics and consistently receives Charity Navigator's top four-star rating.