See also: 9/11 activist hands himself in to British police for "peddling lies" that 9/11 and 7/7 were staged (1/10/14).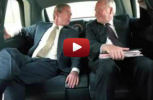 I knew there had to an answer to the 9/11 conspiracy theorists that would make the facts clear to non-experts. This 5 minute video (Also at YouTube) demolishes the fantasies peddled by extreme right and looney left paranoids.
It is unfortunate that ABC Local Radio Melbourne 774 presenter Jon Faine neglected to make use of the evidence contained in the above video (https://www.youtube.com/watch?v=tE3pMPObcGU) in his altercation with Kevin Bracken in October 2011.