Park Rangers in NSW Public Service Association will take industrial action to show their lack of confidence in NSW Premier's backroom deal with shooters party to give them hunting access in our National Parks. This seems the right thing to do. The current government attitude to New South Wales's beautiful parks and indigenous animals seems unAustralian and somehow blasphemous, for these are our icons and Mother Nature's home. This foreshadowed desecration of our national parks is linked to deals to privatise NSW electricity. See also "Barry O'Farrell, NSW electricity privatisation and shooting in National Parks Australia"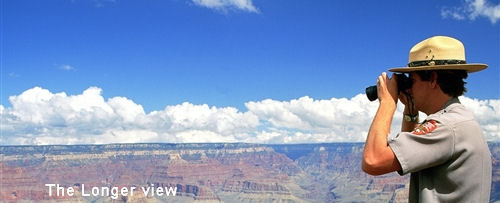 Reluctant industrial action to protect wildlife and the public from unwise government policy
The NSW Public Service Association, which represents park rangers, has directed its members not to assist with any activity involved with establishing recreational hunting in national parks in NSW.
Members will also be asked to withhold information and their expert advice from Minister for the Environment Robyn Parker and other members of the NSW Coalition Government.
General Secretary John Cahill said the good work and safety of NSW National Parks staff would be placed at risk by the State Government's backroom deal for hunting in parks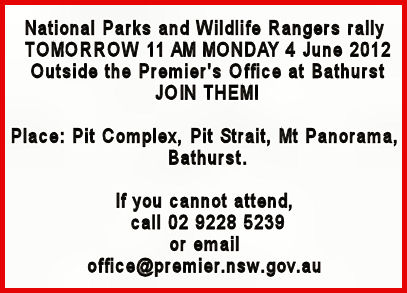 Serious risk to public safety
"Recreational shooting of pest animals in National Parks is an unproven, untested, expensive and unsafe activity, Mr Cahill said today.
"Opening the gate for recreational hunting in 79 national parks and other conservation areas in NSW poses a serious risk to the safety of park rangers, visitors, wildlife and the environment.
"Our park rangers should not have to work in fear for their own safety. Our members have expressed serious concerns about the danger to themselves and the community when shooting is allowed in bushland popular with walkers and picnickers.
Vested interests compromise Scientific programs, valuable data at risk
"Our members have been working very hard to control and manage feral animals in parks. Recreational shooting will compromise the professional and scientifically proven feral animal control programs run by national parks staff, placing native plants and animals at risk.
"This move is another shot across the bow of our national parks, with the Shooters and other vested interest groups clamouring for greater access at the expense of the environment and the people who look after them.
"Industrial action like this is not a decision we take lightly but we simply cannot let the State Government's compromise of our National Parks to go ahead," Mr Cahill said.
For decades now state governments have been withdrawing support from Australia's national and regional parks. These rangers' numbers have been whittled down. They have been forced to submit to arcane bean-counting exercises and to focus on attracting tourists rather than protecting and studying the wildlife and vegetation in these wild spaces. They risk their livelihoods by expressing these educated views in a system that simply does not play fair with rank and file workers, especially when they are isolated from each other. Natural science has so much to enrich our society but it is a victim of corrupt political processes in our society where land-use is increasingly dominated by a growth lobby that knows the price of everything but the value of nothing, and has no respect for democracy.
Contact: John Cahill 0419 413 577 / Jane Garcia 0434 489 533
Source: Media Release,
Friday, 1 June 2012
See also: Not in Our Parks of 5 June in the Glen Innes Examiner, Riled rangers target national park hunts of 5 June in the Western Advocate, Hunters and objectors of 5 June in the Central Western Daily.