Australia, still a colony, has more supermarkets per capita than the US and nearly three times as many as the UK. [1]India, no longer a British colony, has no supermarket chains. What other country can claim this? Late last year Indian shopkeepers rioted successfully to stop foreign investment liberalisation and multinational supermarkets. Here is a mostly French-sourced article about how emerging powers are looking after their own industries, while the free-marketeers of the west sell the rest of us down the river. See also article about President Francois Holland's program to meet protectionism elsewhere with protectionism at home: ,"New French industry policy to moderate globalisation, Ministerial interview" A word of warning to vegetarians, the sacred cows of India are being sacrificed now to the mighty dollar.
(Adapted from a report entitled, "La pousee du protectionisme a l'echelle mondiale" by Pierre Monègier et Nicolas Ducrot on France2 Journal Televise, Thursday 7 June, 2000hrs.)
Presenter David Pujadas relating the phenomenon to the global financial crisis, says that according to an annual report from the European commission, world-wide, import duties are strongly increasing in number and in size. "This is particularly so among emerging powers, which have no qualms about protecting their markets."
India's export market
The France2 report centers round India.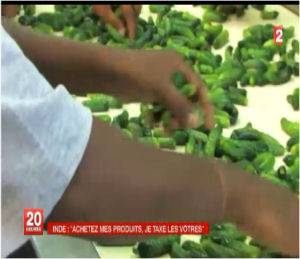 We see film of a factory where millions of bright green gerkins are being processed. The message from Pierre Monègier is that
"This little gerkin has every chance of finishing up in [a french] plate. Indians produce more than
200,000 tonnes a year, but they don't like gerkins themselves.
The subtitle for this report, filmed in India, is, "You buy my products, I'll tax yours."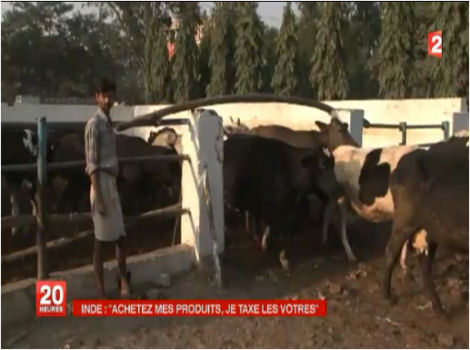 Reporter Pierre Monègier tells us,

"All these gerkins are therefore destined for export to France, the United States, Africa... 'Made in India' rolls out everywhere in the world, without obstacle. It's the same for livestock. In the Land of the Sacred Cow it would be sacreligious to put your fork in one, yet this year India will become first in the world in beef exports.

These performances signify a giant in the making. And that makes foreign investors want to have a share in the Indian cake, but in cooking, India doesn't really play fair," he concludes.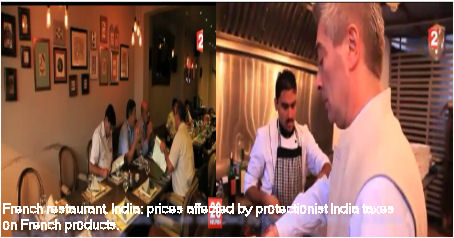 The camera shows us a French restaurant in India with a number of business-class looking male diners in the dining room and then moves to the kitchen, where the French proprietor tells us that he estimates that the cost of French products is multiplied by Indian import duties by three and a half to four times, generally. He says that it is the same for all French products - for wine, for fine delicatessen goods.
The reporter says that the result is that it is almost impossible to find french farm products in India. Furthermore, he says, one cannot rely on big supermarket chains in India to reduce the costs and put French products on their shelves.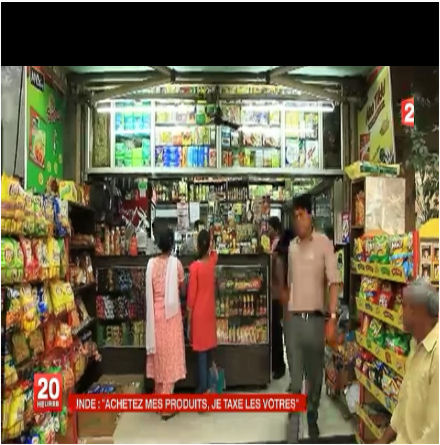 There are no supermarkets in India
"In contrast to China and Brazil, India is still ferociously resisting foreign investment in the form of supermarket chains here. There are no supermarkets here. Carrefour [French supermarket chain] and Wal Mart have come to grief here. The government rejected them in order to protect thousands of grocery stores."
Proud democratic history of multinational supermarket chain failure in India
It began with an attempt to pass a law permitting 51% foreign investment-led multinational supermarket chains:
"NEW DELHI: Global chains like Walmart, Carrefour and Tesco may face problems in opening stores in over half of the 53 cities eligible for FDI in multi-brand retail.

The parties and alliances ruling in 11 major states with 28 cities, have strongly opposed the decision of the Central government to allow foreign direct investment (FDI) in multi-brand retail which is dominated by small traders" Source: #10;30440909-">"FDI in retail: Walmart, Carrefour, Tesco may face hurdles in 28 cities."
(25 November 2011):"Anger and indigation took over the Indian Parliament on Friday, after the Indian Minister for Industry and Commerce, Anand Sharma, announced the liberalisation of market policy towards foreign multinationals in India. The Opposition parties and the Trinamool Congress, key ally of the Congressional Party in the heart of the governing coalition (UPA), loudly protested against the green light given by New Delhi to big supermarket chains, permitting for the first time, foreign investment at 51% in the country in that sector.

...Direct foreign investment by groups like Wal-Mart and Carrefour to open a retail store would be subject to several conditions: minimum investment of 100 million dollars, of which 50 per cent must be devoted to housing infrastructure (chaine du froid etc), 30 per cent of produce would have to be sourced from small and medium sized businesses, and the stores would only be allowed to open in cities of more than one million inhabitants."
(Translation by Sheila Newman): Source: -la-polemique">25/11/2011 | Antoine Guinard ( Aujourd'hui l'Inde).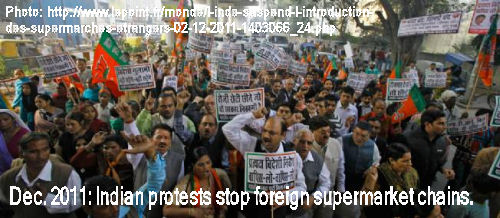 It ended with direct democracy:
Policy changes aiming at opening the market up to 51% foreign investment in the form of big multinational supermarket chains resulted on 2 December 2012 in one of those huge popular protests that India does so well and which constitute its chief form of real democracy.
"New Delhi backs down. ... Parliament was paralysed by the anger of the opposition. All the legal projects are in limbo today. Last Thursday the protests went to the streets, with one hundred thousand shopkeepers in a general strike. (Translation by Sheila Newman). Source:#10;6_24.php">"India suspends the introduction of foreign supermarkets." (Article by Vanessa Dougnac.)
All translations in this article by Sheila Newman
NOTES
[1] Numbers of supermarkets in Australia per capita: http://www.stuartalexander.com.au/aust_grocery_market_woolworths_coles_wholesale.php