And not because of your clever advertisement: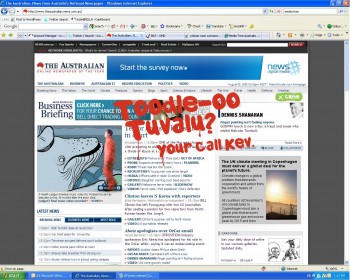 Mumbrella reports:
Greenpeace is running a site takeover of the home pages of The Australian and Courier Mail websites today, featuring a protester walking out of the ad and spray painting a slogan on top of news stories.

The ad, masterminded by DraftFCB, as part of the group's anti-coal lobbying, will run for one day only on the News Ltd sites.

Peter Novosel, interactive creative director at DraftFCB, said "The idea needed to be disruptive to capture the attention and imagination of millions of eyeballs all in the space of one day. We're ecstatic about the work and the response."

Chris Washington-Sare, head of fundraising for Greenpeace said: "This is the first time Greenpeace Australia Pacific has launched an integrated campaign of this nature."
We'll keep saying it until we're blue in the face: Stop giving News Ltd. your supporters' money.
News Limited is a company that has done inestimable wilful damage to democracy, journalism and the environment in Australia in Australia and throughout the world.
If you absolutely insisted that you need to run your advertisement with News Ltd., they should pay you for lending them credibility they do not deserve.
Would it kill you to focus on any other medium (such as billboards, local television, independent publications - even APN or Fairfax press - at least they are Australian owned)?
Originally published on stopmurdoch.blogspot.com.