This story of how British, French and German soldiers stopped killing each other on 25 December 1914 is remembered and celebrated as a high point amidst the unprecedented slaughter of the First World War.
More videos of programs, or excerpts of programs, which commemorate the Christmas truce of 1914 are linked to from the page of the YouTube video used by Tony Cartalucci.
On that day, French and British soldiers were to learn that the Germans they had been fighting for the previous four months were not the depraved monsters that their governments had claimed them to be. German soldiers were to learn the same of the French and British.
What is rarely acknowledged or questioned in these depictions of Christmas 1914 is that the war resumed the next day and millions more, including many who had fraternised on that day, were to die in terrible battles of attrition in the coming years.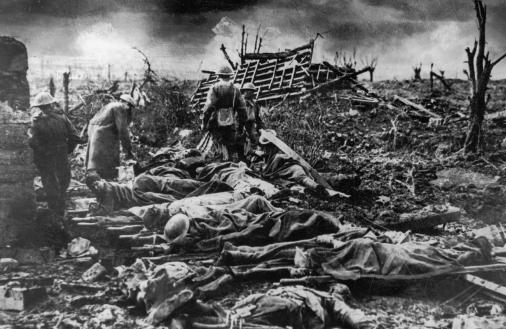 The slaughter in the
Battle of Passchendaele
fought from July until November 1917. This was only one of many bloody battles of attrition fought in the four years which followed the Christmas truce of 1914.
How the generals on both sides of the trenches were able to compel those who had fraternised on 25 December 1914 to resume killing each other even more ferociously than they had in the first four months of the war, needs to be explained. By the time the slaughter ended, on 11 November 1918 9,911,000 combatants and 6.5 million civilians had died.