#EDF5FA">The following article by Paul Craig Roberts, reprinted with the author's kind permission, has been previously published (23/7/18) on Russia Insider with the same title and on both The Unz Review (4/7/18) and the author's own web-site PaulCraigRoberts.org (4/7/18) as "Washington Moves Against Rafael Correa".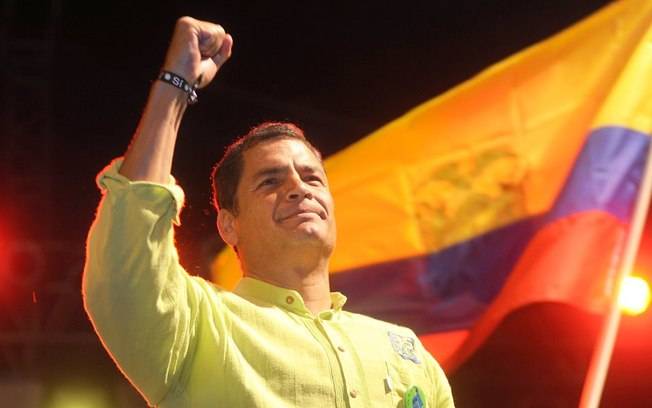 As President of Ecuador, Rafael Correa (pictured above) was a Godsend for the Ecuadorian people, for Latin American independence and for WikiLeaks' Julian Assange. By serving justice and truth instead of Washington, Correa earned Washington's hatred and determination to destroy him.
Correa was succeeded as president by Lenin Moreno, who Correa mistakenly believed to be an ally, but who has every appearance of being a Washington asset. The first thing that Moreno did was to make a deal with Washington, block Correa from being able to again stand for the presidency and turn on Julian Assange. Moreno wants to revoke the asylum granted to Assange and has prevented Assange from continuing his journalistic activity from the Ecuadorian embassy in London. In other words, Moreno has conspired with Washington and the UK to effectively imprison Assange in the embassy.
Now Moreno has taken another step that highlights his character as a blackguard. Correa, realizing that he and his family were in danger, moved to Belgium. An Ecuadorian court has now ordered the Belgians to detain Correa and extradite him to Ecuador on a fabricated kidnapping charge.
Correa thinks that Belgium will not comply with an absurd charge for which no evidence is presented and that the charge is intended to smear his name. If I were Correa, I would not be so sure. Look at the ease with which Washington was able to use its vassals—Sweden and the UK—to effectively nullify the political asylum that Ecuador gave Assange. Belgium is also Washington's vassal and will experience threats and bribes—whatever it takes—to deliver Correa into Moreno's hands, which is to say into Washington's hands. If I were Correa, I would get myself over to the Russian embassy and request asylum from Putin.
Here is a news report from RT: https://www.rt.com/news/431653-correa-ecuador-arrest-order/