See also: United States Militarizing Response to Ebola Crisis While Cuba Pledges Medical Assistance (23/9/14) on Global Research. Update, 25 Sep: The Syrian Girl's Is #Ebola a biological weapon? (11/8/14) video added as an appendix.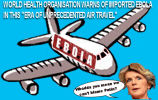 Nothing highlights the bankruptcy of the deregulation, corporatisation, privatisation and globalisation revolution that has swept the world over the past three decades than the human and economic devastation caused by the Ebola epidemic in Western Africa. Over a decade ago all the pure research that was needed to embark on a vaccination trial had been carried out, all that was needed was a billion dollars to carry out that trial.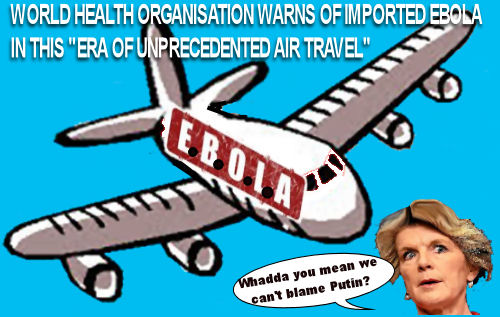 The researchers involved could not convince the private sector of the return to investors as Ebola, a decade ago, was an interesting virus that had only affected a few hundred people. Governments in Africa didn't have the resources or finances to tackle the problem. The United Nations chronic underfunding limited its ability to tackle the issue, although it had been warning the world about the devastating consequences of the virus.
The economically developed world gripped by the profit, irrespective of the human, social and environmental consequences, bug, turned its head the other way as it realised there were no profits to be made from the misery of a few hundred people. Hopefully the current epidemic in Western Africa and its potential spread to the rest of the world will be the impetus needed to create an international organisation under the auspices of the United Nations, funded by its members that can be used to monitor potential infection threats and create vaccines and treatment options before the horse bolts from the stable.
Dr. Joseph TOSCANO / Spokesperson / Anarchist Media Institute
Level 1/21 Smith Street, Fitzroy VIC 3065
Editor's comment: On September 18th 2014 Dr Margaret Chan, Director of the World Health Organisation, gave a speech in which she concluded,
"Distinguished members of the Security Council,
Reports show that more than 5500 people have been infected. Well over 2500 have died. And these shocking figures are vast underestimates. Health, medical, and clinical issues must remain the heart and soul and the spirit of this response.
It will take some time, but the Ebola outbreak can be contained. Look at the stable situation in Nigeria and Senegal. When the first imported cases in these two countries occurred, we knew very well what we were dealing with. Government ownership and leadership supported by CDC, Doctors without Borders, and WHO responded immediately with the right emergency actions.We face a situation of unprecedented population movements criss-crossing west Africa's porous borders. Other countries will have to deal, in the same aggressive way, with imported cases, especially in this era of unprecedented international air travel."
#ebolaApp1" id="ebolaApp1">Appendix: Syrian Girl: Is #Ebola a biological weapon?
Video originally posted 11 Aug 2014 to the Syrian Girl Partisan's YouTube Channel