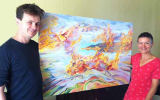 Kimberley artist Jackie Ellis is totally switched on to the environment and the impact on it of human activities and over population. Her paintings show an exquisite appreciation of the area that surrounds her, both intact and with human impact. Jackie, a member of Sustainable Population Australia, has generously donated two major works to that organisation to be auctioned as a fund raiser.
The works are –


"Ecology - Everything is Connected.". In this painting we see a foreground of flames almost obscuring Lake Argyle. Within the flames the shape of a bird in flight can be discerned, a possible message that there is still hope of nature recovering. SPAVICTAS President Michael Bayliss is holding the painting on the left and Jackie Ellis, the artist, holds it from the right side.
And
"Ecology Connected to Everything Else."This painting shows man-made Lake Argyle in the Kimberley through a red fire haze. Environmentalist Jenny Warfe holds the painting on the left with the artist on the right.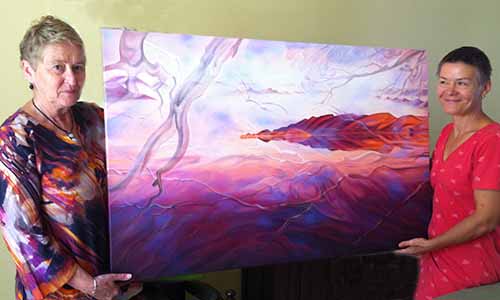 See these works on Jackie's website in the context of other amazing work on her website http://www.journeyfree.com.au/gallery.html
Paintings donated are under "News" tab on the Sustainable Population Australia site. To bid for the paintings, go to the Sustainable Population Australia website https://population.org.au or straight to the auction https://population.org.au/auction
Bids will be accepted for either or both paintings until 5.00p.m Friday May 12th with highest bidder/s notified the following week.