#FFEB46">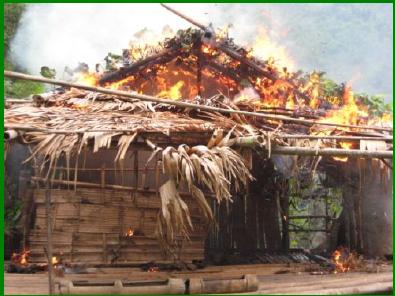 Can you *please* read this short article and sign an online petition to help find a Thai Karen human rights activist who has "disappeared" recently, just before he was to give eyewitness testimony in a trial related to the abuses of power alledgedly committed by park officials, including the murder of another activist in September 2011.
There have been frequent human rights abuses against indigenous peoples in Thailand, including forced relocation, denial of basic human rights, burning of villages and rice barns, extrajudicial killings of local leaders and expropriation of lands and assets during the last half century or so, and particularly since the early 1960s when Thailand initiated its national park system. Since 1993, these abuses have been repeatedly confirmed and reported by human rights activists.
At the beginning of 2011, more than 20 families who had been documented residents for over 60 years in Bangkloy Bon Village, inside Kaengkrachan National Park (established on 12 June 1981 and about 200 km southwest of Bangkok), saw their houses being burned and destroyed by park officials.
On the 10th of September, 2011, unidentified gunmen shot and killed Tatkamol Ob-om, a Thai activist who had assisted Porlajee Rakchongcharoen (known as "Billy") and other Karen villagers in reporting on alleged abuses, violence, illegal logging and elephant poaching committed by park officials. In January 2012, the Phetchaburi Provincial Court brought a case against Chaiwat Limlikit-aksorn, head of the Kaengkrachan National Park Office, charging him with masterminding Mr. Tatkamol's murder.
Mr. Chaiwat has not been suspended from duty as required under disciplinary regulations regarding officials under criminal investigation. Chaiwat's continued presence at the national park has been a cause of fear among local activists and villagers, particularly those involved in lawsuits against him.
On the 17 April 2014, Billy Porlajee, an indigenous Karen leader and prominent human rights activist, was detained by park officials in Kaengkrachan National Park. Park officials claim that Mr Porlajee was released that same day, yet his whereabouts are unknown. Mr Porlajee was scheduled to give eyewitness testimony on 30 April (2014) in a trial related to abuses of power allegedly committed by park officials, but to date he is still missing.
The detention of Porlajee Rakchongcharoen, his alleged release and subsequent disappearance have raised serious fears for his safety. Please will you take a moment to click the link below and sign the online petition. By signing this petition you are assisting in our efforts to find Mr Porlajee, fighting to ensure justice in current lawsuits and supporting Karen communities in their struggle for a dignified life.
Here is the link. Unfortunately, it seems that the link may not work from everywhere in the world. If you experience trouble connecting to this page, will you please leave a comment below stating your location and a giving short message of support for this petition. Thank you.
Petition on disappearance of Billy Porlajee
(http://www.change.org/en-AU/petitions/ms-yingluck-shinawatra-prime-minister-of-thailand-we-demand-a-prompt-and-thorough-investigation-into-the-disappearance-of-the-indigenous-karen-leader-and-hr-activist-porlajee-billy-and-the-removal-of-chaiwat-as-kaengkrachan-national-park-chief)
Please note that the situation is now further confused by the removal from power of the Thai Prime Minister Yingluck Shinawatra by the Thai Constitutional Court *yesterday*, 7 May 2014. Inside Thailand, this case is now likely to be drowned out by the cacophony of ongoing political chaos that continues to rule in that country. It is therefore crucial that the Thai bureaucracy and national park officialdom are not allowed to hide this serious criminality behind the smokescreen of political confusion and get a strong sense of being under the scrutiny of international public opinion. Please help to reach at least the current goal of 10,000 signatures by next week by re-posting this article far and wide, wherever appropriate. Thank you!
Related youtube clip:
Youtube video clip for petition
Related articles:
Senior park official faces probe
Thailand: Prominent activist feared disappeared
Further resources:
Please see the translator's introduction (Land Use and Sustainability in the Highlands of Northern Thailand) to Buhpau's The Karen System of Forest Field Rotation, available in the "Karen Rotational Farming" folder at
https://onedrive.live.com/?cid=0a586522c3d55a14
Please also see one view of the struggle for rights of the Karen people of northern Thailand documented in novel form in Francis Ferguson's Look Down, see the women weep, available in paper and ebook from Lulu.com. Please search for "Francis Ferguson" from the Lulu.com page or just click #10;">this link.
If you have questions about this case or about Thai Karen rights in general, or comments on the petition and so on, please leave a comment below and we will try to answer your questions and comments as soon as possible. This page will be updated if there is any news to be reported. Thank you.