Friends of Felton Media release
11th January 2010
Queensland Government cannot allow Felton to be held hostage by mining company
Ambre Energy executives visited Felton just before Christmas and revealed the following information about their proposed so-called Felton Clean Coal Project: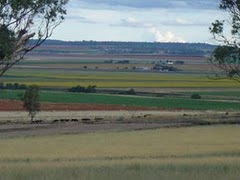 They have not yet secured a supply of water for the project (16,000 megalitres per year at full scale).

They have no plans for Carbon Capture and Storage, even though their own figures show the project would produce 3 tonnes of CO2 per 1 tonne of fuel.

They may not proceed with plans to produce di-methyl ether (DME)#main-fn1">1, as there is little demand for it in Australia.

The Environmental Impact Statement (EIS) for the project may not be released this year.
Friends of Felton spokesman Rob McCreath said, "This is a clearly an unviable project, which would have disastrous consequences for agriculture, the environment, and the community at large."
"Two years have passed since Ambre Energy first announced their plans for the Felton Valley. Local residents are virtual hostages, their lives and plans are in limbo." Mr McCreath said. "The efficiency of the district's cropping and horticultural industries is being reduced by the threat of the mine" he added.
Friends of Felton calls on the Queensland Government to intervene immediately to reject the Ambre Energy proposal, which is clearly not in the public interest.
Media contact: Rob McCreath 0409014219
Friends of Felton Inc.
c/o The Secretary, 2110 Karara Rd, Felton 4358
www.fof.org.au
See also: "Felton farmers left in the dark" in the Toowoomba Chronicle of 12 Jan 10, "Farmers 'held hostage by mining plans'" in the Sydney Morning Herald of 11 Jan 10, "Agriculture v Mining - Friends of the Felton Valley and the Haystack Plain" on Brisbane ABC radio's Evenings with Steve Austin of 4 Jun 09, including audio files of debate (10 Mb) between John Cotter, the President of Agforce and the Chief Executive of Queensland Resources, Michael Roche and interview (10Mb) with Rob McCreath of Friends of Felton, "Farmers occupy Qld Premier's office to save Darling Downs from coal mining" of 2 Nov 08, "Rural town threatened by open cut coal-mine: Acland, Queensland" of 10 Jan 10, Friends of Felton web site at www.fof.org.au and blog site at www.friendsoffelton.blogspot.com.
Footnotes
#main-fn1" id="main-fn1">1. #main-fn1-txt">↑ Di-methyl Ether (DME) can be used a substitute for diesel as a fuel for motor vehicles. After world oil production inevitably peaks and begins its inexorable decline, it seems likely that we will look to the large scale production of DME as one alternative to petroleum. How we balance the needs of our industrial society with the needs of the natural environment and our need to produce food in areas such as the Felton Valley will be a difficult, if not altogether impossible problem to solve. It is urgent that we pre-empt this by planning to end Australia's unending economic growth and, instead, achieve a steady state economy within the limits of our natural environment as soon as possible.