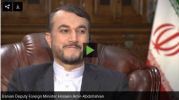 Originally published under the title of "Iran's deputy FM: Yemen's president uses terrorists to fight rebels," this is the transcript, with links to the video, of Sophie Shevardnadze's interview with Iran Deputy Foreign Minister, Hossein Amir-Abdollahian. The beginning of the video is particularly instructive, as Hossein Amir-Abdollahian gives a run-down on what is happening from Iran's very close perspective. Among other things, it becomes clear that Iran does not believe that the United States is trying to stop IS. Saudi Arabia has said that it is going to develop nuclear weapons. Iran says it will not let this happen. It also says that it will not let Syria fall. The Minister says that the reason the United States wants to wreck Syria is that then it will have destroyed the main Russian foothold in the Middle East and that will allow the United States to dominate the region and maintain world hegemony. See also this Crosstalk episode where US realpolitik intentions and consequences and rhetoric are discussed in a very informed manner, particularly in relation to Yemen.
Iran's deputy FM: Yemen's president uses terrorists to fight rebels
Date of publication on RT at http://rt.com/shows/sophieco/245101-yemen-terrorists-rebels-isis/ March 30, 2015 08:30.
Transcript and Video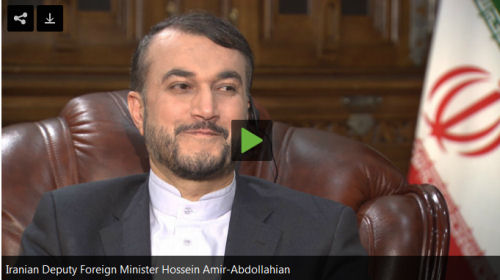 Yemen has turned into another battlefield, raging across the region. ISIS is prospering on the ruins of state. The flames of war grow brighter with Saudi Arabia and its allies joining the combat on the side of the Yemen's government forces. But is that a solution? Hasn't the method of intervention discredited itself - just inspiring more violence? We look at the issue with Iranian Deputy Foreign Minister Hossein Amir-Abdollahian on Sophie&Co.
Follow @SophieCo_RT
Sophie Shevardnadze: Minister Hossein Amir-Abdollahian,thank you for joining us again, we're very happy to have you here. I'd like to start with the recent events. As you know, Yemen is on the verge of a civil war. Saudi Arabia and its allies have launched air strikes in Yemen against the Shia rebels who seized power. What is your opinion on this and what is Iran's stance?
Hossein Amir-Abdollahian: In the name of Allah, the compassionate, the merciful. We believe that the situation in Yemen should be resolved through political means only. We are very – let's put it this way – surprised that foreign countries launched a military operation in Yemen. We believe that foreign interference will not only fail to solve the problem, but also exacerbate it. It's easy to start a war, but it's extremely hard to finish one. The countries interfering in the situation in Yemen are putting themselves in a very difficult position, they will just sink into this mire. All the sides seeking power in Yemen should take part in a political process to determine the future of the country. The Houthi rebels who seized power in Yemen, that is, the Ansar Allah movement, are a very influential group. Their main objective is to fight terrorism. They seized certain territories to clear them of terrorists. Unfortunately, recently the ISIS forces, the Nigerian Boko Haram and Somalian Al-Shabaab started operating in the country. They cooperate with some intelligence services from other states to create chaos in Yemen. Ansar Allah took preventive steps against terrorist forces. We believe that a national dialogue should take place in Yemen to reach an agreement based on peace and cooperation. The countries of this region, including Saudi Arabia, shouldn't hamper this process.
SS: That's a lot of 'shoulds'... In any case, the airstrikes have begun and what we have here is a direct military intervention. Do I understand correctly from what you just said that in this situation when Saudi Arabia and a coalition of Arab states are bombing Yemen, Iran will stay an observer rather than start actively interfering?
HA-A: We will keep supporting the fight against terrorism in the region, including in Yemen. In this respect we welcome the actions of Ansar Allah aimed at combating terrorism. We will support the dialogue in Yemen to the best of our abilities and we are willing to aid the start of the political process in this country. We don't believe that the conflict in Yemen can be solved through military means. We don't believe the Ansar Allah forces need to receive military aid. We will not facilitate military action in Yemen.We are in favor of national dialogue, and in this respect our stance is the same as Russia's. During negotiations with my Russian counterpart we agreed to facilitate the start of a peace process in Yemen.
SS: You've said before that the Yemeni President should resign. Does it mean that you support the Houthis and not the legitimate president of Yemen?
HA-A: Indeed, we have criticized the Yemeni President and urged him to resign. Abd Rabbuh Mansour Hadimade a number of mistakes as president. His first obvious mistake was the initial decision to resign, and his second was to flee the capital and move to Aden. Using terrorist groups to fight Ansar Allah was his third mistake. Announcing that Aden is the new capital was another strategic mistake on his part. Why? Because some countries supported the decision to make Aden a temporary capital, which triggered further divisions in Yemen, pushing the country closer to war. Even before Saudi Arabia's military intervention in Yemen we have very clearly stated that all Yemeni political forces, including the President, should gather in Sanaa and launch a dialogue based on peace and partnership in order to break the current deadlock. But instead Hadi tried to politically boycott Ansar Allah. We maintain contact with all the groups and movements in Yemen, including the interim government and Ansar Allah. But we believe that Yemen belongs to all the Yemeni people and a single movement cannot dominate the political arena.Yemeni leaders should make their own decision regarding the country's future.
SS: But right now it's ultimately about supporting either the Houthis that seized power or the rest. As for the Houthis, is there a guarantee that they will be able to unite the people, consolidate the power and prevent bloodshed?
HA-A: The Houthis are strongly supported by the population. The actions of President Hadi backed by some foreign states resulted in terrorists infiltrating Yemen. Ansar Allah had to respond. The Houthis honored their commitments, they were willing to take part in a dialogue, but the other side changed the rules. In this situation, when the war in Yemen has already begun, Ansar Allah is protecting itself and the country. They are still in favor of peace and political dialogue. People support Ansar Allah and respect its members. The only way to resolve the situation in Yemen is for all the political groups to cooperate and come to an agreement.
SS: Let's talk about another military operation in the region, conducted by the US and the coalition of Arab states against ISIS. In your interview to Reuters you said that the United States is not acting to eliminate ISIS, it's only interested in managing it. Did you mean that the US is controlling the Islamic State? How is that possible?
HA-A: In the beginning the Americans declared that they wanted to destroy ISIS. But then it became clear that in reality they were just weakening ISIS. Now it's apparent that all they want is to control, to manage the Islamic State. The US built a coalition to fight ISIS in Iraq and Syria, but the action plansfor the two countries are different. The US is coordinating its actions with the government in Iraq, but this is not the case in Syria. The US simply informed the Syrian President of its intentions. It is not coordinating its actions with the Syrian military.We have proof that the Americans use double standards when it comes to combating terrorism. They have no unified strategy, and in some cases we see a connection between U.S. intelligence services and terrorist groups. We've expressed our concern about this to our American counterparts through diplomatic channels, but the U.S. maintains they are committed to fighting terrorism.
SS: You say direct military action is needed against ISIS.Would Iran support a U.S. on-the-ground military intervention into Iraq and Syria?
HA-A: We haven't supported the US-led coalition against ISIS because we have serious doubts about America's true objectives. One of the reasons for our doubts is that after Mosul fell, we saw that the U.S. are not taking any serious steps. It seems like they were waiting for some political changes to take place. There is a lot of controversy over the way the US has been fighting terrorism in Afghanistan, Iraq and Syria in the recent years. If the Americans are combating terrorism, why are they now willing to negotiate with the Taliban after so many years of fighting it?
SS: Now you've brought up the issue -U.S. actions in Iraq have led to the chaos we're seeing today with the Islamic State, U.S actions in Afghanistan failed to end the Taliban… Is it time forregionalpowers to step in and clear the mess?
HA-A: The Americans started fighting the Taliban in Afghanistan, but did they manage to get rid of it? Did the US succeed in eradicating the roots of terrorism in Afghanistan? We believe that ISIS is the result of the US military intervention in Iraq. The US created the conditions for the growth of terrorism in Iraq, and it won't be eradicated until the U.S. stops behaving in such an ambiguous way.
SS:I'm not disputing that. My question was whether it was time for regional powers such as Iran and its neighbors to interfere and sort out this mess.
HA-A: When it comes to fighting terrorism, Iran was the first country that rushed to Iraq's aid and the first country to help Syria. We will support any country in the region that is threatened by terrorism and help them within the framework of international law. Upon request from the Iraqi and Syrian governments we sent our military advisers there to fight terrorism. Some of them died as martyrs. We are closely cooperating with some countries of the region in order to create a joint mechanism to combat terror.
SS: The Iraqi Defense Minister recently praised Iran for its role in fighting the Islamic State. And you say Iran sent military advisers to Iraq.What role do military advisors play exactly? Are they Iranians who fight the Islamic State directly? I'll explain why I'm asking. Just recentlythe leader of Iraq's shiite militia has thanked Iran and an Iranian general - General Soleimani – for saving Baghdad from Isis.So does that mean the Iranian army is directly fighting ISIS in Iraq?
HA-A: When it comes to Iraq, it's the Iraqi people and the Iraqi army that plays the most important role there. They are undertaking tremendous efforts to fight ISIS. Ayatollah al-Sistani's fatwa which declared fighting ISIS a sacred duty greatly contributed to the mobilization of the Iraqi population. When we say that Iran's military advisers are in Iraq, we mean people who offer advice to the Iraqi and Syrian armed forces. We share our experience in fighting terrorism. In no way does it mean that we send our soldiers there. Iraq and Syria have enough armed forces to fight terrorism.
SS: So you reaffirm that at the moment there are no Iranian soldiers directly involved in fighting Iraqi militants on the ground?
HA-A: No Iranian armed forces or militants are currently present in Iraq or Syria.
SS: Let me ask you this: whyaren'tyou fighting? Wouldn't Iranian help be extremely useful in the current situation?
HA-A: We can help our partners organize the process and make military decisions. But Both countries have enough armed forces, there's no need to send Iranian soldiers to Iraq or Syria.
SS: Okay, so both Iranian military advisers and American military advisers are currently in Iraq.Does that mean that Iranian military advisers are working side by side with the Americans and their allies? Is that right?
HA-A: We don't have an agreement with the US regarding joint efforts to fight terrorism in Iraq.We don't have direct military cooperation. But the Iraqi government is coordinating the work of the military advisors - In some parts of Iraq American military advisors consult the Iraqi forces, in other parts it's the Iranian military advisers.We are very committed to combating terrorism and we've made considerable progress in Iraq. There's no doubt that Baghdad was on the brink of falling into the hands of ISIS, but right now it's under no danger. Other parts of the country should have been freed of ISIS with the help of the Americans, but we don't see the U.S. taking any major steps. So we constantly criticize them for not being decisive and serious enough in fighting terrorism.
SS:I understand, but if the Iranian and American military advisers were to coordinate their work, wouldn't it be more effective than offering different strategies to fight ISIS in different parts of the country? Right now it seems that both Iran and the US share the same interests in this region, that is, to defeat ISIS.
HA-A: We are committed to fighting terrorism, and we take planning and implementing concrete measures very seriously. We don't agree with the steps the US is taking, so we see no point in coordinating our work. If the US proves its commitment to fight ISIS, we will of course welcome it.
SS: U.S. former commander in Iraq, Gen. David Petraeus has said that the Shiite militias confronting ISIS, "aided and guided by Iran", are a bigger threat to Iraq than ISIS itself - should Baghdad refuse their help then?
HA-A: What Petraeus said indicates that he doesn't have a good understanding of what is going on, even though he was the commander of the US forces in Iraq for years. The US has on a number of occasions expressed its concern over militias formed in Iraq.But I'll have to state very clearly that volunteer militias were formed under the guidance of the Iraqi government and Iraqi military command. Iraqi militias are not independent. They operate within the framework of Iraq's Constitution, under the command of the Defense Minister and work towards the same objective as the Iraqi army.
SS:If not the Shia forces, who should be fighting ISIS? Both the Iraqi army and the Sunni armed groupshaven't been showing much progress before the militias stepped in...
HA-A: You see, people say that we help only the Shia in Iraq, but that's not the case. Our military advisors are engaged together with the Iraqi army in operations in Tikrit, in Sunni areas. If Iran had not responded to a plea for help from the leader of Iraqi Kurds Mr. Masoud Barzani, ISIS would have been in Erbil by now. Mr. Barzani stated very clearly that they are thankful to the Islamic Republic of Iran for assistance in fighting ISIS. In other words, we have offered help in Shia-dominated areas, Kurdish areas, and now we are helping Iraqi Sunnis in Tikrit to fight terror. So saying that Shiite militias are the only ones fighting in Iraq is not exactly correct.
SS: With the nuclear negotiations between Iran and the Western powers showing signs of progress, why is there still such mistrust about Iran's aid in the fight against the IS?
HA-A: First of all, we have even less trust in the West than they have in us. I don't think they have any reasons for suspicion, because our counter-terrorist efforts have proved worthwhile. If you don't believe me, ask the people of Iraq, Afghanistan or Syria.Why is the West apprehensive about this? That's their problem.
SS: While Western allies focus their attention on Iraq, Syria remains a stronghold for the Islamic State…Your interior minister told me in a recent interview that you offer organizational, advisory assistance to Syria in the fight against the Islamic State. Are you planning to offer wider support?
HA-A: We will continue to provide assistance to Syria.We will not allow Syria to turn into another Libya or another Somalia. In spite of the chaos created by terrorists, in spite of the misguided international actions in the region, we always have and always will stand by the Syrian people. Iran backed the political process in Syria, government reforms, the demands of the moderate Syrian opposition. We support the inter-Syrian dialogue in Moscow. Iran will continue helping Syria combat terrorism and we will also continue providing economic assistance to Syria.
SS:Is Iran the only country helping Syria fight ISIS?
HA-A: Iran is the only country that officially helps Syria fight terrorism and coordinates its efforts with Syrian authorities. We provide them with military advice. Hezbollah has also been very effective in the fight against ISIS, it's ensuring the security of Lebanon. Lately, many countries, some European and American politicians have acknowledged the issue of terrorism in Syria, and are emphasizing the need for a political settlement inside the country. We proudly declare that Tehran has prevented terrorists from overthrowing the political regime in Syria, even though some foreign intelligence agencies supported armed groups in Syria. Besides, some foreign governments contributed to the strengthening of ISIS in Syria.
SS:ISIS is strengthening its presence across the entire region, spreading beyond Syria and Iraq into Afghanistan, Egypt, Libya, and Yemen; they even have supporters in Nigeria.How has Iran, neighbored by Iraq and Afghanistan, managed to keep extremism out?
HA-A: The reason why we offer effective assistance to our neighbors is that our security services have a lot of experience in managing the situation and combatting terrorism. Even though we're in between two of the world's biggest terror hubs - Afghanistan and Iraq, Iran remains the most secure and stable country in the region. This is thanks to our security services and other units that specialize in fighting terrorism.
SS: That's clear, but what exactly do you do? Each country uses its army and security forces for protection. But the countries targeted by ISIS also have their own security forces. So what makes you better at it?
HA-A: First, there must be no distinction between good terrorism and bad terrorism. You cannot use terrorism in your own interests. Second, you need to have adequate security forces to act against terror. Third, you need to enforce border control. And most importantly, you need to address the social and ideological roots of terror in the region. Every government must track the roots of terrorism to work out a solution. As for the measures we take, the specifics are up to security forces. This is not my domain. Russia, too, is taking very productive steps and building effective tools to ensure its own security. We see terror strikes in France and in the US; Russia is not immune, either. But why does Russia stay stable and secure? I think it's all about running the country well and the counter-terrorist experience Russia has.
SS: In other words, countries are better at ensuring their security under the pressure of sanctions! All right – let's move on to another topic. I'd like to touch upon falling oil prices. You are saying this is happening due to well-planned actions of some governments in the region. Which ones do you mean – beside Saudi Arabia?
HA-A: There are a handful of factors contributing to the falling oil prices. One of them is the law of supply and demand. The second one is the production of shale oil in the US. We know now for sure about the recent concerted effort by some of the countries in the region…
SS:Which ones?
HA-A: I'd rather not name them. Anyway, that was a concerted effort by some of the oil producers in the region and the US. One of their goals was to lean on Tehran and Moscow. Their idea was that the drop in the oil prices would increase economic pressure on Tehran and Moscow, so that Tehran would concede on its nuclear program, and Moscow on the Ukrainian crisis. But it is a two-way street: even the countries that expanded their oil production and are reducing oil prices will suffer from this policy very soon.
I believe that the region and the international community in general are being affected by strategic errors.The biggest error in the realm of security consists in the instrumental use of terror in some of the regional countries, like Syria and IraqThe biggest error in the realm of economy is keeping the oil prices at a low level. All of this breeds instability, undermines security and builds up extremism.The only stakeholders who benefit from it are the enemies of the region.
SS: Saudi Arabia has recently declared it is ready to start designing its own nuclear weapons. What will Iran do if Saudi Arabia makes a nuclear bomb?
HA-A: Our spiritual leader has banned production and use of nuclear weapons at the highest political and religious level. We seek to build a nuclear weapon-free zone. If Saudi Arabia wants to develop nuclear energy for peaceful purposes, we will be happy to see that Iran's persistence in this issue has finally yielded fruit. Moreover, we are ready to share our experience with other countries in the region. But we strongly oppose building nuclear weapons, and we will not allow Saudi Arabia to make a nuclear bomb.
SS:I get it, but unfortunately Saudi Arabia has openly said they are talking about nuclear weapons, not nuclear research, and that they're doing it in response to Iran's nuclear program that has research purposes.
HA-A: Iran continues to talk with its partners on its nuclear program. So far the talks have confirmed that Iran is not engaged in developing nuclear weapons. So there is no need for Saudi Arabia to do this either.
SS: You are evading my question in a true diplomatic fashion. To make it clear, Saudi Arabia has announced its intentions to work on nuclear weapons. What is Iran's stance on this?
HA-A: We do not make nuclear weapons, and we forcefully condemn other regional countries' intent to acquire a nuclear bomb. All countries in the region, including Israel, must destroy their nuclear warheads.
SS: Thank you very much for this interview. I hope to see you again someday.
HA-A: I'd also like to thank you and wish your esteemed audience the best of success.
SS: Thanks.