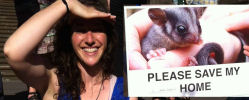 Yesterday at 6.00pm about 200 people gathered on Parliament House steps, Spring Street, Melbourne to show their support for the proposed "Great Forest National Park" and to highlight the need for areas to be included to be protected from logging in the interim.
This rally was under the auspices of The Wilderness Society and of The Victorian National Parks Association. Other smaller groups joined in e.g. Rubicon Forest Protection Group Inc. This group has put out an excellent pamphlet about the need for forest conservation.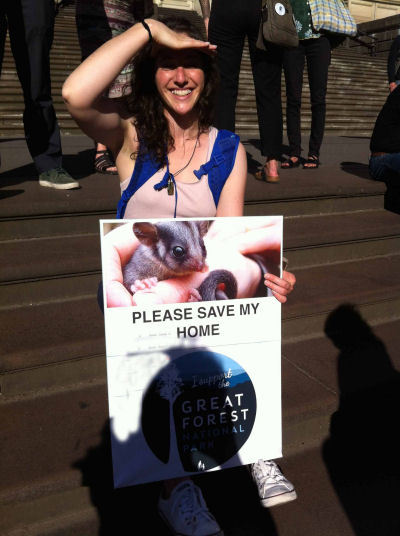 ".....the extensive logging road network cuts though previously intact ash forests and Antarctic Beech/rainforest communities alongside waterways....many coupes show poor regeneration of mountain and alpine ash while others become a monoculture of ash trees lacking a diversity of understorey shrubs and ferns.......Logging or killing by fires of 1939 regrowth mountain ash forests, results in an initial rise in streamflow due to reduced transpiration, but aged 10-15 years the growing forest starts to use more water. Importantly, this effect of lower water yields lasts many decades...." rubiconforest.org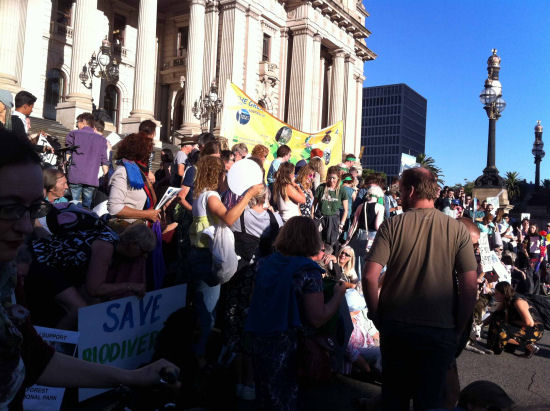 The Wilderness Society says

"...with Melbourne's population set to explode to over 7 million in the next few decades , water security is a huge issue. These Mountain Ash forests provide most of Melbourne's drinking water...intact forests produce conditions that actually increase rainfall and purify our air and water...... "
A point of interest is that parks surrounding Sydney total 1,094,207 ha. Parks surrounding Melbourne total 168,891 ha and, with the Great Forest National Park, would total 522,104ha
The great importance of this rally and the forest issue to the people of Melbourne is that it is all on the city's doorstep.
What can we do?
Participate in online poll "Should the Fairy Possums's forest habitat be protected from logging while the Great Forest National Park is being created?" wilderness.org.au/possumpoll
Show your support for the creation of The Great Forest National Park Text #GFNP to 0428029437
"Like" the GFNP on Facebook at Facebook.com/greatforestnp