Republished from A protest in Paris against terrorism-backing policies of French government and Saudi regime (21/6/15) | SANA. See also 80,000 terrorists enter Syria via Turkey, Jordan: Syrian UN envoy (22/6/15) | PressTV and #OtherStories">other articles about Syria.
| | |
| --- | --- |
| | Paris, SANA – A number of associations, including the French "Civitas" association, "The Gathering of Expatriates for Syria" and "The Union of Syrian Patriots" staged on Saturday a protest outside the Saudi Embassy in the French capital Paris against the terrorism-supporting policies of the French president Francois Holland and those of the Saudi regime. |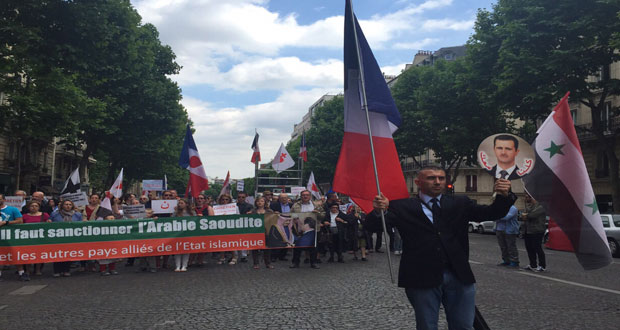 A crowd of French citizens and members of the Syrian community in France and Belgium took part in the event, with the participants holding Holland's government and the Saudi regime responsible for the massacres and crimes committed by the terrorists in the Middle East countries, particularly Syria, Iraq and Egypt.
They demanded an international trial for the two sides and all other individuals, organizations and governments that are backing or dealing with the terrorist organizations.
French and Syrian flags were waved during the protest and the slogans chanted expressed support for Syria, applauding its steadfastness in the face of the terrorists and their backers.
Alain Escada, Chairman of Civitas association, which seeks to create a French political lobby opposing the French President Francois Holland, placed the blame for the terrorist acts committed in Syria and other countries on the policies of an "axis of countries" including the US, Israel, Saudi Arabia, Qatar, Kuwait, Bahrain and Turkey.
This axis, Escada said, seeks to establish a new world order to subjugate countries into implementing their agendas in service of their interests.
For his part, Omran al-Khatib, head of the Gathering of Expatriates for Syria told SANA in a statement that "Our participation aims at demanding that the peoples and governments of the world stand firmly in the face of Al Saud regime that generated terrorism in all its forms."
SANA reporter also spoke to a number of Syrian expatriates, who stressed that they support their homeland and its leadership and army against the terrorist organizations and all of their sponsors.
Qabas/ H. Said
#OtherStories" id="OtherStories">Other stories about Syria: ISIS fighters plant mines and bombs in Palmyra - monitor (21/6/15) | RT, 'Revolution within revolution': How and why Kurdish women are fighting ISIS (DOCUMENTARY) (18/6/15) | RT, Syrian communities abroad condemn terrorist crimes in Syria, protest against arming terrorists (18/6/15), Syrians abroad: International silence on ISIS massacres is betrayal of human values and (3/5/15), Hundreds of Turkish citizens protest against Turkish support for terrorists.
Comment: If Angelina Jolie, the "Special Envoy of the United Nations High Commissioner for Refugees (UNHCR)" and now visiting Turkey, ostensibly to help Syrians and Iraqis displaced by war (3/5/15), truly wanted to stop the refugee crisis, then perhaps she should consider joining any planned demonstrations by Turks opposed to President Erdogan's complicity in the proxy terrorist war against Syria which has so far cost over 220,000 lives. One such demonstration occurred on 3 May and is described in a previously linked article.
See also PressTV, the Syrian Free Press NetworkFars News, Voltaire Net, Land Destroyer, Syria News,, Global Research, RT and Sputnik News.