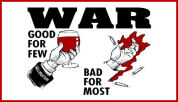 Would you be surprised to know that Australia supports financing motley militia gangs to fight the lawfully elected Bashar al-Assad Government of Syria on the basis of false documents in the mainstream media? Robert Stuart is an anti-war activist whose site records correspondence with the BBC and other mass media about broadcasts which seem to have contained false war documents or in other ways present documents in a faulty way. In this latest correspondence, Stuart complains to the UK Telegraph newspaper that it is recycling as new, the same old footage also recycled as if new by UK Television Channel 4 (the subject of another article here: "Complaint to UK Channel 4 of reuse and relabeling of old film for anti-Syrian propaganda purposes - by Robert Stuart"). We publish Stuart's letters here in order to help create a true record of what is really happening.
Robert Stuart
12:07 AM 19 July 2015
to inquiries
Bashar al-Assad's airmen laugh as they drop barrel bombs on fellow Syrians – The Telegraph, 20 May 2015
Dear Sir or Madam,
I wish to complain that the above print and web article breaches Clause 1 of IPSO's Editors' Code of Practice, relating to Accuracy.
The article refers to "New footage obtained by al-Jazeera" in the subheading and states in the first paragraph that "New footage has emerged showing Syrian aircrew using barrel bombs".
The Telegraph includes the al Jazeera footage in the online version of its article. However the section of the video commencing at 1 minute 54 seconds, in which a crew member uses a cigarette to light the fuse on a long, slender munition which is then ejected overboard, appears at 4 minutes 32 seconds in this You Tube video which was published on 27 October 2012.
At least part of the al Jazeera footage was therefore over two and half years old – and possibly even older – at the time the Telegraph article was published.
Further statements in the Telegraph article suggest that the al Jazeera footage is contemporary:
- The inclusion of a quote from President Assad from February 2015 denying that his government uses "barrel bombs" indicates that the al Jazeera footage can be considered subsequent evidence countering this claim.
- Foreign Secretary Philip Hammond is quoted saying of the al Jazeera footage: "It shows the casual and indiscriminate way in which Syrian regime forces are dropping these horrific weapons out of helicopters onto civilians below. For months we have seen reports of barrel bombs hitting hospitals and schools, killing thousands." The use of present tenses ("are dropping", "have seen") strongly indicates that the al Jazeera footage is to be understood as depicting current events.
Yours faithfully
Robert Stuart
https://bbcpanoramasavingsyriaschildren.wordpress.com/
Attachments area
Preview YouTube video Leaked: Regime Forces Dropping Barrel Bombs on Homes, Celebrating