"My dog doesn't eat meat! " declared Ann. "Neither does my cat" declared Sarah in a satisfied tone.
Well, isn't that amazing? Two different pet animals who do not eat meat, both of species associated with carnivorous habits. I guess I would not worry about this if I only heard it twice, but it seems now that most of the pet cats and dogs I know eat pebble shaped bites of a mysterious substance or mixture which is purported to be perfectly balanced and to provide "everything they need" !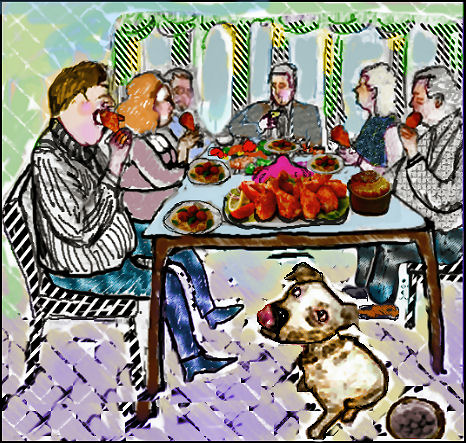 The trouble is that, from my observations, these hapless canines and felines don't like this manufactured offering. The unfortunate mutt that I am caring for at the moment whilst his owner is on holiday is only allowed about 20 mustard coloured manufactured morsels for each of his two meals. He madly tried to get into a plastic bag in which I had disposed of a piece of kitchen paper which had absorbed a trace of meat juices whilst the pebbly plateful remained untouched. This little dog barely recognises this stuff as food. He only resorts to it after several hours and after all other avenues of nourishment have been unsuccessfully explored. He eats these granules totally without joy. Another delightful and much loved pooch of my acquaintance who is now about 8 years old has never had anything but "pebbles" pass thorough his black lips. This animal is so much loved that the couple who own him cannot go away together unless he can go with them, yet every night a dizzying array of delicacies adorns their dinner table whilst their doted on dog only gets the same diet food.
Why? you may ask do people comply with a veterinarian-ly authorised dictum that their pets eat a constant and unvaried regime of "science diet"? As we all know these foods do contain meaty substances but in low concentrations. If they didn't, surely the pets would not get to their 2nd birthday?
With my current charge I have broken the strict rules I was given as I cannot put up with his being constantly hungry and unsatisfied. I am a most unsatisfactory dog sitter. Today I slipped a few chop tails complete with sizzling and crispened fat into the dog's dish as well as some miniature sausages earlier. All of these disappeared down the hatch at lightning speed. The mustard coloured pebbles, eschewed, sit lifelessly in another white dish, untouched, unwanted.
What a dilemma I have ! I can return the dog in good health and well fed when my friend returns from holiday but she will see, the first time she walks him, that I have not adhered to the yellow ochre pebbles. I could go back to the pebbles the day before, I suppose, and the dog's owner will never know what dietary transgressions took place.
I did ask my friend why her adored pet was not allowed real meat, and a varied diet, and she told me that this prescribed diet for her two year old dog was on the advice of the vet, in whom she has complete faith. This is the same answer to this question that I have had from everyone I know with "pets on pebbles" .