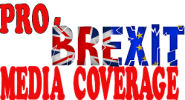 People who have complained to me of poor coverage by the Australian media of the underlying reasons for Britain's exit from the EU will enjoy these shows. They report on various aspects, including the possibility of preventing the privatisation of British hospitals and mining, the ability to try to end Britain's live transport of domestic animals for thousands of kms, the ability to stop fracking, the desirability of a decrease in house prices, the reasons why people outside the big cities voted against the EU, and mass immigration in an economy where unemployment is already high and numbers are an issue.
English language programs
"It's panic stations amongst the ruling elites." On Sputnik's Referendum Special, George Galloway, interviews journalist Selina Scott, who sums up the EU as undemocratic, noting that the British have no ability to affect decisions on fracking, live transport or anything else of note. He also interviews a very traditional Alex Graham, former president of the RMT union, who believes that trade unions have lost confidence in their ability to defend members' rights and an exit from the EU could bring back control. Either way, both our guests agree the Brexit vote was in part a rejection by the working class of the prevailing neoliberal orthodoxy and they came to the studio to explain why.
In "Brexit Special: Are we living in a Disunited Kingdom?", Afshin Rattansi of Going Underground, does not shy from putting the positives of Britain's referendum outcome, including more affordable housing. He interviews Alex Salmond, former First Minister of the Scottish National Party about the implications of Brexit for another Scottish referendum, asks Conservative MP, David Davies if Brexit could be the end of the UK and hears from a former Labour home secretary, Yvette Cooper, who thinks a break-up of Britain could spell the end of her party, and from former coalition business secretary Sir Vince Cable, on the day his former boss resigned.
Crosstalk's debate on Brexit covers quite a field as usual..
In The Big Picture, journalist Thom Hartman, usually very defensive on the goods of immigration, gets out of that groove on this occasion and gives good time to the valid negatives, also citing some erudite sources on the matter.
The Keiser Report does its own wild but substantial analysis of Brexit, coming down hard on the high house prices and the arcane self-justifications of the elites and mainstream press. "Max and Stacy are joined from New York City by Mitch Feierstein of PlanetPonzi.com to dissect the economic, monetary and financial consequences of the 'shocking' Brexit vote - Britain votes to leave the European Union. The Keiser Report team look closer at the market sell off and ask if it's part of a wider market weakness set in motion months ago, then examine the role of the media, much as in the rise of Donald Trump, in simply failing to understand the 'disposable' voters left behind by globalization. Mitch shows a chart proving that the biggest pound sterling sell-off was actually in 2008 and the currency has never really recovered since then. Finally, they look at the opportunities presented by panic selling."
In Sophie and Co Sophie Shevardnadze interviews Ken Livingstone, former mayor of London and Labor Party veteran, who pushes a globalist agenda on immigration and economics, but she keeps at him, revealing the inconsistencies.
Interviews in French:
A young pro-Brexit Franco-German speaks up. On France2's Friday 24 June 8pm program, Marie Drucker interviews Charlotte Kude, 25 years old of GermanFrench nationality and a parliamentary employee with the EU. Supposedly the young were among the pro-EU majority, but Charlotte became a spokesperson for the "Vote Leave" side. She is very happy about the Brexit win. "The British are not rejecting Europeans, they are rejecting the obsolete system (...). They were hoping to send a message to the political project and also in the hope that the EU would wake up to the welfare of all those that still remain members.
A chasm between bureaucrats and citizens: This young woman became a eurosckeptic through her experience in the European Parlement. "I was struck by the chasm beween the lifestyle of the bureaucrats in Brussels and that of European citizens. (...) More than 10,000 [among the Brussels bureaucrats] are paid more than the British Primeminister, for example. They don't pay taxes; they can drink, eat, travel with all expenses paid. And, in my opinion, that's what's contributing to the bubble they are living in which must eventually explode." [1]
Notes
[1] Original french summary of the interview: Charlotte Kude, 25 ans, est une assistante parlementaire franco-allemande. Surtout, elle est pour la sortie du Royaume-Uni de l'UE et est ainsi devenue porte-parole du mouvement "Vote Leave". Elle se réjouit donc du succès du Brexit. "Ce ne sont pas les Européens que les Britanniques rejettent, c'est bien le système politique obsolète qu'ils rejettent.(...) C'est le projet politique auxquels ils ont souhaité envoyé un message, et dans l'espoir aussi que l'Union européenne se réveille pour le bien-être de tous ceux qui y sont encore".
Un fossé entre bureaucrates et citoyens
La jeune femme est devenue eurosceptique par son expérience au Parlement européen. "J'ai été vraiment interpellée par le fossé entre le train de vie des bureaucrates à Bruxelles et celui des citoyens européens. (...) Il y en a plus de 10 000 qui sont payés plus que le Premier ministre britannique par exemple, ils ne payent pas d'impôts, ils peuvent boire, manger, voyager tous frais payés. Et ça, à mon sens, ça entretient cette bulle qui va finir par imploser"."