Clearing our Koalas Away is a damning new report by Dailan Pugh (North East Forest Alliance, July 2017) that puts together intensive logging maps recently obtained via Freedom of Information, and the EPAs new koala habitat model. [Candobetter.net Editor: This article is republished from The North East Forest Alliance site at nefa.org.au. There is also an article about this by Sue Arnold at Independent Australia: Koala extinction looms on NSW North Coast due to Government 'vandalism'.]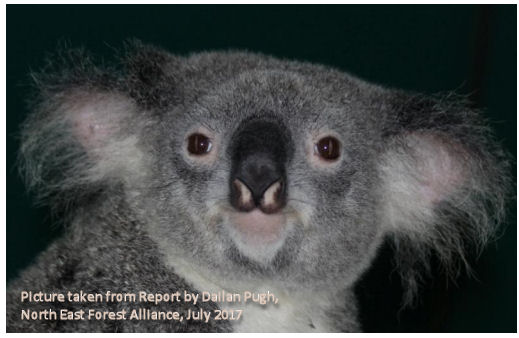 The principal findings of this review are that:
Within the 103 State Forest compartments currently being actively logged on public land in north east NSW there are 4,663 ha of modelled high quality Koala habitat and 357 Koala records.
The identified protection for Koalas in current logging entails 2 Koala High Use Areas totalling 1.2ha from which logging is excluded and the identification of 15% of the high quality habitat as "Intermediate Use Habitat" where 5 feed trees of any size are required to be retained per hectare. This is mere tokenism.
Thirteen of the 20 current logging areas with >17% high quality Koala habitat are being targeted for logging intensities (regeneration and heavy Single Tree Selection) involving up to 60-86% basal area removal in blatant contravention of the Integrated Forestry Operations Approval (IFOA's) limit of 40% basal area removal.
During the period when it was practiced from 2000-2010 over 10,000ha of forests in the Lower North East region were allocated to Australian Group Selection patch clearfelling, incorporating 6,460ha of high quality Koala habitat, despite a prohibition on the use of AGS in "intermediate" Koala habitat.
Since 2006 in the Lower North East region. the Forestry Corporation have subjected 74,906 ha to the unlawful logging practices of 'medium', 'heavy' and 'regeneration' Single Tree Selection involving 41-100% basal area removal. This is comprised of 23,742 ha (32%) of high quality Koala habitat and 717 Koala records.
Of the unlawfully logged area, 23,340 ha has been subjected to 'heavy' and 'regeneration' STS, comprised of 39% high quality Koala habitat, in what amounts to clearing and conversion to quasi plantations.
Over the past 10 years the Forestry Corporation have progressively and unlawfuly converted half of the logging area of the proposed North Coast Intensive Zone in the Lower North East Region to "quasi plantations", with the proposed zoning to give retrospective approval.
There have been no records of Koalas from 41% of the current logging areas encompassing high quality Koala habitat, and no records for at least the past 9 years in 12% of the areas. Records over the past 20 years indicate that Koalas are in decline across State Forests.
There needs to be an urgent intervention to stop the accelerating degradation of Koala habitat in north-east NSW. Surveys need to be urgently undertaken to identify all areas containing remnant Koala populations. Identified areas, along with sufficient additional areas of potential Koala high quality habitat and habitat linkages, need to be fully protected to establish viable populations across the landscape.