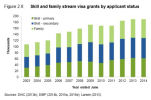 Australian employer groups frequently claim that a strong 'skilled' migration program is required to overcome perceived labour shortages – a view that is shared by Australia's state and federal governments. However, the available data does not support their assertions.
Article first published at by Unconventional Economist in Australian Economy at 12:12 am on June 10, 2019
First, while Australia's is said to run a 'skilled' migration program, the Productivity Commission's (PC) 2016 Migrant Intake into Australia report explicitly stated that around half of the skilled steam includes the family members of skilled migrants (secondary applicants), with around 70% of Australia's total permanent migrant intake not actually considered 'skilled':
…within the skill stream, about half of the visas granted were for 'secondary applicants' — partners (who may or may not be skilled) and dependent children… Therefore, while the skill stream has increased relative to the family stream, family immigrants from the skill and family stream still make up about 70 per cent of the Migration Programme (figure 2.8)…

Primary applicants tend to have a better fiscal outcome than secondary applicants — the current system does not consider the age or skills of secondary applicants as part of the criteria for granting permanent skill visas…
Second, the Department of Jobs & Small Business produces an annual time-series tracking skills shortages across occupations, which shows that skills shortages across managerial and professional occupations were running well below the historical average and close to recessionary levels: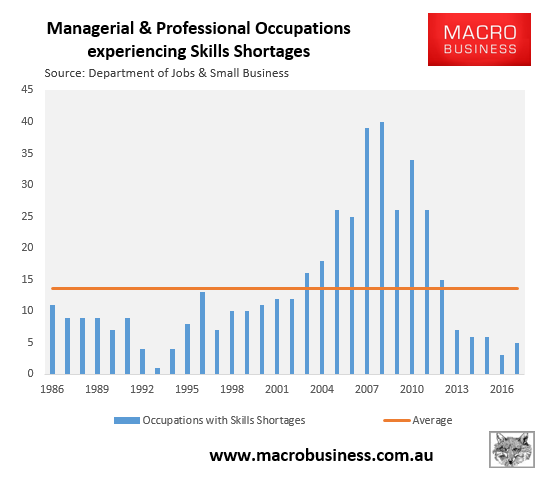 This matters because out of the 111,099 permanent visas handed out under the skilled stream in 2017-18, three-quarters were for professionals and managers, where skills shortages are largely non-existent, as shown above.
To add further insult to injury, the top five occupations granted visas under the skilled stream in 2017-18 were as follows:
Accountants (3505)
Software Engineer (3112)
Registered Nurses (1561)
Developer Programmer (1487)
Cook (1257)
According to the Department of Jobs and Small Business' list, not one of these professions was considered to be in shortage over the four years to 2017, whereas Software Engineer has never been deemed to be in shortage over the entire 31-year history of this series.
The situation is little better for Australia's Temporary Skill Shortage (TSS) visa system. According to the Department of Home Affairs, there were 34,450 primary visas granted in 2017-18, of which 25,620 (74%) were for professionals and managers; again where skills shortages are largely non-existent.
The failure of Australia's so-called skilled migration program to alleviate genuine skills shortages is hardly surprising given almost any occupation is eligible, as the below list attests:
216 occupations are eligible for the Employer Nomination Scheme visa (subclass 186)
673 occupations are eligible for the Regional Sponsored Migration Scheme (subclass 187)
212 occupations are eligible for the Skilled Independent Visa (subclass 189), the Temporary Graduate Visa (subclass 485), and the Skilled Regional (Provisional) Visa (subclass 489)
427 occupations are eligible for the Skilled Nominated Visa (subclass 190)
504 occupations are eligible for the Skilled Regional (Provisional) Visa (subclass 489)
508 occupations are eligible for the Temporary Skill Shortage (TSS) visa (subclass 482).
The above lists do not require that these occupations are actually experiencing skills shortages, which means that these visas can be used by employers to access cheap foreign labour for an ulterior motive, including to avoid providing training and lowering wage costs.
Accordingly, the 2016 Senate Committee report, entitled A National Disgrace: The Exploitation of Temporary Work Visa Holders, found temporary skilled visas were "not sufficiently responsive either to higher levels of unemployment, or to labour market changes in specific skilled occupations".
Adding to the mess, the salary floor for TSS visas has been frozen at the pathetically low level of $53,900 since 2013-14, which is $32,700 below the average full-time Australian salary of $86,600 (which comprises both skilled and unskilled workers).
Given the above, it is not surprising that actual pay levels of 'skilled' migrants in Australia are abysmally low.
According to the ABS' most recent Personal Income of Migrants survey, the median employee income of migrants under the skilled stream was just $55,443 in 2013-14.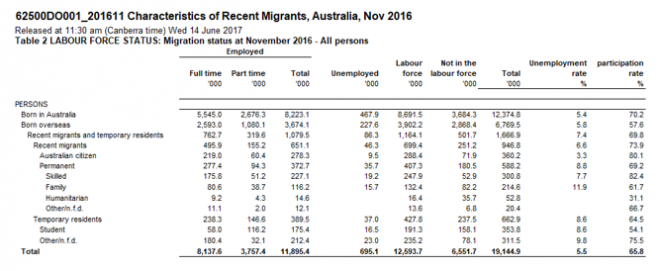 Several surveys have similarly shown that most recently arrived skilled migrants are working in areas well below their reported skill level.
For example, analysis by the Australian Population Research Institute (APRI), based on 2016 Census data, revealed that most recently arrived skilled migrants (i.e. arrived between 2011 and 2016) cannot find professional jobs. That is, only 24% of skilled migrants from Non-English-Speaking-Countries (who comprised 84% of the total skilled migrant intake) were employed as professionals as of 2016, compared with 50% of skilled migrants from Main English-Speaking-Countries and 58% of the same aged Australian-born graduates.
APRI's results were supported by a 2017 survey from the Bankwest Curtin Economics Centre, which found that 53% of skilled migrants in Western Australia said they are working in lower skilled jobs than before they migrated to Australia.
With this detailed background in mind, it is interesting to read that the Morrison Government has announced reforms to Australia's permanent residency points system in a bid to ensure it is better targeted towards skilled migrants. From SBS News:
In April this year, the immigration department announced some changes to the point system. These changes will come in effect from 16 November 2019.

According to the new rule, applicants who do not have a spouse or de facto partner will get 10 points.

"Points are awarded for attributes that are linked with the applicant's ability to make the greatest economic contribution, as the key purpose of the skilled migration program is to maximize the economic benefits of migration to Australia," the legislation reads…

"The idea is to bring more skilled migrants and discourage unskilled partners who come with married skilled migrants.

"Married invitees with kids fill more places with non-skilled migrants and leave lesser places for skilled migrants," says [[Immigration Expert Rohan] Mohan.
The reforms are in response to the PC's findings (above) that half of the skilled stream is taken up by family members of skilled migrants, many of whom are unskilled.
While the changes announced are good in theory, members of the Indian community are already working out ways to game the system and skirt the rules:
[Immigration Expert Rohan] Mohan says many of his clients are waiting for November.

"People have put their marriage on hold to claim these extra points. Earlier people would get married before applying to claim five extra points on behalf of their partners. Now we can see the opposite trend"…

Dilip Kumar, an Australian visa-hopeful says these extra points will help him in a big way.

'My IELTS score is not very high, so I am counting on the extra points,' says Dilip who is an auto mechanic in Karnataka and preparing his application for an Australian visa.
Education and Migration agents are also advising clients on Facebook on how to fill in forms to avoid scrutiny by the Department of Home Affairs:

This kind of visa system gaming is common among applicants from India's Sub-continent, as explained by Melbourne Indian community leader Jasvinder Sidhu, who also acknowledged "widespread… corruption from top to bottom", with "thousands and thousands of people… being sponsored and they're all fake":
JASVINDER SIDHU: These people just get away. Even if they're caught, media or otherwise through police and thing, they just go on bail and I think the system is very, very easy on these sort of things.

NICK MCKENZIE: It's easy to rort?

JASVINDER SIDHU: Yes, very easy to rort. You have 10 ways to rort and then if the Government has one rule, you have actually 10 responses how to basically bypass those rules.

NICK MCKENZIE: The Australian Border Force has spent the last 12 months investigating criminal syndicates involved in visa rorting, but insiders say the problem is massive. One of the Immigration Department's top officials until 2013 has now broken his silence. He says visa rorting was and is endemic and has largely been ignored by politicians focusing on the boat people issue.

Joseph Petyanszki managed investigations for the department for eight years. He wouldn't be interviewed on camera, but has given 7.30 a statement about what he calls, "The shocking and largely unknown fraud within our working and student visa programs". He describes a world of "shonky immigration agents" where, "fraudsters …. enter the community with ease". He points to immigration law "loopholes", "major integrity problems" and a department which has struggled to cope with such an, "attack on the integrity of our systems". Petyanszki blames a, "lack of funding and politics". He says, "It's been easy to deflect the public's attention to boat arrivals," but this fear-mongering has totally ignored, "where the vast bulk of real fraud is most significantly undermining our immigration programs"…

JASVINDER SIDHU: Yes, there's corruption from top to bottom. Thousands and thousands of people are being sponsored and they're all fake. The whole system cannot work that smoothly if there's no corruption in the system.

NICK MCKENZIE: Someone on the inside has to know?

JASVINDER SIDHU: Oh, yes, definitely. Even if you do a bit of overspeeding, you are caught, but this is a huge corruption – huge level of corruption and it is so widespread.

Clearly, Australia's skilled migration program is a giant fraud that is failing miserably to meet its original intent, lowering wages, crush-loading Sydney and Melbourne, and wrecking overall liveability.
It needs root-and-branch reform, not token changes like those announced above by the Morrison Government.