[This article is in response to Mary's comment referencing 'The Age' article 'State policy wins: Camberwell project approved' posted on (We) CandoBetter.org website Friday 10th July 2009...thank you Mary.]
What has Victoria's Premier Brumby got against the residents and retailers of Camberwell?
Threat #1: A 14-storey 'SHREK' highrise for Camberwell Junction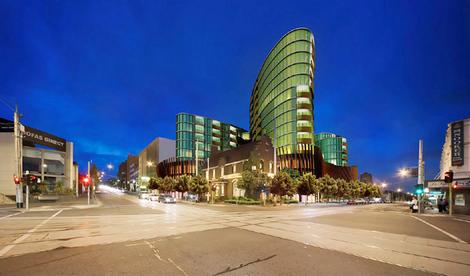 'SHREK' rising out of the middle of Camberwell'...a massive proposed 14-storey apartment high-rise for Camberwell Junction by developer, FKP Property Group.

Camberwell locals have for over six years made very clear to the Victorian State Government of their opposition to high-rise and high-density development in Camberwell. Locals and their council have rejected the proposed high-rise for the Worrells Mercedes/Henley Honda site at Camberwell Junction.
And shame on the owner of this important prominent site, Bill Bowness, of Melbourne's property developer Wilbow Corp. Back in September 2006, Wilbow Corp pocketed $284 million from its sale of the site to Queensland property group FKP Property Group. FPK's subsequent $47 million high-rise project for the site involves two residential towers of 9 and 15 stories, as well as a 5-storey office building with ground floor retail. Did Wilbow or FKP approach Boroondara Council to ask for community input into suggested future use and design of this prominent and valuable site at Camberwell Junction?
FKP has since modified its plan, proposing a 14-storey office tower plus two separate 9-storey buildings with 106 apartments. It is massive over-development of the site and one completely out of character for Camberwell Junction's low-rise shopping precinct. The popular Burke Road strip has won a survey of the best performing suburban strip in Melbourne and is one of the most personable and vibrant strip shopping precincts. Local resident action group, Boroondara Residents Action Group [BRAG], claims the Government's decision to allow the 14-storey high-rise will ruin Camberwell.
Yet FKP spins its hollow commitment to 'sustainability' on its website claiming FKP: "accepts its responsibility to achieve synergy between business operations, community and the environment. This responsibility is underpinned by a commitment at every level of the organisation to continually raise the benchmark, delivering environmentally sustainable developments and working in partnership with local community groups and organisations." Spin-doctoring is a literary art aint it? ..and then voila! SHREK! And what's to happen to the heritage protected building on the site fronting Burke Road?
Threat #2: SHREK 2 for Camberwell's heritage railway station
Camberwell's heritage is also threatened by the Victorian Government's rail authority (Victrack) in its proposal for a $45 million development for Camberwell's 19th Century heritage railway station, just up Burke Road hill. Victrack's appointed developer, Tenterfield, has lodged plans to 'redevelop' the station into a public plaza with two buildings - one 9-storey and the other 3-storey, including 118 apartments.
Yet VicTrack on it's Victrack website proclaims the motto "Upgrading and restoring Victoria's rail heritage sites" and advocates its charter as "a commercially driven and socially responsible organisation that, in its custodian role, protects and adds value to Victorian Government assets, primarily state rail land and infrastructure."
Isn't there a law against making false and misleading statements?
Boroondara Council has rightly supported locals in their opposition to massive highrise an dense development for Camberwell. Council refused Tenterfield's proposal back in April 2008 on some thirty-one grounds. But what is the value of a local council when Brumby's Government has set up a legal structure to ignore council planning decisions and allow commercial developers to get council decisions overruled by the Victorian Civil and Administrative Tribunal (VCAT)? And that is exactly what Tenterfield has done.
Brumby's Planning Minister Justin Madden has been accused of kowtowing to the greed of Victrack's developer. Madden has been accused of influencing the tribunal hearing outcome in deciding the development. BRAG president, Jack Roach, claims that the VCAT is not independent from the Victorian Government in its planning decision making, "70% of the VCAT decisions in Boroondara have been in favour of the developer." But then look at the membership make up of VCAT. It is almost all town planners and lawyers with one or two token environmental scientists and no sociologists or community representatives. #Constitution of the Planning and Environment List"> Check VCAT website!
Increasing commuter capacity at Camberwell Railway Station does not necessitate the destruction of the heritage station building. Strategic urban planning requires innovation and putting community needs ahead of selfish developer profiteering. For instance, Camberwell has an under-utilised tram system above the station along Burke Road. The interconnection between tram and rail should be of 21 Century standards but in a design compatible to the immediate streetscape and suited to disabled and the less abled. This is a one off opportunity to reduce the car-centric dependence around Camberwell and fulfill the State Government's promise goal of increasing public transport patronage by 2020.
Brumby's Government, hell bent on high-rise, is failing to listen to the community
Thus far, Brumby's Government is not only ignoring the rights of Camberwell locals, it is undemocratic in its interference and bullying of VCAT and local councils, which is bordering on corruption. Brumby's Government has dismissed local concerns and rights as "not counting against State Policy." And this is Melbourne, Australia, not Mugabe's Zimbabwe or Chinese Premier Li Peng's infamous Three Gorges Dam. Hasn't Brumby forgotten that he was elected, not self-imposed? This is not the Politburo!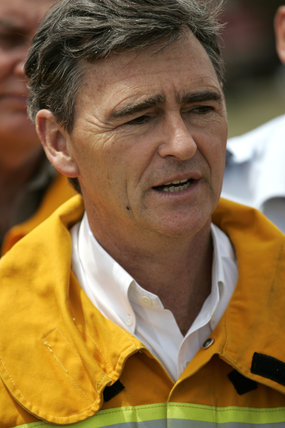 Premier John Brumby
Why is Brumby's Labor Government imposing a South Bank high-rise vision to Camberwell's suburban shopping centre? Generations of families have been established in Camberwell since the 19th Century. Thousands of them have poured their life savings into renovating and restoring their homes because they value the special residential amenity that Camberwell provides. And look at the value of the area now! Camberwell is one of the quietest, leafiest suburbs in Melbourne. Any real estate agent will tell you that Camberwell it is one of the most sought after residential areas in Melbourne. Camberwell is the residential jewel of Melbourne - a leafy established suburban district typified by beautifully restored Edwardian homes and lovingly cared for established gardens. In the main, Camberwell is zoned the with highest possible amenity protection: the much prized 'Residential A1'. As an old Camberwell Grammarian [1976-1981] I know Camberwell like the back of my hand and that to invade Camberwell with high-rise would be aesthetically destructive, architecturally misguided for Camberwell. From both an architectural and town planning best practice perspective, it would be professionally, morally and culturally wrong. It would destroy Camberwell's character and undermine its heritage value.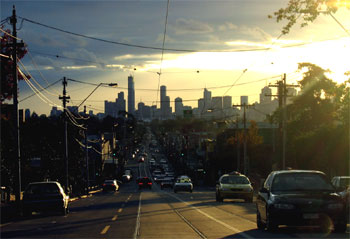 Riversdale Road looking towards Camberwell Junction as it is today.
Boroondara Council is right to support local Camberwell residents and retailers in their opposition to these developments. Council has been angered by Brumby's Labor Governments standover approach overriding its planning decisions that take into account local community values and concerns. The Brumby Government's fetish for population growth and high density development is anathema to Camberwell's residential character and retail amenity. Once high rise goes into Camberwell it will be a legal precedent and a commercial developer's frenzy. Camberwell will descend into another South Bank. The high-rise for Camberwell Railways station will follow the same planning failure as that at Box Hill station. Once again, State Governments acting like autocrats where the rights of locals don't count. And it is not just in Camberwell but across Melbourne. Locals are being denied their landhold rights to respect and preserve the special and valued character and amenity of their suburb.
So what has Brumby got against Camberwell? What does Premier Brumby and his interfering authoritarian state government envision for Camberwell? Can we expect to see a tannery approved in Monomeath Avenue or high transmission lines plonked up the length of Month Albert Road in some misguided spiteful principle?
Perhaps Brumby is too wound up in economic short termism like Chinese Premier Li Peng. Recall Li Peng was hell bent on that term 'progress' and to that warped end used force to quash the Tiananmen Square protests of 1989 and who ordered the displacement of a million Chinese to build his Three Gorges Dam.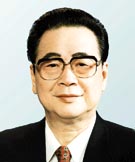 Chinese Premier Li Peng (1989 1998) - his legacy as a hardliner, hell bent on short term economic growth to the detriment of the community and the environment.