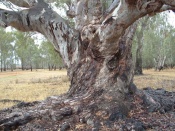 To his credit, NSW Premier, Nathan Rees in the days preceding the 4th December 2009 (his ousting as Premier) announced the creation of a massive new red gum national park along the Murray River near Deniliquin to protect much of the state's remaining river red gum forests from logging.
Loggers have complained because all the 300 year old trees they chainsawed have gone but won't magically grow back, so they want more old red gums trees to chainsaw 'to feed their families' and to 'keep their jobs' and to preserve their 'tight-knit communities' which depend on logging... just like in the 1800s when similar 'tight-knit communities' in Hobart and Albany depended on whaling.
Someone enlightened should play them a DVD on Easter Island's history.