First the Fraser Institute was named Canada's top "Think Tank" and among the best of 25 Think Tanks in the world. Now Vancouver has been named the world's most livable city. At this rate, I suppose that soon it will be named the driest city on the continent. Who is making these judgments, a Queensland politician? Here's a tip. Before you rave about Vancouver, try living there on an average wage. Good luck.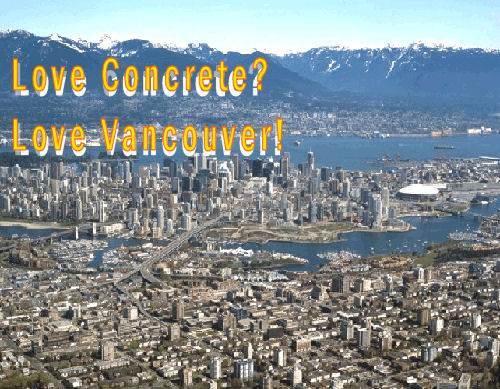 Too expensive to live in
In the land of the blind, the one-eyed man is king. If Vancouver is the king of cities, it only slows how much the world's cities have been degraded by noise, crime, pollution, traffic gridlock, unaffordable housing, homelessness, growing wealth disparity and other attributes which drove me out of Vancouver. Show me a city that works. And if you're a Premier from Queensland try actually living in Vancouver rather than taking a few days of sightseeing and restaurant-going and then running home to tell Australians lies about how Vancouver "the model city" is "managing" growth. You'll find that spectacular scenery wears kind of thin after a while--especially if you earn the average wage. You can't eat "diversity" or "vibrancy" or anything else on the buffet of growthist cant that realtors and politicians dish out.
If Population growth is a Ponzi Scheme, Vancouver is the biggest casino in Canada
Last month a 450 sq. ft. condo sold for $302,000 and the units at the Olympic village are selling for 500,000 to one million a piece. A lot of dough for little box with a view. A derelict house on a 66 foot lot on the west side, meanwhile, sold for $1.9 million and taxes for bungalow on a 33 foot lot in Dunbar run at $7,000 a year in Dunbar. No wonder Vancouver homeowners spend 70% of their income on mortgage payments. But no worries---if you are a developer or property speculator. Immigration ensures that 30,000 newcomers---many of them rich Chinese---are pouring into the city each year, with an additional 30,000 coming from other provinces, 20% of whom are also foreign-born. Population growth is a Ponzi scheme, and Vancouver is the biggest casino in Canada. Soon the bubble will burst, and as usual, it will be the ordinary people at the bottom who will be left holding the bag. In a post carbon Canada, viable cities will not exceed 20,000 people. These vast urban feed lots that have popped up like tumours in the Age of Exuberance will come to resemble mausoleums and ghost towns.
Escaping from the Prison city of Vancouver
I left this most "livable" city nearly 7 years ago, and two brief visits "home" in that period confirmed the wisdom of my decision to leave. The irony is that as a visitor, I enjoyed more of Vancouver's amenities than I did as a resident, when, like other Vancouverites, I was too damn exhausted working to pay for the cost of living in this 'model' city to have the time or money to avail myself of them. Telling me that life in Vancouver is better than life in Sydney, Auckland or Albequerque is like telling an inmate in a correctional facility that he has the best cell in the joint. I spent twenty-five years planning my escape and now that I have had a taste of small town rural living, I wonder why I waited so long to get here.
Tim Murray
February 2011