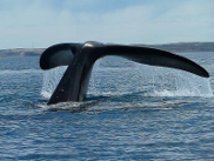 Environment Minister Greg Hunt justified the downgrade of a customs vessel to a plane to monitor Japan's illegal whaling, saying that "we want them to be aware that there will be monitoring – independent monitoring which from an aerial position can take independent vision of what occurs.''
There's no scientific or economic justification for Japan's whale slaughter in the Southern Ocean, where they are internationally protected. We already know what Japan plans to do in the Antarctic.
What's the point of the 2008 federal court decision that Japan's whaling was a breach of Australian law, and not wanting to police it? It's as effective as counting horses as they bolt through the open gate. In the most peaceful place on Earth, the cold and white wonderland of the Antarctic, powerful harpoons will rip the flesh off magnificent whales - in what is their sanctuary!
Japan will be in the Antarctic to deliberately employ explosive harpoons to slaughter protected whales in a whale sanctuary. Sea Shepherd vessels are there to intervene and stop their illegal activities. Japan's intent has already been clearly stated for years, through a bogus "research" legal loophole. If they were to "behave properly", according to Environment Minister Greg Hunt, they would have scientists, biologists, zoologists and technicians on board, to gather data and observe marine wildlife in their habitats. They would not have harpoons, lethal weapons, and all the paraphernalia of a factory ship to process whale meat.
Repetition of whaling in the Antarctic, and Australia's lack of direct action, has strengthen Japan's resolve and purpose and given them confidence in a de facto legality. Simply "recording" illegal activities, in hindsight, from a plane, is a feeble response considering there is clearly no compelling economic or scientific reason for the decades of flouting international standards.
The crew of Sea Shepherd are an embarrassment, a perpetual reminder, a thorn in the flesh to the professional hypocrites in our government who have rendered themselves useless by lots of posturing and words about being "anti whaling", but take no action.
Australia's customs patrol vessel, the Ocean Protector was built specifically to handle the icy conditions of the Southern Ocean, but instead it was patrolling the waters around Christmas Island for asylum seeker boats.
It's an easy and soft option to fend off unarmed asylum seekers, in primitive fishing boats in tropic waters, than to face the more challenging economic power and military hardware of Japan's whaling fleet and explosive harpoons in the more threatening Antarctic wilderness!
SMH: Customs Ship should be sent to disrupt Japanese whaling- Bob Brown