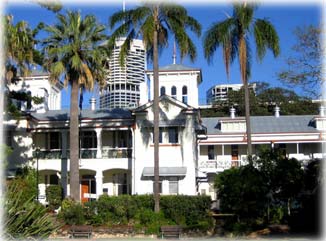 Yunguba, which lies directly beneath the Brisbane's Storey Bridge on Kangaroo Point,was built in 1877 as an immigrant hostel. It is one of the very few publicly owned open spaces. Nearly all the surrounding land in Kangaroo Point, including the neighbouring land formerly owned by Evans Deakin shipyards has been turned into a concrete jungle of high rise residences. So, too, has much of the land on the opposite side of the Brisbane River including the Brisbane CBD and New Farm.
Plans to turn the Yungaba site into a historical museum have been abandoned when the Queensland Government recently agreed to sell the site to Australand, a Singapore-based company, which specialises in selling Australian real estate. Australand plans to turn the site into a gated community of seven storey residential blocks.
The local community, led by the Yungaba Action Group opposes these plans. Iy you wish to support the YAG's fight to preserve Yungaba as public property please vist their web site at www.yungaba.org.au. Be sure also to vist www.yungaba.org.au/help.html if you want to help the Yunguba Action Group.