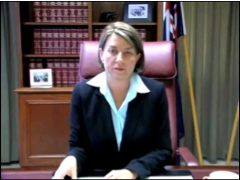 The Queensland state elections were hurriedly called by Premier Anna Bligh on Monday 23 February after months of speculation, principally fueled by Rupert Murdoch's Courier Mail newspaper.
This was contrary to a promise made by her on 20 March 2008, when she Bligh promised the Queensland public to serve her full term until around September 2009. In a YouTube broadcast she stated her reason for breaking that promise :
"Over recent weeks, the continued heightened election speculation has reached a point where it's now a hindrance to the certainty and stability that we so desperately need. I have reached the view that it's time to settle the election. It's time to settle the speculation so that government, business and the community can get on with the task at hand and not be distracted or destabilised by a looming election."
Of course this statement is disingenuous, and in more ways than one. At any time in the months going back to November last year Anna Bligh could have ended that speculation by simply re-affirming her promise to serve her full term.
It is disingenous in another sense, because the policies of her Government of deliberately encouraging population growth and a break neck pace of over-development has introduced enormous instability into the business and personal lives of many Queenslanders.
An obvious motive for the short duration of the election campaign is to limit the degree of proper scrutiny of her Government's record, particularly by independent candidates, such as myself, who have far more substantial differences with the ruling Labor Party than do the also pro-big-business Liberal National Party.
The elections are clearly being orchestrated to prevent effective scrutiny of the policies of either the Government or the Opposition.
On these pages we will attempt to provide that scrutiny and promote candidates who offer real alternatives to the two major parties. Those candidates are likely to be independents and, possibly, a good many Greens.
Where voters may not be able to elect their most preferred candidates, we urge that they carefully consider whether or not there are important enough differences between the major parties to warrant preferencing one above the other and resist any temptation to "just vote 1". The choice between the two major parties can still be avery importatn choice to make.
In order to help you make that choice, we will attempt to give whatever credit is due to the major parties as well as to be harshly critical of them both.
Electorates
As I find out useful information about candidates standing in the different electorates I will add them to this list. Of course, I will be focusing most on my own electorate of Mount Coot-tha. The list of electorates so far covered on this site is:
Burdekin, Glass House, Mount Coot-tha, Mount Ommaney, Noosa, Redlands, South Brisbane
Links
Election results by electorate, Mount Coot-tha election results.
#comment-231813">"Queenslanders have correctly chosen the lesser of two evils" in forum discussion "My election night" of 22 Mar 09 on John Quiggin's blog.
Save the Mary River Brisbane Group: savethemaryriverbrisbane.wordpress.com
Questionairre to candidates in Mount Coot-tha electorate.
Spring Hill Voice www.springhillvoice.com
Honest Dave Zwolenski www.vote1honestdave.com.au