Developers have, in their sights, a tract of open space in the Brisbane suburb of Milton, formerly occupied by the Milton Tenis courts on which they #10;">plan to erect high rise appartments that will house at least an additional 2,000 extra people. The total combined number or residents and workers that would be jammed into the suburb of Milton, from this and an existing proposal for residential and commercial development above Milton Station, could be 12,000, that is as many as live in the rural town of Warwick.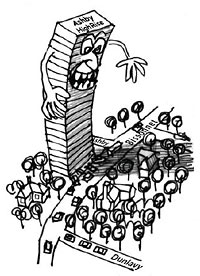 Even the Brisbane City Council, well-practised at trampling upon the rights of Brisbane residents to impose infrastructure or residential developments, is objecting to the size of the development. The Westside News of 3 February reported that in 2006 a court approved the application of a residential development with a maximum of eight storeys. Of the current development propsal, Toowong ward Councillor Peter Matic said of the 20 storey development proposal, "I think it's horrendous. When you look at the plans the developer is affecting the flow of traffic on Milton Rd, there's flooding issues and there has been no consultation with local residents".
Of course, the dictatorial planning powers of State Government makes it legally difficult for the Brisbane City Council to block the plan in accord with the residents. Nevertheless, if the BCC had the will to oppose the development it should be capable of showing the leadership necessary to stop it, with local residents so overwhelmingly opposed.
A leaflet publicising the meeting by the group Concerned Residents Against Milton's Excessive Development (CRAMED) listed that group's objections to the proposal:
This is a huge increase in density for this site. Once this change in zoning goes through there is no way the Council can change it to a lesser density without VAST expense to the ratepayers because of land owners compensation for loss of land value claims.

Where is the infrastructure for this extra population and where are they going to build it. The water, sewerage, power not to mention telephone infrastructure in this area needs to be updated to cope with the number of people here now, never mind 2,000 more.

These buildings will be totally out of scale with the surrounding houses and will overshadow just about every building in the vicinity. They will interfere with the prevailing breezes. They will also interrupt many local city views that you have paid thousands of dollars for.

Traffic which is already an issue in this area will become much worse as will parking. The main exit and entry for the residential component of this development will be onto Haig Road. This will make an already dangerous crossing to the Milton State School even more so.

It is still zoned for sport and recreation. As we all know Gregory Park is a much loved but over used green space. Both Paddington and Auchenflower have insufficient green and recreational space available to their present population.

This area is a known flood plain and is clearly marked as such on Council maps. Planners that approve buildings on those sites should be personally liable. Why should ratepayers be paying compensation when those sites are affected by future flooding. To confirm this check the BCC web site at the following URL www.brisbane.qld.gov.au/bccwr/_assets/main/lib927/flooding_milton_flood_flag _map.pdf

Parts of this site is in a Demolition Control Precinct which appears to mean very little in this case. The majority of these buildings are not sustainable buildings as they are too tall to rely on anything other than air-conditioning.
Since the first meeting, the developer has publicly advertising of the Milton Tennis Court site has commenced much earlier than CRAMED had originally been led to believe thy would now giving them until only 29 April to state their objections to the Tennis Court. Also another development in Milton, that is, for a residential apartments above above Milton Station is to be extended to include a commercial precinct. A further leaflet from CRAMED comments:
Developers will use the approval of the Milton Station Local area plan to insist that their high rises are also approved as this has now set the precedent for the area. If the Milton Plan goes ahead it will affect an area within an 800 meter radius and this certainly takes in the Milton Tennis Court site as well as the back of the brewery, St Francis theological college etc. High rise
Be aware that this is not simply a Council decision / process. Although the application process is a Council one, should the developer not be satisfied with Council's approval (which we would hope is to disapprove of such a large scale development), the matter may be taken to the Land Court (a State body). The latest approval (ie for 174 units) was the result of a Land Court decision against the will of the Community.
Andrew Fraser, our local State MP has said (at a community forum in 2009) that if 2000 or more residents express their concern about the rate and style of development in the Milton area that he will take some action on our behalf. Having said that, on the same night he also distributed a copy of a magazine article extolling the virtues of Manhattan's (New York) high rise lifestyles and efficiency. We need to convince him otherwise – people around here want to live in Milton not Manhattan!
...
There has been little to no public consultation about these plans. CRAMED will be holding a public meeting at Milton State School in the undercover area facing Gregory Park on Monday the 29th of March at 6:30 pm.
We have invited our local Councilor Peter Matic , The Milton Station Project Team, Andrew Fraser MP, our local State member and Minister Hinchliffe from The Department of Infrastructure and Planning along.
It is estimated that at least 12,000 extra people could be living and working in the area as a result of these proposals. Not to mention extra traffic etc as a result of the commercial development.
What you can do: (1) Attend meeting of CRAMED to oppose these developments at the Milton State School at 6.30PM on Monday 29 March. (2) Attend the protest to save the Koala and to stop overdevelopment at the Queensland Government Growth Summit 11.00AM Tuesday 30 March at the main entrance of Queensland State Library, Southbank.
E-mail: enquiries[AT]cramed.org or phone: 0404 833 057 to become involved in CRAMED.
See also: cramed.org, "The Battle to Save our Suburb" of 15 Mar 10 on wtsag.org.au the web site of the Walter Taylor South Action Group, Transcript of SBS Insight program "Housing 36 Million" of Tue 2 March, featuring CRAMED convenor, Elizabeth Handley.