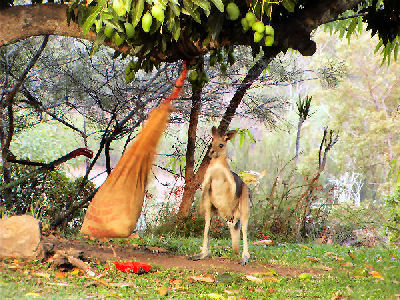 Picture by Sheila Newman. Wild kangaroo using a recreational boxing bag under a mango tree at a kangaroo re-release centre in Queensland run by Anne-Marie Dineen.
A new political party - The Animal Justice Party - has been formed to champion the rights of animals by people who care about their rights and want them to have happy lives and their own space!
"Cruelty to animals has become an unfortunate and much too common feature of Australian society that needs to end. A number of non-government organisations have been tackling these animal welfare issues at ground level from various perspectives, however there is a need to bring some influence to this agenda from a government policy dimension. The Animal Justice Party is being established to pursue issues of animal welfare through the Australian Parliamentary System by encouraging the adoption of animal friendly policies by other political parties, demonstrating that voters care about animal issues by contesting elections, and educating the electorate about the animal policies of candidates from other political parties.

The Animal Justice Party will actively campaign at a government policy level against animal cruelty atrocities as they relate to wildlife destruction, factory farming, animal transportation, companion and domestic animals, pet animals and the use of animals for sport and entertainment. It will seek to toughen animal protection laws, increase penalties for convicted animal abusers, regulate and restrict the sale and use of pets, and enhance education in greater awareness and appreciation of the needs of animals."