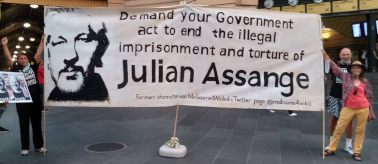 CORRECTION (10:20am, Friday): The march will be to the British Consulate at 90 Collins Street Melbourne and not to the State Library. - apologies
Join us at 3:30pm Friday 26 March (today) at Flinders Street Station, from which Melbourne For Wikileaks (@Melbourne4wiki) will be marching at 4:00pm from Flinders Street Station to the British Consulate at 90 Collins Street, Melbourne. This March is to show our support of Julian Assange.
We will be demanding that the Australian government act to stop the United States' attempts to illegally extradite, from the United Kingdom, Julian Assange, who is an Australian citizen and not a United States citizen. We will also be demanding that he Australian government act to end the United Kingdom's illegal imprisonment and torture of Julian Assange.
Come to help us carry our banner (pictured), help us distribute leaflets to fellow Melburnians and, listen to speeches for Julian Assange at the end of the march in front of the British Consulate.