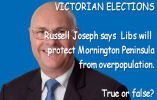 "Only the Liberal Party will protect the amenity and character of our neighbourhoods and rural hinterland," says Russell Joseph, Liberal Candidate for Nepean. We don't often publish statements from the major parties, but this is the first one we know of that looks at protecting the Mornington Peninsula. The Peninsula is an incredibly biodiverse part of South-Eastern Australia, hardly explored to date in terms of paleontology, rapidly losing its native fauna and flora. The undeniable fact that governments since Jeff Kennett have promoted destructive population growth here makes any policy to protect it extremely important. We will publish statements from any other political party that has a plan to protect the Mornington Peninsula from overpopulation.
"In 2014 the Liberal government introduced the Mornington Peninsula Localised Planning Statement to help protect our unique coastal, rural and conservation areas of the Mornington Peninsula townships and hinterland. However under Labor our General Residential Zone has been ruined and will now become a location for 3-storey apartment-style developments regardless of the established character of our neighbourhoods," he states.
Joseph describes the Andrews Labor government as having, without any consultation with local residents, communities or council, "replaced existing 9 metre height limits with an 11 metre limit and 'as of right' approval for three storey development."
He adds his opinion that,

"Labor's changes affect over 24,000 house lots across the Mornington Peninsula and this comes with further increases in traffic congestion and unsustainable pressure on an already stressed public transport system."
Joseph claims that a Liberal government will fix these planning changes and fund improved bus connections to the Mornington Peninsula, including service route changes and frequency improvements to both the 788 (Portsea) and 783 (Flinders) services. He says that a Liberal government will protect the Mornington Peninsula and reject the Labor-Greens 'solution' to Melbourne's chronic urban congestion by pushing the population down to us.
He concludes,

"Make no mistake, Labor and the Greens see their own 'Brunswick-by-the-Bay' down here, but only a Liberal government will protect what we love about our Peninsula."
Joseph's statements about the Labor Party Government's planning and population decisions for the Peninsular are unfortunately correct. Our files on ALP population and planning go back years - /taxonomy/term/1054 and /taxonomy/term/7452. Of course the Liberals, the last time they were in government, continued, like Labor, to advertise for more and more immigrants at the Vic Gov site of "Live in Victoria," now changed to Live in Melbourne. All state governments in Australia run similar sites, promising to sponsor immigrants and dishonestly promoting their cities as very 'livable', just as mass immigration is making them more and more 'unlivable'. Matthew Guy, as the then Minister for Planning, made disastrous changes to Melbourne Planning too. It is a case of Tweedledum and Tweedledee, but maybe some of them are beginning to read the writing on the wall. Let us hope.
In his favour, Mr Joseph also asked me some time ago to provide a white paper from my submission about management of biodiversity in the Mornington Peninsula Green Wedges. This paper noted the problem of overpopulation and overdevelopment. Unfortunately illness prevented me from doing so, although the paper itself is available.