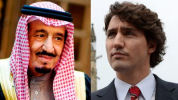 Syrian women are helping to save Syria and all of humanity against the scourge of Western-supported terrorism. The Canadian government, [Candobetter.net editor: and others, including Australia's, supporting the US-NATO agenda] on the other hand, is destroying women's rights (and all human rights) in Syria and beyond.  If the truth were ever accepted by broad-based populations, then our government, led by those who project progressive fronts, would be exposed as the misogynist, life-hating rot that it is.
This article was first published at https://www.globalresearch.ca/womens-rights-in-syria/5629648
Canada's Sanctions Regime against Syria Undermines Women's Rights
Trudeau is destroying Syria through illegal sanctions, and through direct and indirect support of every single terrorist in Syria. Canada is a member of the NATO terror organization, which along with its allies, seeks to create "regime change" in Syria, — the highest crime according to Nuremburg Principles.
All Syrians, but especially Syrian women, have much to lose if the Canadian government's diabolical ambitions are realized.