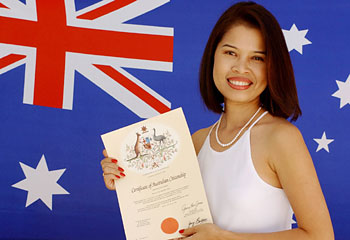 Australian Citizenship Pledge
'From this time forward
I pledge my loyalty to Australia and its people,
whose democratic beliefs I share,
whose rights and liberties I respect, and
whose laws I will uphold and obey.'
When new Australians pledge their loyalty to Australia, it is not some token spiel, it is a solemn oath!
Personally I have never had to take this pledge, because I was born here. But I would be happy to take it without hesitation. My loyaty to Australia, its people, its values, its laws are unequivocal.
Australian citizenship is a privilege, highly valued and sought after globally. It is not a right.
Citizenship comes with prerequisite conditions and performance conditions. With those privileges come responsibilities.
Foreigners are welcome* as Australian citizens according to Australian conditions:
# be law abiding
# respect Australian liberties and rights
# respect and share Australia's democratic beliefs
# speak, read and write English
# proactively assimilate and integrate
# accept Australian traditional culture
# rescind any cultural mores that irreconcilably conflict with Australian values.