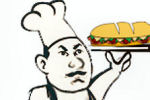 Houses and Holes nails the "can't get people to work for us" lie.
(Article republished with permission from Macrobusiness
In this article, Kelvin Thomson lists six things wrong with the China Free Trade agreement: Sumarised, these are: We don't need it. It weakens rules about employment of Chinese nationals in Australia. It fails to create a level playing field for Australian industry. It helps Chinese companies to import Chinese labour to Australian jobs. It does away with mandatory skills testing for imported Chinese labour. It provides for overseas companies to sue Australian governments for actions that disadvantage them.
Bandicoot writes in Our rights to jobs negotiated awayabout how Australian government has signed away the rights of Australians to self-govern on the question of mass immigration, a problem now affecting our employment opportunities and conditions. Indeed, many problems affecting Australians arise from a trend of the late 20th century to conflate trade in goods across borders and trade in people across borders. Goods-imports depress our prices and people-imports depress our wages and conditions, but, even more importantly, they depress our democracy. In the end neither producers nor workers win, unless they are multinational corporates.