I went to the one [meeting] at Pascoe Vale neighbourhood Community Hall. People were hostile. They [Council staff] said they were seeking community input for their submission. One resident said;
'Is it going to be like last time when you had the Moreland Rezoning Community consultations. You didn't give an accurate account of our opinions in your submission. No mention how residents opposed increased density, wanted greater protection etc. Instead you said things like, residents wanted better quality apartments etc. What a load of bullshit, you lot are going to do what you want?'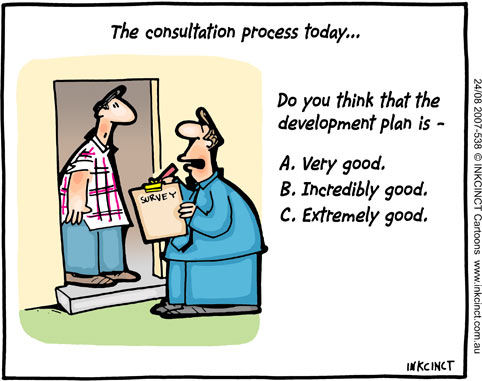 Another lady… said:
'I'm reading through this handout. This is basically a bribe. You're telling us to accept the four storey height limit, because if we don't we'll end up with ten storeys. '
Council officer tried to deny it, but the lady kept pressing and pressing the point that this is a bribe, until the officer admitted in a round about way 'as it stands, developers can apply to build beyond 4 storeys, if we don't have height limits, so we have to put something in place. '
In the draft 1.1 of Neighbourhood Centres Strategy, it states that Plan Melbourne promotes density in defined locations to support a 20minute neighbourhood, where residents will have access to a wide range of local amenities and services. My husband (a Brunswick boy) stood up and said:
'This 20 minute concept was intended for new estate areas. Any residents living in Moreland can already access services and amenities within 20minutes. Within 20min I can be in Brunswick, Coburg, Hospitals in Parkville, Airport West, Essendon DFO, Northland, Moonee Ponds. We don't need density to support the 20min neighbourhood concept. We have it already.'
The artist impression showed block after block of 4 storey apartments surrounding the Pascoe Vale Station, where supposedly people will be able to shop and work near where there live. The station is at the bottom of Gaffney Street hill and commuters take up a lot of parking at the station and in surrounding streets. So where will people park to do their shopping and how many people will walk back up the hill with their shopping? Zilch! They'll go to supermarkets with big car parks. Someone asked if any of these shops and offices, beneath these apartments are going to provide jobs that can pay the mortgage or rent. Are they going to be big volume employers like manufacturing firms in the past, who employed a lot of local residents? Then the officer said:
'The nature of employment has changed from the manufacturing of the past. We're seeing more self employed looking for workspaces close to home. For example, there's a Brunswick artist who is renting a studio close to home.'
Someone sarcastically asked: 'so this artist is going to employ a lot of local people?'
In his Moreland Rezoning submission, Ernest Healy, a former researcher in planning and population at Monash University, has pointed out that 85% of Moreland residents worked outside the municipality. He questioned Council's ability to encourage Moreland residents to work locally.
Questions were also asked about where schools, infrastructure, waste management and services, for example ambulance and hospitals, came into play with all this density. They are becoming overstretched. Strathmore Secondary had to knock back 200 students, including those in the zone. Four portables had to be delivered to Strathmore Secondary and Pascoe Vale Primary, encroaching in playgrounds. Many schools are converting storage areas, locker bays and shelter sheds into classrooms. If density continues, the children won't have a playground. A paramedic I know said hospitals bypasses are increasing…
This madness has to stop. [The mess on] rubbish days in some streets around here is getting worse. So much for the Greens thinking high density is environmentally friendly.