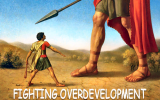 There is exciting news from Frankston. On Wednesday Victorian Planning Minister Sonya Kilkenny announced an Interim Design and Development Overlay which included mandatory height limits of 3 storeys on the section of land between Kananook Creek Boulevard and Nepean Highway. This article is reposted from Planning Democracy Facebook.
This area has a very sensitive creek interface and is adjacent to the Frankston foreshore. Despite its importance, until now it has had no protection from overdevelopment. Developers have lodged plans for 14, 15, and 16 storey towers! Of course their plan is to build luxury apartments - no risk of any dwellings that a young person on a basic income could live in.
The Stop the Great Wall of Frankston Campaign Committee has done a mighty job in campaigning against high rise development in Frankston's waterfront precinct. It included a Blues Concert last weekend, and a rally back on 13 May at which I was one of the speakers. The rally had an audience of hundreds, and their Petition to stop the Great Wall has attracted over 4000 signatures. Planning Democracy, and the Protectors of Public Lands, as well as many local groups and residents, have supported this campaign.
Of course this battle has a long way to go yet, but the Minister has done the right thing, and her intervention deserves our support.
It gives us hope that there is still room for community opinion and action to influence our decision makers.