As a result of the wars and sanctions against Iraq since 1990, found by the UK Government's own Chilcot Inquiry in 2012 to have been illegal, 3.3 million Iraqis have died and many more have fled, including 1.2 million to Syria, according to Wikipedia. Knowing that the same people who invaded Iraq, Afghanistan and Libya are now arming, supplying and paying the so-called "Free Syrian Army" (FSA), Syrian patriots are fighting hard against the FSA killers -- and winning.
Please attend a public meeting at 7.30PM on Wednesday 6 March for peace in Syria at the Unitarian Church, 110 Grey Street, East Melbourne. (The previously advertised time of 6.30PM was wrong. Our apologies.)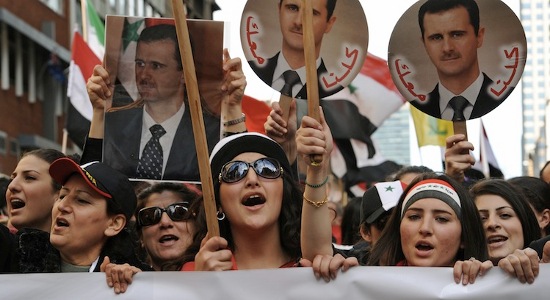 In order to boost the numbers of fighters, sadly depleted by almost two years of savage fighting, Syrian women are now being enlisted into the armed forces as shown in this YouTube video on the Syrian Girl Partisan's YouTube channel. This channel is an excellent resource with which to arm yourself against lies from the mainstream media such as the Guardian article Brothers in arms: the 10 brothers fighting for the Syrian uprising of 22 February by Martin Chulov.
How you can help save lives and help Syria save itself from the New World Order
If you live close to Melbourne Victoria, please attend a public meeting for Peace in Syria.
Venue: Melbourne Unitarian Church Hall, 110 Grey Street, East Melbourne
Date: Wednesday 6 March
Time: 6:30PM