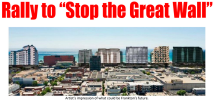 Rally to "Stop the Great Wall of Frankston," Saturday 13th May at 10.30 AM, Corner Wells St. and Kananook Creek Frankston. Planning Applications are at Frankston City Council for 14, 15 and 16 storey apartment blocks of up to 60 metres height on the beachside of Nepean Hwy, and only 200 metres from Frankston's scenic beach. The towers would overshadow Kananook Creek, the beach, nearby homes, exacerbate wind tunnel effects and change the face of Frankston forever. 
Back in 2017, Frankston Councillors voted to adopt 20m height limits for its waterfront precinct. Then, in 2018, eight of Frankston's nine Councillors voted for mandatory 20m height limits in the waterfront precinct.  And yet in 2023, and still without mandatory height limits, Frankston's coastline is now vulnerable to massive overdevelopment.
Most Councils around Port Phillip Bay have mandatory height limits of 2-3 storeys for their coastal areas, but that could be challenged if these Frankston proposals are allowed to proceed, setting a most unwelcome precedent for coastal areas elsewhere.
All coastal communities need to remain vigilant to ensure that Councils around the Bay, indeed around Victoria, do not fall for developer demands to transform our irreplaceable coastal areas into a series of "Gold Coasts of the south".  
Port Phillip Conservation Council (PPCC) is supporting our member group Frankston Beach Association and the Long Island Residents Group who are determined to stop these overbearing developments on Frankston's much loved waterfront overlooking Frankston's beautiful largely natural beach, dominating coastal scenery and blocking views for everyone but the high rise apartment owners.
We expect Planning Minister Sonia Kilkenny, Frankston MP Paul Edbrooke and Frankston City Council to understand the need for mandatory height limits for Frankston's waterfront and to act to protect a wonderful part of Port Phillip Bay's coastline. To help them understand, we are holding a rally near the high rise development site on Saturday 13th May at 10.30 am.   See attached flier for rally details. 
Please come to our rally to show your support. Hear planning experts Professor Michael Buxton RMIT Emeritus Professor of Environment & Planning and former Federal MP The Hon. Kelvin Thomson Convenor of Planning Democracy, speak on future plans for Frankston, along with other informed speakers.
We look forward to seeing you there.